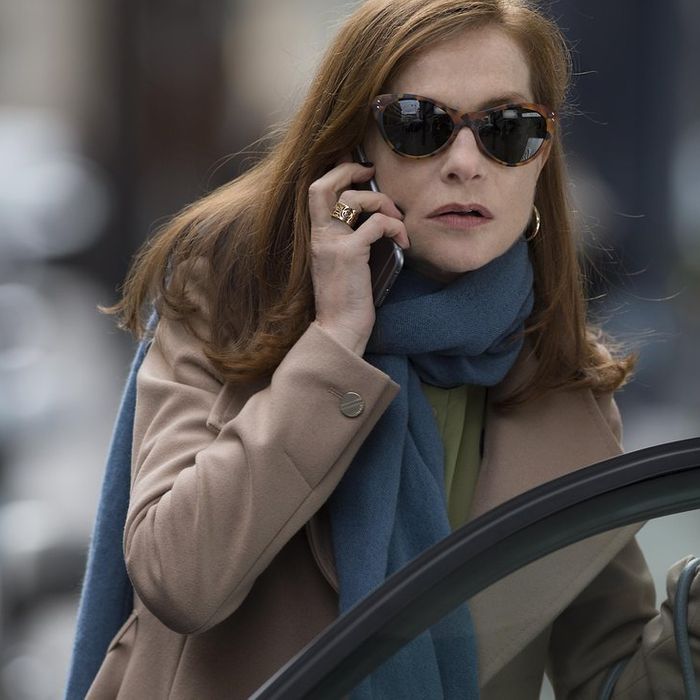 Photo courtesy of Cannes Film Festival.
Let the trigger warnings start right here. Dutch director Paul Verhoeven's return to the Cannes Film Festival, at age 77, twenty-four years after he was last in competition with Basic Instinct, was greeted with triumphant applause at this morning's press screening of his new French-language thriller, Elle (French for She or Her) — and it's a halo sure to disappear in a barrage of think pieces the minute this film is shown beyond the borders of France. A master of the sexually perverse, Verhoeven has thwarted taboos in a way that makes Sharon Stone's leg-uncrossing seem provincial by comparison. His new film, based on the award-winning novel Oh… by Philippe Dijan, with a sharp script from David Birke, follows a successful career woman, Michèle (Isabelle Huppert in a knockout performance), who is violently raped in her own home, refuses to interrupt her daily life, and eventually develops a tense, volatile understanding with her attacker that is constantly on the verge of erupting.
Courting aghast reactions from the start, Verhoeven begins the movie with the attack itself, the screams, the crash of breaking glass, Michèle's cat looking on as a man in a ski mask wipes her blood away from between his thighs. When he leaves, she peels herself up from the floor, calmly cleans up the mess, throws out her dress, takes a bath, and orders takeout sushi. When her adult son asks her about the bruise on her face, she tells him she fell off her bike, and then pummels him with quips about knocking up his lunatic girlfriend: "Are Josie's boyfriends moving in too?" "You know she was raised on a commune with unwashed artists." Everything is exactly as it seems, and at the same time not at all.
Isabelle Huppert has already won Best Actress at Cannes for 1978's Violette Nozière and 2001's The Piano Teacher, but I would be shocked if she weren't considered a serious contender here. Her Michèle is no mere victim; she is a complex, ferociously strong, sexual woman with a very dark sense of humor who reacts to nothing as you'd expect. It's a role 63 year-old women in Hollywood never play. (Verhoeven reportedly looked at Nicole Kidman, Marion Cotillard, Sharon Stone, Diane Lane, and Carice van Houten for the part; he'd wanted to make the movie in America, "but we found out that in the United States it was a story they did not like very much, nobody," he said in an interview with French press.) The next day she is back at her job, running a video-game company, telling a roomful of young men who all seem to both lust after her and loathe her that the "orgasmic convulsions" of a buxom female avatar when an octopus-armed monster sticks a tentacle in her brain aren't violent enough. At other times, she yells at them for missing the "boner moment" of a sequence. In between meetings she arranges to have all the locks in her house changed. She puts off texts from a lover who wants to come over that night. At dinner, she tells friends of she was raped during small talk as they're ordering wine.
Michèle is not an apologist, and Verhoeven, who's long made portraits of resilient women in danger, seems to relish in her as she is. She rips a friend's bumper off his car while parking and gives him a sly "oops!" smile before driving away. And she regularly does way, way worse than that, often with such quick wit that I had several conversations after the movie about whether it was wrong to have laughed so much in a rape movie. When a woman in a café clocks her arrival and walks over to dump a tray of trash on her, seething, "Scum, you and your father," we suspect Michèle may have less-than-sympathetic reasons for not having called the police after her attack. That's not isolated hatred — there's very good reason why her attacker could be someone she doesn't know who feels justified in his actions. Among the people she knows, too, enemies and predators abound; Michèle oozes a mixture of brazen sexuality and disdain that seems to enthrall every man in her orbit. (And yes, the movie passes the Bechdel Test.) There's the angry video-game designer whom she humiliates at work, the sweet video-game designer whose declarations of love she puts off, the friend's husband she's sleeping with, the neighbor's husband who flashes her flirty looks while with his wife, and the ex-husband who's never quite gotten over her. Michèle pays someone to do some digging for her, and buys some pepper spray and an axe.
And she never gets any more conventionally likeable. "I don't believe in the American statement that there has to be evolution in the character," said Verhoeven at the press conference following the screening. "I think I have the idea that everybody stays the same his whole life. Adapt so the bad things are a little bit hidden, but I don't think there is a real development. I think I am the same person I was when I was six years old and was doing things that my best friend hated. There is no evolution. There are just things that happen."
I suspect there will be outcry when people, particularly in America, see how Michèle deals with her rapist. Asked at the press conference by Ben Lee of the Guardian whether they were worried people would take offense to Michèle's response to her rape, Verhoeven and Huppert answered, in unison, "No." Huppert explained that she saw Michèle's reaction as very believable. "Most of the time in life," she said, "you are just confronted with whatever you have to face without necessarily finding the solutions, and you just go on, you just proceed." She added that the movie wasn't meant to be a realistic statement about rape. "It's almost to be taken as a tale and a fantasy, and the fantasy is something within yourself, something you couldn't confess, that is in your inner thoughts … but it doesn't mean that it happens to all women in the world. It happens to that particular woman. It's not a general statement." Dijan added that he sees the film, and his book, as being about a woman who wants the freedom to ignore societal codes and experience her own trauma the way she sees fit, even if that means maintaining a connection with the man who violated her. "We're not really telling the story of a rape, so I don't think people should be too offended," he says. "As Michèle says, she has had worse experiences with men she chose herself."
My guess is that they're being wildly optimistic, but I'm going to take a page from Michèle and not apologize for being blown away by what I saw today, and particularly by Huppert. Feminism isn't about judging another woman's version of coping.