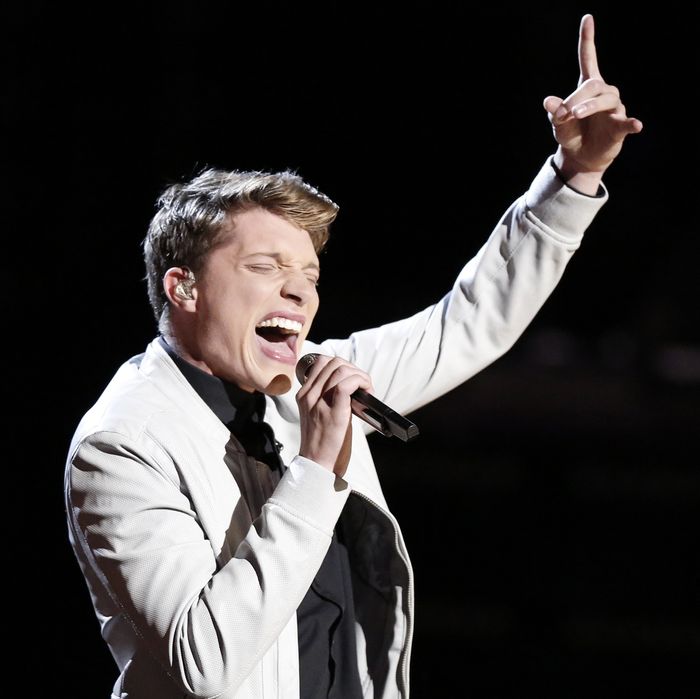 Tyler Golden.
Photo: Tyler Golden/NBC
What a delightfully predictable hour of television that was! I found it soothing, really, like a lullaby that Carson Daly sang to us all.
We begin our night with a special guest performance by DNCE, which is the thing that Joe Jonas is up to these days. They give a rousing performance of their hit song "Toothbrush." I will not lie to you: I thought this was the same song Thomas Rhett sang last week, but records show that was, in fact, a different hit song called "T-Shirt." What sexy household noun do you think they will sing about next week? I am hoping for "Soft Scrub." Then they do "Cake By the Ocean," and in celebration, 1,000 giant Mylar orbs fall from the sky.
Did you know Mother's Day is coming up? Carson Daly, for one, is pretty excited about it, so he shows a festive mom-tage of the remaining artists and their mothers. In your opinion, which Voice mom is the best Voice mom? Personally, I am partial to Adam Wakefield's mom, but I think we can all agree that Laith's mom is the real breakout star of the evening. Next week, intergenerational duets!
Finally, it is time for some results, just as soon as we have our incisive weekly chat with Carson Daly. Daniel Passino says that whatever is meant to happen will happen, and the important thing is to surround yourself with good people who will catch you when you fall off the side of a cliff. Honestly, I am feeling a little bit protective of Daniel Passino tonight. I hope the cliff thing is a metaphor.
And the first winner is Alisan Porter! Her husband is wearing a very jaunty scarf tonight. He is my favorite person on The Voice, next to Adam Wakefield's mother.
Hoo boy, we sure do spend a lot of time with Carson Daly in these results episodes! And yet, he remains an enigma. Does anyone truly know Carson Daly, do you think? Does anyone truly know anyone? Also, what would you say is going on with Paxton Ingram's shirt? On the one hand, it is camouflage, but on the other hand, it has polka dots. I am pretty sure it is ugly, but it is also possible that I like it. The Voice is truly a journey of self-discovery.
Carson Daly has some more news! He will now deliver it very, very slowly. It is like we are waiting for Pangaea to separate in real time. I will try to summarize: America voted to save Adam Wakefield and Shalyah Fearing. I love it when everything goes exactly as I expect it to. It makes me feel secure, like there is order in the universe.
They've really been hyping the upcoming performance of season-eight winner Sawyer Fredericks, and friends, I am here to tell you that the moment has arrived: He takes the stage to perform his latest single, "4 Pockets," and oh, it is a sad one. I do not particularly care for this song, but like, I get it. His voice is amazing. Is it actually a long song, I wonder, or does it just feel like that emotionally?
There is no time to ponder this, because Carson Daly feels ready to read some more names. Are you ready for it? America saved … Hannah Huston! America also saved … Mary Sarah! Please try to contain your shock. Here is something I have been thinking about: Don't you think Hannah would be great in screwball comedies of the 1930s? I have some moderate concerns about the acting part, but I feel like if we put our minds to it, maybe we can overcome this obstacle together.
It is now that time of the night where everyone remaining is saved except the ones that are not. And the remaining winners are … smooth operator Bryan Bautista, guitar hero Laith Al-Saadi, and dance machine Paxton Ingram! Correct on all counts! I know we have all been hurt before, but I think it is important to remember that sometimes America really comes through for you.
Unfortunately, America did not come through for Nick Hagelin or Daniel Passino, so they are sentenced to perform in this evening's musical death match. To win back the hearts and minds of his fellow countrymen, Nick croons "Thinking Out Loud" by Ed Sheeran. I would say he does a lot with what he's working with here. "You're in this for the right reasons," observes Adam. "You have come so far," coos Christina. Since we are on the subject of Nick Hagelin, I think now is as good a time as any to acknowledge that his wife owns a staggering array of flower crowns.
For his last-chance performance, Daniel Passino attacks "Uptown Funk" with the joyless intensity of someone who is about to be eliminated from The Voice. "I feel content in what it is that you've achieved," Pharrell offers, unhelpfully. It is a slow and painful end, but it is not unjust. America saves Nick Hagelin in a landslide, and Pharrell congratulates Daniel on the beginning of the rest of his life.
And so another night of vocalizing comes to a close! Who is going home next, I wonder? How many flower crowns is too many flower crowns?