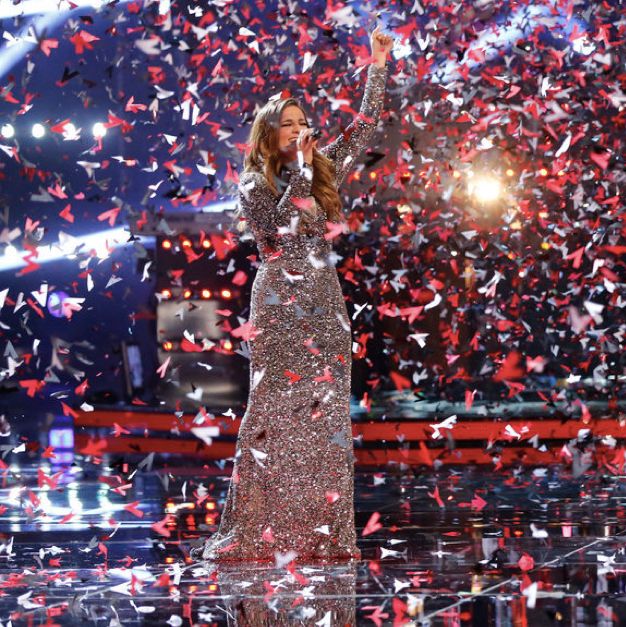 Alisan Porter.
Photo: Trae Patton/NBC
We're finally here, folks! A new era dawns! Tonight, someone will be elected the Voice of America! "It all comes down to this!" Carson Daly says, reiterating the definition of "finale."
But first, Little Big Town is here to sing "One of Those Days" from their new album, which just so happens to have been produced by our old pal, Pharrell. I am going to be honest with you: Until this very moment, I had never heard of Little Big Town, but it turns out this is exactly what I've been waiting for, just like they said! What can I say? I am a sucker for a feel-good, four-part harmony. The only thing I like more is a depressing one.
Speaking of Pharrell, it is now time for a montage celebrating his very special bond with Hannah "Banana" Huston. "He always has been looking for what he calls 'other,' and he certainly found it in Hannah," waxes Carson, one of the few to witness their otherworldly chemistry firsthand. "She has a lot of cerebral moments out loud, and it's awesome," Pharrell reflects, poetically. "She's always making funny faces, and her eyes are always crossing." In honor of that zany Nebraska personality, Hannah and friend of the show CeeLo Green perform Gnarls Barkley's "Crazy," accompanied by a backup mariachi band. I would not say it is all that crazy, but I feel confident a good time was had by all. Whatta guy, that CeeLo! He has been missed.
For her "bring back" performance, Alisan Porter invites her favorite Voices of the past — Kata Hay, Paxton Ingram, and Ryan Quinn — to join her in a high-spirited rendition of "Straight On" by Heart. Ryan Quinn! I did not see that coming! This is a pretty fun performance, I think. I had forgotten how much I like Kata Hay, and also that she existed.
On that note, Laith gets what we in the biz like to call a "bucket-list moment": He takes the stage with Rock and Roll Hall of Famer Joe Walsh for a rollicking performance of "Rocky Mountain Way." In my professional opinion, I enjoyed it. I did not stop grinning the entire time, except when I was trying to figure out how talk boxes work. What a delight! What a pleasure! I think it is fair to say we all checked something off our bucket list tonight.
Then, we are treated to an Adam Wakefield/Blake Shelton comic retrospective. I may still be high from Laith's dream duet, but I found it unexpectedly charming. That is what I love about The Voice. There is always a new sensation to surprise you.
Grammy winner and inexplicable Voice superfan Sia is up next, with a rousing performance of "Cheap Thrills," featuring a truly unsettling modern-dance troupe. But what dancing it is! I am particularly taken with all the ritualistic leaping. I would not say I understand the concept behind this performance, but the thing about Sia is that I never do.
After some heartfelt confessionals, in which everyone says that they would like to win The Voice, but they are at peace with whatever happens because they are all winners in a way, Adam Wakefield and 27-time Grammy winner Alison Krauss sing "Willin'." Oh dear, I wondered. What happened to her voice? This was nevertheless moving, though less as a song than as a meditation on human frailty.
Hannah Huston has brought back her old pals Bryan Bautista, Brian Nhira, and Caity Peters, and they are going to sing Adele's "When We Were Young" while perched in what is either the Garden of Good and Evil, or the lobby of a suburban Rainforest Café. Everyone does a totally solid job and I have no strong feelings about it, except that I wish Brooklyn dreamboat Bryan Bautista were in the finals. I don't think he would win, but it's just so nice to see him!
Oh, the masses are getting restless! Carson Daly promises that we will soon "find out who wins this whole sucker," but first, more famous people must perform more songs. Zayn Malik croons "Like I Would," and I would say the lighting is really something here! You might even say it outshines him. After that, Blake Shelton, official Voice coach, steps up to share "She's Got a Way With Words," which Carson explains is a very personal song. It is about heartbreak, but also spelling, like the alphabet for sad adults. It is a rough experience for our collective dignity. I love Blake like an uncle, but I am actively embarrassed for us all.
Luckily, Laith and his friends Katie Basden, Shalyah Fearing, and Owen Danoff distract us from our lingering discomfort with a soulful rendition of "Georgia on My Mind," a song I have loved ever since it was the theme of Designing Women. I will tell you something that is on my mind: Where is Owen Danoff, chickadee of my dreams? Home sick, it turns out. Ah, a man after my own heart!
We have yet to crown a winner, so Pharrell is going to read some stories to confused preschoolers. But there's a twist: The stories are lyrics to the judges' classic songs! Conceptually, this is one of The Voice's better sketches. I am not too proud to say there was a moment when I almost chuckled.
The clock is ticking! To fill the hours, Alisan Porter and Jennifer Nettles sing "Unlove You." Is Jennifer Nettles a giant, I wonder, or is Alisan Porter very small? Either way, this was just lovely, in a mournful sort of way. They are very well matched, except in height.
Finally, the moment we have all been waiting for: Carson Daly is kidnapping everyone and taking them to an undisclosed location, where they will pick out the Nissan model of their dreams! They can choose a Nissan Murano, or a Maxima, or a Rogue, or an Altima. "I just love how spacious the interior is," Adam says, eyeing the Rogue. "I'm like really overwhelmed at this moment in time," Hannah says, reflecting upon her general state. Alisan is going to get the Murano, because of the stellar backup cameras. Which Nissan is your favorite Nissan, I wonder? I cannot drive, but I would say I am an Altima girl at heart.
Another jubilant group performance! Adam Wakefield does "Gimme Some Lovin'" with his pals Mary Sarah, Nick Hagelin, and Justin Whisnant. This is rather zippy, don't you think? My only concern is that someone has electrocuted Mary Sarah.
Do you feel ready for some winners? Me too! That is why Ariana Grande and Christina are going to sing a mashup of "Into You" and "Dangerous Woman," surrounded by a chorus of dancing cater-waiters. Look, it's Nick Hagelin's gigantic cubes! Reduce, reuse, recycle, that's what I say! I like it fine, but I will admit that part of me still would have preferred the hologram ghost of Whitney Houston. Ah, well. Perhaps she will be ready for us next year.
The time has come. The time is now. Carson Daly is ready to announce the fourth-place winner. "One of your lives is about to change forever," Carson intones, profoundly. What he means is that they will never recover from the disappointment of having almost-but-not-quite won The Voice. And that fourth place winner is … Laith Al-Saadi! It is safe to say that no one is surprised by this, least of all Laith Al-Saadi. Truly, a solid showing. It is not easy being brie in a world that values cheddar.
This leaves three contestants remaining, and Carson Daly feels ready for another announcement. The artist in third place is … Hannah Huston! I worried she would win because of her strong base among Nebraskan preschoolers and it would be a gross miscarriage of justice, but none of that happened and everything is fine. It makes me optimistic about our future as a society. This means that the Voice is either Adam Wakefield or Alisan Porter. I am okay with either, except I want it to be Alisan.
And it is Alisan!
"AHHHHHHH!" Alisan sobs. I used to worry that Alisan put too much stock in the power of The Voice, but I get it now. I also am thrilled! It is right, in a cosmic way. Carson Daly announces it is time for a reprise. "Oh my God, I can't SING!" Alisan shrieks. This is true, because she is sobbing and also clutching her daughter, who honestly seems rather composed about the whole thing. Alisan's husband beams, goofily. If I am being honest, I will miss him most of all.
And there you have it. Oh, my friends, I cannot tell what a pleasure it has been! Friendships were forged! Stars were born! Christina wore so many exciting clothes, except when she wore no clothes at all! Truly, I do not know what we will do without her, but I trust we will persevere. Thanks for reading, and let us all look forward to next season. Miley Cyrus! Alicia Keys! A reunion with my best friend and spiritual mentor, Carson Daly! I, for one, will be counting down the days.