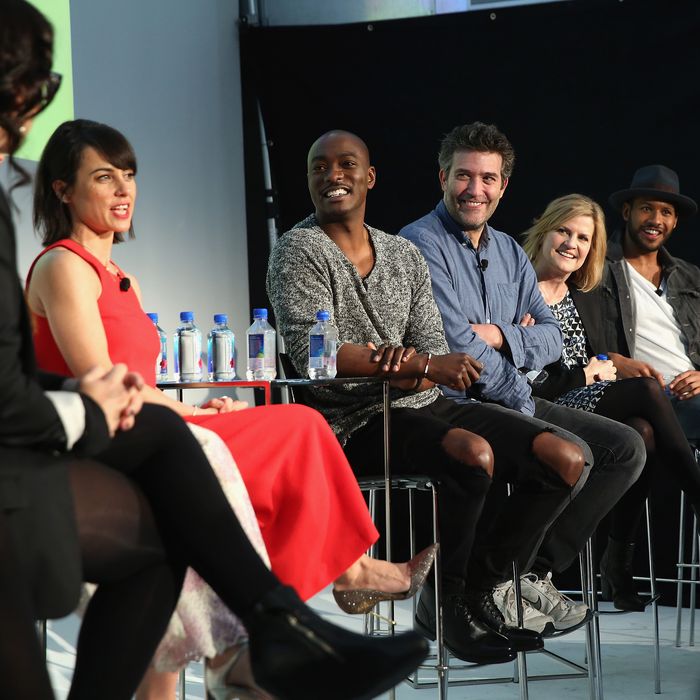 NEW YORK, NY - MAY 22: The cast of UnReal (L-R) Constance Zimmer, B.J. Britt, Craig Bierko, Carol Barbee, Jeffrey Bowyer-Chapman and Josh Kelly at the 2016 Vulture Festival at Milk Studios on May 22, 2016 in New York City. (Photo by Cindy Ord/Getty Images for Vulture Festival)
Photo: Cindy Ord/2016 Getty Images
Will tortured reality show producer Rachel go full antihero in season two of UnREAL? "We always talked about season two as the Breaking Bad when Walt burned down the warehouse," the show's co-creator Sarah Gertrude Shapiro said Sunday at Vulture Festival. During the panel, which was moderated by Vulture's Gazelle Emami, Shapiro was joined by UnREAL's cast and executive producer to tease the next season of the Lifetime show. Here's what we learned:
The season starts with Quinn (Constance Zimmer) and Rachel (Shiri Appleby) getting matching tattoos that say, "Money Dick Power." "It's supposed to be a list of priorities so they never forget their priorities again," Shapiro said. "Please don't get that tattoo," Zimmer added for the audience's benefit.
Rachel is Everlasting's showrunner now. "After season one, Rachel really has nothing left to lose. … I think that this is her Hail Mary pass to make her life mean something," Shapiro said. This newfound power also includes an improved wardrobe. "We're really feeling her stand up and her look really goes along with that," Appleby said.
The buzzed-about black suitor on Everlasting is Darius (B.J. Britt), an NFL quarterback trying to rehabilitate his image. Shapiro said in writing and casting the role, she and the writers thought a lot about the role of the quarterback and the politics of black quarterbacks. "As the season progresses, there's two very different stories we can essentially tell having a black suitor … one that's thoughtful and impactful and important and helpful, and then the story Rachel wants to tell," said Jeffrey Bowyer-Chapman, who plays a producer on the show. B.J. Britt also mentioned that he was required to take his shirt off during his audition. "The next day, my agent called, like, 'You got the role, but they need you to work out,'" he said, laughing. (He ended up working with a trainer.)
The contestants on the show this season include a racist, a black activist, someone with ties to terrorism, and "hot Rachel," a contestant who is meant to be a clean, unbroken, reality-TV-hot version of Appleby's character. "[Casting 'hot Rachel' was] very difficult because [Appleby is] already hot," Shapiro said.
Everlasting's volatile creator Chet (Craig Bierko) lost weight — and became a men's rights activist. "I wanted to get in shape. I didn't feel good," Bierko said. Luckily, his personal plan "fit in perfectly with what [Shapiro] was doing with the character." Of learning about the men's rights movement to fill out Chet's story, Shapiro said, "as a lifelong feminist, I thought it was really fascinating … but terrifying."
Quinn and Rachel both have new love interests this season. Rachel's is a new producer on Everlasting who seems like he could be perfect for her. "He comes from a documentary film background, he has a nice Jewish family, a house in Martha's Vineyard," Appleby said. Quinn's love interest, meanwhile, is a network bigwig. "It's going to allow the audience to see Quinn in a completely new light," she said: as sweet and nice, as opposed to her usual ball-busting harshness.
Appleby got to direct an episode this season. She described the experience as "incredible" and "liberating." Her co-star Britt added, "When she said 'cut,' I'd go up to her and start giggling, like, 'You're doing this!'"