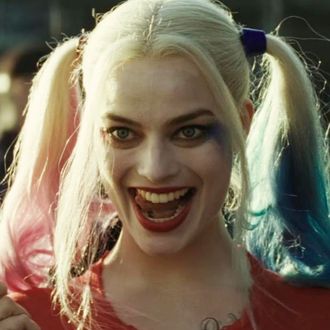 If you're a fan of Harley Quinn — and her fans are legion — we've got good news for ya, puddin'! According to The Hollywood Reporter, Warner Bros. — the studio responsible for all the movies based on DC Comics characters, including Harley — is working on a spinoff flick starring the Clown Princess of Crime. She's making her big-screen debut this August in Suicide Squad, where she's played by Margot Robbie, and it appears that Robbie would not only be returning to star, but would also be a producer.
Oddly enough, it apparently wouldn't strictly be a Harley solo flick — it would be more of a showcase of female DC characters who are less well-known than Wonder Woman (who, it should be noted, sells fewer comics than Harley these days). These might include Batgirl and super-team the Birds of Prey, both fan-favorite properties in the comics world. The idea to do the movie reportedly came from Robbie, who immersed herself in DC series and became enthusiastic about all the female leads. There's no writer or director attached yet.
This decision shouldn't come as a surprise to close watchers of the superhero-fiction industry. As we noted in our deep dive on the history and significance of Harley Quinn, she's gone from being a one-off character in a 1992 episode of Batman: The Animated Series to being a best-selling property, an unlikely feminist icon, and a breakout star in the more-lucrative-than-comics world of comics-based video games. Plus, part of her whole shtick these days in the comics is that she's DC's answer to Marvel's Deadpool — she's funny, combative, more than a little crazy, and very often breaks the fourth wall. Honestly, it would be a dumb idea not to pursue a Harley movie at this point in the history of the superhero boom.