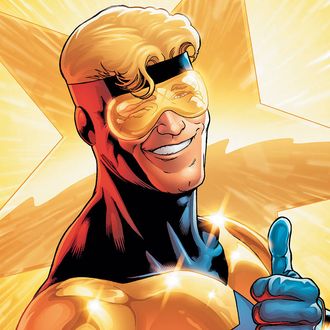 Living in the 20th century, doin' something mean to it.
Photo: DC Comics
Things might be lightening up for the Warner Bros. cinematic stable of DC Comics characters. This August's Suicide Squad is already being marketed as an irreverent corrective to the sludgy darkness of Batman v Superman: Dawn of Justice, and now it appears Warner might be tackling one of the DC mythos's most delightful characters: Booster Gold. Birth.Movies.Death — building on some information from Cleats and Capes and the Fatman on Batman podcast — is reporting that screenwriter Zack Stentz is working on a Booster Gold flick.
For those not in the know, Booster Gold's setup is uniquely goofy. Created by Dan Jurgens, he's a vain athlete-turned-night-watchman from the future who steals some superpowered technology from a museum, illicitly travels back in time, and tries to make himself wealthy and famous in the present. (Of course, he eventually learns some measure of humility and becomes a bona fide hero, etc., etc.) Flash, Arrow, and Supergirl producer Greg Berlanti is apparently producing the movie, which makes all the sense in the world — his take on DC heroes is far lighter than that of his cinematic counterparts. Just look at the picture in this post! Wouldn't you love to see a guy like that try to make Batfleck laugh?
Update: In an interview with The Hollywood Reporter, Berlanti confirmed that the movie is in development with a script by Stentz, adding, "I'd probably direct that, or I would want to."