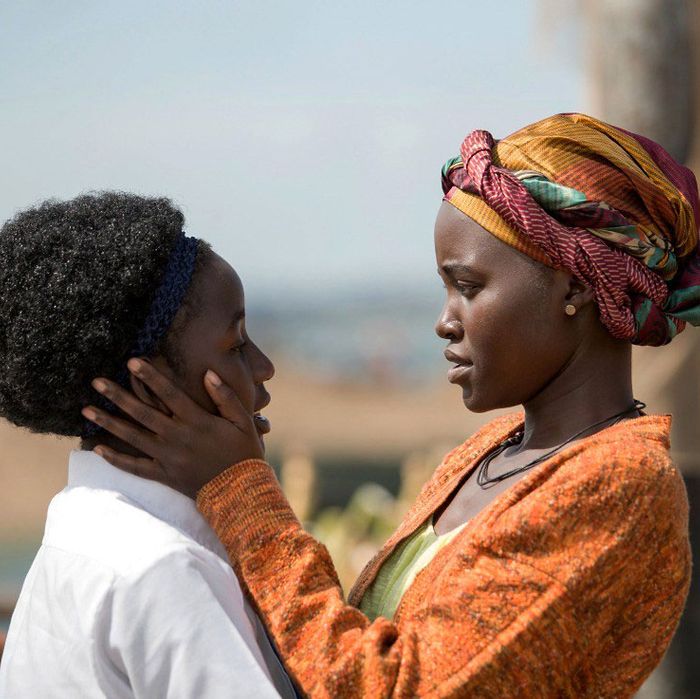 Photo: Disney Productions
The eagerly awaited trailer for the Lupita Nyong'o–starring Queen of Katwe just debuted, and if it makes you misty, just you wait. "I'd be curious to know how many times you cry in the film!" Nyong'o told Vulture via email earlier today. "The trailer gives me chills — it reinforces how excited I am to be a part of this incredible cast and to help bring this story to the world."
That fact-based story concerns Nyong'o's character, Harriet Mutesi, who is raising her young daughter Phiona in the Ugandan slums of Katwe and pushes herself to provide for her children. Things take a turn when Phiona meets missionary Robert Katende (played by David Oyelowo), who cultivates the girl's natural skill at chess. It's a talent that could take her out of Katwe, but a hesitant Harriet fears what will happen if Phiona's dreams are dashed.
"Seeing [the trailer] reminds me of our time on set, being around the astoundingly gifted children, and the distinct sights and smells of Uganda," Nyong'o told us. "It fills me with pride. The music is perfect too; it evokes the hope of the story, and the hard work that the whole cast and crew put in to bring it to the big screen."
Nyong'o's appearance in the Mira Nair–directed film is significant for a whole other reason: This is the first live-action role Nyong'o booked after her Oscar-winning turn in 12 Years a Slave, though she has also played an alien in Star Wars: The Force Awakens and a wolf in The Jungle Book. "In the sense that I am returning to the screen in my body for the first time, I cannot think of a more exciting, powerful and hopeful true story to mark it," she said.
While she's aware that her fans want to see her face on the big screen again, Nyong'o recently wrote an essay for Lenny about pursuing her own distinctive career path, which currently includes a Tony-nominated run in Eclipsed on Broadway. "I understand and appreciate people's investment in my artistic pursuits," she told us. "I delight in their fan art and their often hilarious memes. That said, I think it is very important to keep tabs on what my passions are, to listen primarily to my inner compass. That way I can stand by my choices with confidence and be truly effective."
Queen of Katwe will be released by Disney on September 23.