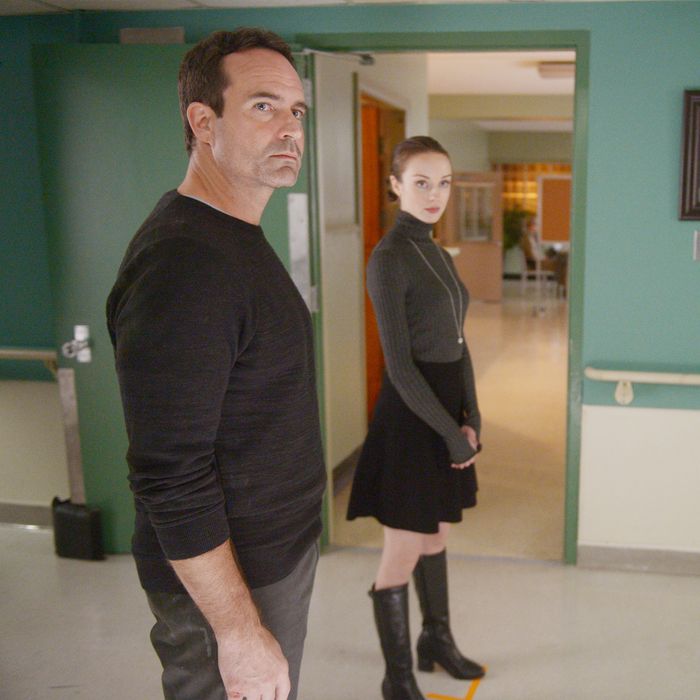 Jason Patric as Dr. Theo Yedlin, Kacey Rohl as Kerry Campbell, Tom Stevens as Jason Higgins.
Photo: Sergei Bachlakov/FOX
Here we go again. As Wayward Pines returns for a second season, it takes us down a very familiar road. Once again, a leery male character with domestic problems wakes up from a 2,000-year beauty nap. Once again, he is played by a former teen heartthrob. And, yes, he, once again, spends his waking hours trying to get the hell out of town so he can find his wife.
This time around, it's Jason Patric playing Theo Yedlin, a doctor we first see lounging in Hawaii with his wife, Rebecca. Later in the episode, flashbacks reveal trouble in paradise: She wants a baby and ol' boy doesn't. He thinks this little getaway might patch things up, but she's about ready to chunk the deuce and call this marriage a wrap.
Under these stressful circumstances, he ventures out to the bar for a drink, where he runs into Lucious — I mean, Sheriff Pope — who is apparently on the hunt for more chosen people to chloroform and forcibly send into the future with him.
And so, Yedlin wakes up all disoriented in Wayward Pines, just like Ethan Burke did at the top of the first season. (Unlike Burke, who woke up in the middle of the damn woods, Yedlin finds himself in Pilcher's old domicile.) After a cold greeting from a young, taciturn lady, Yedlin learns he has to head to the hospital for some emergency medical work. While being escorted in an SUV filled with guards (as Frank Sinatra's "High Hopes" plays in full blast, mind you), he makes a break for it and basically finds himself in the middle of a war zone filled with explosions, bullets on the ground, and bloody walls.
Oh yes, Wayward Pines has changed a bit since we last left it. No longer is Pines a sunny, picturesque town filled with clueless residents who aren't aware they're the only people left on earth. (The other beings on earth are ravenous monsters — "abbies," as they're affectionately called — ready to gobble them up if they set foot outside the city's walls.) Thanks to the little uprising Burke and those insurgents ignited at the end of last season, the people are well aware of who they are and what lurks outside city limits. However, the townspeople choose to live in denial, or at least some of them do. Yedlin finds this out when he knocks on the door of a yuppie-looking couple whose calm, soothing voices and fondness for classical music are a striking contrast to the noise and madness happening outside.
The townspeople also live in fear of another deadly menace: all the kids from Wayward Pines Academy, who now rule the town. Led by that paranoid, homicidal punk Jason Higgins, these youngsters believe they're continuing the work of their late leader Pilcher by dressing up like Hitler Youth (Pilcher Youth?), setting curfews, rationing food, and gunning down insurgents before they disrupt their precious way of life. High atop this list is Ethan's kid, Ben, who continues his late father's work by leading the rebellion.
But back to Yedlin. He gets caught and sent again to the hospital, where Higgins greets him and feeds him some bull about Wayward Pines being a secret government study and the townspeople being willing participants. Yedlin gets sent off to save the life of none other than OG insurgent Kate Hewson, who was on the receiving end of some gunshots. Since Yedlin took the Hippocratic Oath and all that jazz, he suits up to operate on her, even though he's surrounded by interning physicians, all of whom look like they're not old enough to drive. (This operation becomes pointless when Hewson takes her own life, slitting her own throat and bleeding all over the wheelchair-bound Megan Fisher.)
Although Yedlin is immediately suspicious of his surroundings — you would be too, if you spotted poor ol' receptionist Arlene getting shock treatment in one of the hospital's desolate spots — he's promised that his wife will arrive shortly. He does see his wife again … at a public execution. That's where Higgins threatens to rub out captured insurgents if Ben and his crew don't show their faces. After a guard puts a bullet in the coffee-shop waitress (and, as we learn, single mom) Ruby, the insurgents finally come out from the shadows, and Higgins puts them in custody.
Yedlin, who tried to stop the execution, gets captured by guards yet again. This time, he finally does get time with his wife (who seems all-too-surprised to see him, perhaps because she's been awake longer than he has) before Higgins whisks him away, claiming he'll explain everything at his home in the mountains. Yedlin makes the mistake of hopping in the truck that's carrying Ben, as a guard drives them up to the city's wall gate. Before the gate opens, the dude sucker-punches Yedlin, knocking him out cold. He then puts a rock on the gas pedal and runs off as the truck hits a tree and lands straight into abbie oblivion. Yedlin wakes up just in time to see a bunch of abbies run into the electrified walls, getting zapped out one after the other.
So, how are Yedlin and Ben (and rebellion ally Zander) going to get out of this pickle? We could pose the same question to the show's writers. Since Wayward was supposed to be a limited series (or "event series," as they called it), a second season wasn't supposed to happen. The show's original writers have already moved on: Chad Hodge jumped to TNT to show-run Good Behavior with Michelle Dockery, while the Duffer brothers literally went on to Stranger Things, which will premiere on Netflix in July. The second season will reportedly stray from the books, so author Blake Crouch presumably doesn't have anything to do with this show either.
And yet, here we are. With new showrunner Mark Friedman (Believe) writing this episode and David Petrarca (Jessica Jones) directing it, the show puts a creepier spin on familiar territory. (Petrarca shoots people in flattering close-ups, as if he's trying to get inside people's noses.) Now that all the secrets are out, where else could they take it? If anything, they're going for what they know: another restless hero who must figure out what the hell is happening in this wacky town, while another diabolical despot claims to be looking out for the people. "Enemy Lines" left me feeling mixed about the show's future. Are there any more secrets left to uncover in this town? Is Wayward Pines already running on fumes? We have another nine weeks to find out.