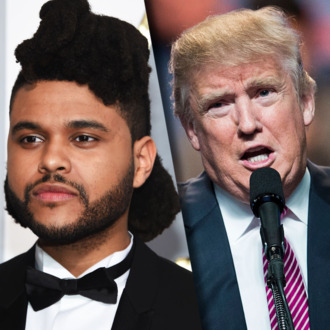 Don't even bother trying to move to Canada.
Donald Trump never fails to invite controversy. His appearance on Jimmy Kimmel Live! last night cost the show its musical performer. Hours before they were scheduled to perform, The Weeknd and his XO signee, rapper Belly, canceled on Kimmel to protest Trump. "I feel like the way I was raised was to be able to see through all the titles in this world — from religion to race," Belly explained in a statement. "I just didn't want to feel like I was a part of a celebration for somebody who has beliefs that majority of us don't agree with." The Oscar-nominated artists — who, ironically, are both Canadian — were set to perform Belly's hit "Might Not," on which The Weeknd is featured.
Belly also added: "For me, being Muslim and being somebody that appreciates my access here in America, I love the fact that I'm able to be here. To play my part in this business is a privilege and a beautiful thing. The fact that I could lose that ability through the actions of someone such as Donald Trump isn't right to me. At all." Last September, when musician Raury appeared on Colbert the same night as Trump, the singer made his opinion known by performing in a Mexican soccer jersey with the name Trump crossed out on the back.