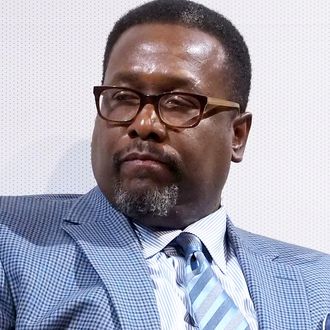 Pierce.
Photo: Paul Zimmerman/2016 Getty Images
Atlanta police confirmed that Wendell Pierce was arrested Saturday and booked on a charge of simple battery. Initial reports from TMZ and the Daily Beast, both citing unnamed sources, offered conflicting accounts of an alleged scuffle that happened at around 3:30 a.m. between the actor and a couple staying at the Loews Atlanta Hotel. The former wrote that The Wire and The Odd Couple star "smacked" a woman there after a heated political discussion in which she said she was a Bernie Sanders supporter; the latter noted that "the woman stepped into an altercation already under way" at the hotel bar. He was released Saturday on a $1,000 bond.
Update: Pierce has spoken out for the first time since his arrest in a series of tweets to dispute the attack.
Pierce's tweets follow his announcement that he would not be giving his commencement address at Rutgers University-Newark on Monday. According to the New York Times, the university said Pierce "did not want to distract from the celebration."