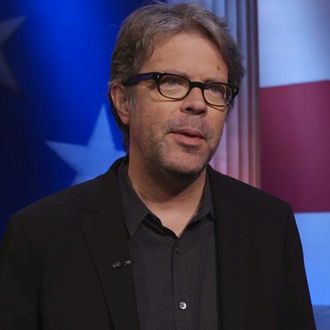 Jeopardy! kicked off its annual "Power Players Week" last night, in which well-known journalists and media intellectuals compete on the famed quiz show for the charities of their choice. Meet the Press moderator Chuck Todd, conservative commentator S.E. Cupp, and novelist Jonathan Franzen competed on Monday's show, with Cupp proving victorious in the end after all three failed to correctly answer the Final Jeopardy question. However, Franzen (who called the experience "a nightmare come true") was as charming and grumpy as ever, finishing in second place. Although Jeopardy! has yet to release clips from the taping — including Franzen missing a Shakespeare question and hiding under his booth in shame — here's a brief recap of what you missed.
Franzen's charity was for birds, and yes, there was a category about birds, which he destroyed.
And he gave a very Franzenian fun fact to start off the show.
Other big names — such as Anderson Cooper, Louis C.K., and Matthew Weiner — will be making appearances later this week.