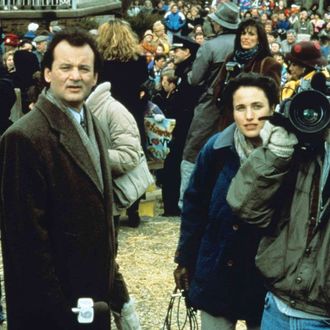 Photo: Sony Pictures Home Entertainment
Each month, several films and TV shows leave Netflix's catalogue. We provide a list of departing titles so you can watch them before they're gone forever (or are just available on a different site). Consider it a Memorial Day weekend to-do list. For more comprehensive coverage of the best titles available on Netflix and elsewhere, check out Vulture's What to Stream Now hub, which is updated throughout the month.
Oh, dear: Bridget Jones's Diary (2001)
Renée Zellweger plays a modern version of Elizabeth Bennett in the 2001 rom-com that taught everyone that Colin Firth makes for nearly as scorching-hot a Darcy in the present as he does in the past. You'll need to watch this to understand the ever-expanding Bridget Jonesverse, since there's a threequel coming just around the corner. Leaving June 1.
On and off again: Groundhog Day (1993)
Farewell, sweet moral lesson packaged within a Bill Murray comedy that is Groundhog Day. It seems like only yesterday that you were added to Netflix (it was, in fact, in March). Though, of course, we could wake up tomorrow and you might be back on Netflix. Déjà vu! Or, more accurately, the plot of Groundhog Day! Leaving June 1.
Have a ball: Paris Is Burning (1990)
Jennie Livingston's classic documentary helped introduce the world to New York's underground ball scene. In those balls, the contestants — primarily gay and transgender people of color — compete everything from runway walks to voguing competitions, often sending up the dominant culture in ways the dominant culture would later appropriate (in Madonna's "Vogue" video, for instance). Paris Is Burning largely lived underground until it made it to Netflix in 2012, and it'll be a pity to see it go. Leaving June 1.
The Disney vault: The Hunchback of Notre Dame (1996) and Mulan (1998)
This September, Netflix will start exclusively getting all the latest Disney releases on its site, but that doesn't apply to Disney's back catalogue. If you want to get one last pump-up session out of "Be a Man," watch Mulan. If you want a trip back to the Middle Ages that confronts religious fanaticism in decidedly not-kids'-movie ways, watch The Hunchback of Notre Dame. Leaving June 24.
It's a real: Sophie's Choice (1982)
Meryl Streep is a Holocaust survivor haunted by the decision she made in a concentration camp in the movie that will make you realize that most Sophie's Choice jokes are very bad. Leaving June 30.
TELEVISION
June 1
Disney Animation Collection: Vol. 5: Wind in the Willows
Elias: Rescue Team Adventures (Season 1)
The Super Hero Squad Show (Seasons 1–2)
June 2
Eureka Seven (Seasons 1–2)
June 14
Hawthorne (Seasons 1–3)
June 18
The Wubbulous World of Dr. Seuss (Season 1)
June 21
Mixology (Season 1)
June 24
Marvel's Avengers Assemble (Season 1)
MOVIES
June 1
A Wrinkle in Time (2003)
About a Boy (2002)
Bounce (2000)
Bridget Jones's Diary (2001)
The Chronicles of Riddick: Dark Fury (2004)
Clear and Present Danger (1994)
Click (2006)
Darkman (1990)
Dude, Where's My Car? (2000)
Duplex (2003)
The Faculty (1998)
Far From Home: The Adventures of Yellow Dog (1995)
Ghost (1990)
Groundhog Day (1993)
Hamlet (2000)
Hercules (1997)
In the Bedroom (2001)
Jersey Girl (2004)
Kinky Boots (2005)
Lassie (2005)
Losing Isaiah (1995)
Madonna: Truth or Dare (1991)
Marvin's Room (1996)
Music of the Heart (1999)
My Boss's Daughter (2003)
Nine Months (1995)
The Others (2001)
Paris Is Burning (1990)
Private Parts (1997)
Proof (2005)
Schoolhouse Rock!: Earth (2009)
The Sisterhood of the Traveling Pants (2005)
The Station Agent (2003)
The Stepford Wives (2004)
Stir of Echoes (1999)
Stir of Echoes 2: The Homecoming (2007)
Velvet Goldmine (1998)
View From the Top (2003)
Wayne's World (1992)
The Yards (2000)
June 15
The Bank Job (2008)
June 18
A Late Quartet (2012)
June 24
Elaine Stritch: Shoot Me (2013)
The Hunchback of Notre Dame (1996)
The Hunchback of Notre Dame II (2002)
Mulan (1998)
Who Framed Roger Rabbit (1988)
June 30
Sophie's Choice (1982)