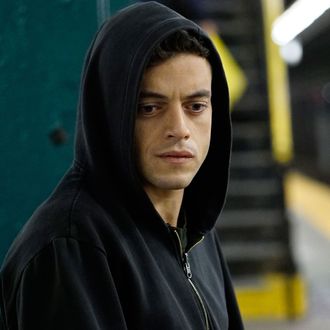 At the beginning of (and throughout) every month, Amazon Prime and Amazon Instant Video add new movies and TV shows to their libraries. Some of these may also have previously been on Amazon, only to have been removed and then added back. For more comprehensive coverage of the best titles available on Amazon and elsewhere, check out Vulture's What to Stream Now hub, which is updated throughout the month.
A period drama comes to a full stop: Downton Abbey (Season 6)
Just as the Dowager Countess might have wanted, ITV and PBS's beloved costume drama ends with less drama, and more style. The upper class faces, once again, the threats of modernism and the decline of manners. The servants negotiate the beginnings of a new England. There are affairs and intrigues, but mostly beautiful clothes, charming witticisms, and the comfort that all will be (mostly) okay. Available June 6.
FSociety: Mr. Robot (Season 1)
A package of blistering fury at the system compressed into a TV show, the hacker drama Mr. Robot came out of nowhere to become a sensation last summer. The second season airs in July, and, from the looks of it, creator Sam Esmail has even bigger ambitions this time. So now's the time to either catch up or brush up on the mind-bending intricacies of the first season, and get to know the force that is Rami Malek. Available June 13.
Every gun makes its own tune: The Good, the Bad, and the Ugly (1966)
Clint Eastwood stars as the Man With No Name in the third installment of Sergio Leone's epic Western trilogy. The first two, A Fistful of Dollars and For a Few Dollars More, aren't necessary for understanding this film, of course. In fact, you don't even need to pay attention to the dialogue. Just let Ennio Morricone's gorgeous score carry you away. Available June 1.
Some Ephron: Heartburn (1986)
Nora Ephron adapted her own semiautobiographical novel into the screenplay for this dry and witty movie, which stars Meryl Streep and Jack Nicholson as mirror versions of Ephron and her second husband, Carl Bernstein. The film has its ups and downs — the characters often seem shrill and one-note — but the combination of Mike Nichols, Ephron, Streep, and Nicholson is never not fascinating. Available June 1.
Good vibrations: Love & Mercy (2014)
Both Paul Dano and John Cusack play Brian Wilson in this bifurcated biopic, which moves between the '60s and '80s, when Wilson is stuck under the thumb of a manipulative legal guardian (Paul Giamatti). Of the two Wilsons, Dano more fully captures his genius, but the later segment has the benefit of Elizabeth Banks, who plays the woman who helps Wilson pull his life together. Available June 4.
TELEVISION
Downton Abbey (Season 6)(June 6)
Mr. Robot (Season 1)(June 13)
The Good Wife (Season 7)(June 20)
BrainDead (Season 1)(June 17)
American Gothic (Season 1)(June 26)
Lego Ninjago (Season 1)(June 6)
MOVIES
Available June 1
Apocalypse Now (1979)
The Good, the Bad, and the Ugly (1966)
Runaway Bride (1999)
The Black Stallion (1979)
Sleepover (2004)
Wayne's World (1992)
Apocalypse Now Redux (2001)
W. (2008)
In & Out (1997)
Carrie (1976)
Six Degrees of Separation (1993)
The Golden Child (1986)
Death Wish 2 (1982)
The Presidio (1988)
Mulholland Falls (1996)
Switchback (1997)
Ground Control (1998)
Criminal Law (1988)
Hammett (1982)
Trading Mom (1994)
Iron Eagle IV — On the Attack (1995)
The Million Dollar Hotel (2000)
Foolish (1999)
One From the Heart (1981)
Heartburn (1986)
Double Whammy (2001)
Ulee's Gold (1997)
Syriana (2005)
The Rage — Carrie 2 (1999)
Available later in June
Poltergeist III (1988)(June 2)
The Program (2016)(June 2)
Rules of Attraction (2002)(June 3)
Love & Mercy (2015)(June 4)
Lamb (2015)(June 6)
The Cokeville Miracle (2015)(June 6)
12 Rounds 3: Lockdown (2015)(June 8)
Remember (2015)(June 8)
The Adderall Diaries (2015)(June 14)
Trumbo (2015)(June 16)
Southbound (2015)(June 20)
Pup 2 (2016)(June 20)
Stand Up Guys (20120(June 22)
Open Grave (2013)(June 25)
6 Souls (2010)(June 29)
AVAILABLE FOR PURCHASE
TELEVISION
Feed the Beast (Season 1)(June 1)*
MasterChef (Season 7)(June 2)*
Marriage Boot Camp (Season 5)(June 4)*
Patti Stranger (Season 1)(June 4)*
UnREAL (Season 2)(June 6)*
Barbarians Rising (Season 1)(June 6)*
Olympic Families (Season 1)(June 8)*
The American West (Season 1)(June 12)*
Ride With Norman Reedus (Season 1)(June 13)*
Queen of the South (Season 1)(June 22)*
Cleverman (Season 1)(June 30)*
*Episodes available the day after they air on broadcast.
Movies
13 Hours: The Secret Soldiers of Benghazi (2016)(June 7)
Hail, Caesar! (2016)(June 7)
Jarhead 3: The Siege (2016)June 7)
Zootopia (2016)(June 7)
Be Somebody (2016)(June 10)
London Has Fallen (2016)(June 14)
Whiskey Tango Foxtrot (2016)(June 14)
Miracles From Heaven (2016)(June 21)
Green Room (2015)(June 28)
New with a Showtime add-on
Roadies (Season 1)(June 13)
Ray Donovan (Season 3)(June 20)