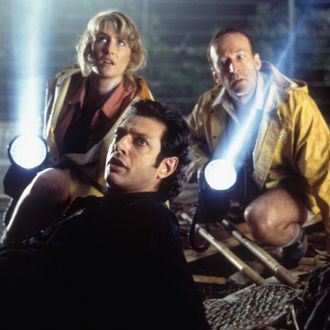 Photo: Murray Close/Universal Pictures
At the beginning of (and during) every month, Netflix adds new movies and TV shows to its library. We figure you might want to know about them. For more comprehensive coverage of the best titles available on Netflix and elsewhere, check out Vulture's What to Stream Now hub, which is updated throughout the month.
God save the queen: Elizabeth: The Golden Age (2007)
Cate Blanchett's English queen stares down the Spanish Armada in the sequel to Shekhar Kapur's 1998 Elizabeth, which is already on Netflix. Here the sets are bigger and the costumes more dazzling, nearly to the point of overwhelming the rest of the movie. Still, Blanchett's performance is a diamond amid rhinestones. Plus, keep an eye out for squint-and-you'll-miss-it performance from Eddie Redmayne. Available June 1.
Ba-BUM, ba-BUM! Jurassic Park (1993)
Dinosaurs are always a good idea — at least when you're selling movies, though not so much when you're a character in them. Netflix is getting the first three Jurassic movies — the original, Jurassic Park III (2001), and The Lost World: Jurassic Park (1997) — but really, you just need to watch the first one. The special effects hold up, and there's color to the performances — Laura Dern! Jeff Goldblum! — that's been drained out of big blockbusters today. (Sorry, Chris Pratt.) Available June 1.
At least it's not as over-the-top as our presidential race: Scandal (Season 5)
A presidential election is coming, but the problem, as usual, is that Olivia Pope and Fitz can't keep their hands to themselves (I mean, they could, but why would they want to?). This was the season that Olivia started wearing outfits with colors, so if you haven't caught up, know that things are going to get real. Available June 11.
Welcome back to Litchfield: Orange Is the New Black (Season 4)
When Orange Is the New Black left us last season, Litchfield was just starting to turn into a privately owned penitentiary. This season, we'll start to see the consequences. Ersatz Martha Stewart Judy King is also coming to the prison, which means that the perennial battles of control of the kitchen will probably get more intense in the coming year. Available June 17.
The top story: Spotlight (2015)
Tom McCarthy's Best Picture-winning celebration of shoe leather journalism is somehow both a devastating critique of the banality of evil and also a really inspiring movie. That's thanks to an ensemble full of energetic performances, and unpretentious, but assured, direction that gives the movie the tempo of a thriller and the resonance of a tragedy. Available June 22.
Netflix does Sundance: The Fundamentals of Caring (2016)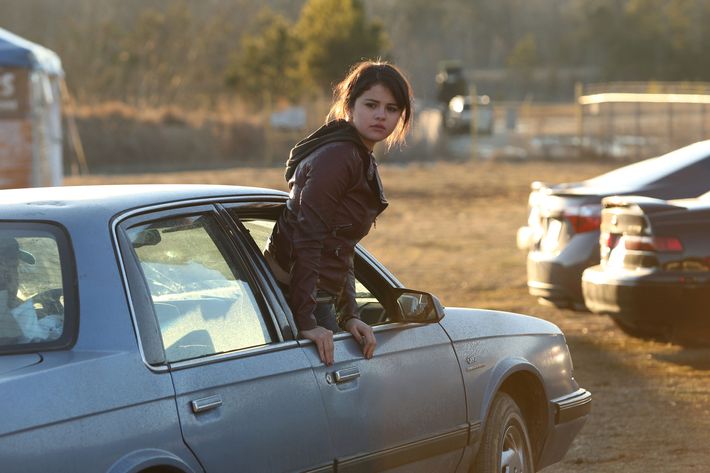 Paul Rudd and Selena Gomez star in this Sundance charmer about a boy with muscular dystrophy (Craig Roberts) who goes on a road trip with Rudd's reluctant home health aide. Gomez, who plays a teenage runaway, gave one of our favorite performances of the festival. This marks the beginning of Gomez's miniature Netflix empire. She's also executive producing and starring in a TV version of young-adult novel 13 Reasons Why for the site. Available June 24.
TELEVISION
June 1
72 Cutest Animals (Season 1)
72 Dangerous Places (Season 1)
Breaking the Magician's Code: Magic's Biggest Secrets Finally Revealed (Seasons 1–2)
Gentlemen and Gangsters (Season 1)
The Good Witch (Season 1)
Off Camera (Series 1)
Pokémon: XY: Kalos Quest (Season 2)
June 2
Beauty & the Beast (Season 3)
Pretty Little Liars (Season 6)
June 10
LEGO Friends: The Power of Friendship (Season 2)
Voltron: Legendary Defender (Season 1)
June 11
Scandal (Season 5)
June 14
The League (Season 7)
Jun 16
Being Mary Jane (Season 3)
Marvel's Agents of S.H.I.E.L.D. (Season 3)
June 17
All Hail King Julien (Season 3)
Orange is the New Black (Season 4)
June 18
Cedar Cove (Season 3)
Grey's Anatomy (Season 12)
June 19
Bunk'd (Season 1)
June 20
Life Story (Series 1)
June 21
Best Friends Whenever (Season 1)
June 24
Dragons: Race to the Edge (Season 3)
June 30
A Very Secret Service (Season 1)
MOVIES
June 1
7 Chinese Brothers (2015)
A Walk to Remember (2002)
Big Stone Gap (2014)
Bob Ross: Beauty Is Everywhere (1990)
Cold in July (2014)
Conspiracy Theory: Did We Land On The Moon? (2001)
Cuba: The Forgotten Revolution (2015)
(Dis)Honesty: The Truth About Lies (2015)
El Libro de Piedra (1969)
Elizabeth: The Golden Age (2007)
Extraordinary Tales (2015)
The Fear of 13 (2015)
Gabo: The Creation of Gabriel García Márquez (2015)
The Great Alone (2015)
Hadwin's Judgement (2015)
J. Edgar (2011)
Jaco (2015)
Janis: Little Girl Blue (2015)
Jurassic Park (1993)
Jurassic Park III (2001)
Lion Heart (2013)
The Lost World: Jurassic Park (1997)
Meadowland (2015)
The Odd Couple II (1998)
Pokémon the Movie: Hoopa and the Clash of Ages (2015)
Portrait of a Serial Monogamist (2015)
The Resurrection of Jake the Snake (2015)
Rock the Kasbah (2015)
Sam Klemke's Time Machine (2015)
Second Coming (2014)
Tab Hunter Confidential (2015)
UFOs: The Best Evidence Ever (Caught on Tape) (1997)
Underdogs (2013)
What Our Fathers Did: A Nazi Legacy (2015)
Wildlike (2014)
June 2
Hibana: Spark (2016)
June 3
Bo Burnham: Make Happy (2016)
June 6
Darkweb (2015)
June 7
Every Thing Will Be Fine (2015)
Jarhead 3: The Seige (2016)
June 11
Me Him Her (2016)
June 12
Already Tomorrow in Hong Kong (2015)
June 15
After The Spill (2015)
Boom Bust Boom (2016)
The Giver (2014)
In the Shadow of the Moon (2007)
Naz & Maalik (2015)
Night Owls (2015)
Poverty, Inc. (2014)
Top Spin (2015)
TransFatty Lives (2015)
Jun 16
The Unborn (2009)
June 19
I Am Thor (2015)
June 20
The Making of Life Story (2016)
June 22
Sin City: A Dame to Kill For (2014)
Spotlight (2015)
June 24
The Fundamentals of Caring (2016)
Justin Time GO! (2016)
June 27
Cronies (2015)
June 29
Life (2015)
June 30
Palio (2015)
(T)ERROR (2015)
For more details on the best film and television available online, consult Vulture's What to Stream Now hub.