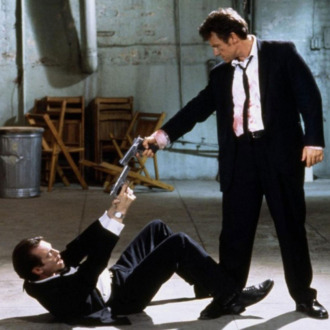 At the beginning of (and during) every month, Showtime adds new movies and TV shows to its library. We figure you might want to know about them. For more comprehensive coverage of the best titles available on Showtime and elsewhere, check out Vulture's What to Stream Now hub, which is updated throughout the month.
Bang bang: Reservoir Dogs (1992)
Harvey Keitel, Tim Roth, Michael Madsen, Steve Buscemi, Edward Bunker, and Quentin Tarantino play the color-coded team of criminals who turn on one another after a heist in Tarantino's breakout feature, which has nearly as much gore as dialogue — and there's a lot of dialogue. Available June 1.
Kiss kiss: Sleeping Wth Other People (2015)
A play on the classic rom-com from Leslye Headland (Bachelorette), Sleeping With Other People mixes more sex, and more honesty, into the standard cocktail.Alison Brie and Jason Sudeikis have admirable chemistry, and Headland fills out the world in a way that feels expansive and has a comfortable vibe: a New York full of quirky friends and terrible exes, ripe for adventure, the way the city feels at 3 a.m. when you're walking home from a bodega in the yellow street lights. Available June 18.
It's all happening: Roadies (Series Premiere)
Cameron Crowe, the guy behind Almost Famous, returns to the site of Almost Famous for his first TV series. Roadies follows all the people behind the band, from the stalkers to the crew, and given Crowe's experience as music journalist, it looks to have that authentic feel that's oh-so essential to a good rock story. Heading up the cast are Luke Wilson, Carla Gugino, and Imogen Poots, who'll also appear in Popstar. Could this be the summer of Poots? I like the sound of that so much I hope so. Available June 26.
TELEVISION
Ray Donovan (Season Four Premiere)(June 26)
Roadies (Series Premiere)(June 26)
MOVIES
Available June 1
3:10 to Yuma (2007)
The Accidental Spy (2001)
All Over the Guy (2001)
Alone in the Dark (2005)
Battle Royale (2000)
Dreamscape (1984)
Free Money (1998)
Girl House (2014)        
Hannibal (2001)
Happy Endings (2005)
Hidalgo (2004)
Mission: Impossible 2 (2000)
The One (2001)
Reservoir Dogs (1992)
Revolutionary Road (2008)
I Survived a Zombie Holocaust (2014)
Lara Croft: Tomb Raider (2001)
Supernova (2000)
June 4
Woman in Gold (2015)
June 10
Meet the Hitlers (2014)  
June 13
Miami Vice (2006)
June 18
Sleeping with Other People (2015)
For more details on the best film and television available online, consult Vulture's What to Stream Now hub.
What's New on Showtime: June 2016