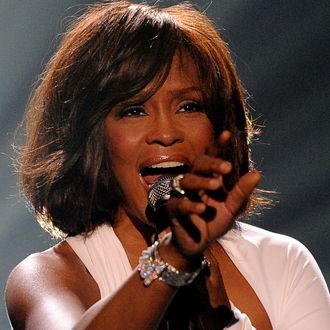 Houston from 2009.
Photo: Kevork Djansezian/2009 Getty Images
A performance by Whitney Houston's hologram that was supposed to air next week on The Voice's season finale has been nixed. It had long been rumored that Christina Aguilera would sing alongside a recreation of Houston, but the executor of the late singer's estate told ET on Thursday that the interactive likeness needs to be perfected:
We are so appreciative of the opportunity for the Whitney Houston hologram to appear on NBC's The Voice with a talent pairing as extraordinary as Christina Aguilera and Whitney Houston. We were looking to deliver a ground breaking duet performance for the fans of both artists. Holograms are new technology that take time to perfect, and we believe with artists of this iconic caliber, it must be perfect. Whitney's legacy and her devoted fans deserve perfection. After closely viewing the performance, we decided the hologram was not ready to air. We have much respect and appreciation for Christina, and she was absolutely flawless.
EW, citing an anonymous source, added that the hologram "didn't meet the show's high production standards." The cancellation came the same day footage of the duet leaked online: SPIN, sharing a now-removed clip, wrote earlier that the pair delivered "wild" versions of "I Have Nothing" and "I'm Every Woman." The now Houston-less finale unspools May 23.
No comment has been made about the hologram's tour, which was announced late last year. The head of Houston's estate said then that it would be "a great opportunity for [Houston's] fans to see a reinvention of one of the most celebrated female artists in history and to continue a legacy of performances that will not be forgotten in years to come."