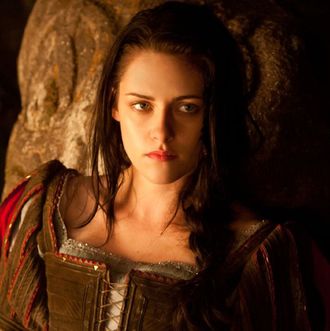 Kristen Stewart in Snow White and the Huntsman.
Photo: Universal Pictures
In a perfect world, Kristen Stewart would be as beloved for her acting talent and her no-bullshit approach to celebrity as Jennifer Lawrence is. Take, for instance, a selection of quotes from K. Stew's recent Variety profile about why she dropped out of a Snow White sequel. "I read a few scripts," she says. "None of them were good. None of them were greenlight-able." Stewart also insists that her departure from the franchise had nothing to do with her affair with Snow White and the Huntsman director Rupert Sanders: "We had been in talks months after [the scandal] about making something work, and it never came together. … We hadn't spoken in a long time, but I didn't know we had broken up." So how does she explain The Huntsman: Winter's War? "Maybe Chris [Hemsworth] was more into it. I actually don't fucking know." Speaking of that film, Stewart also reveals she had been in talks to make a cameo in the ill-fated film, but that also fell through: "So now I'm like … 'Thank God.'" Kristen Stewart, you are an absolute gem and we do not deserve you.