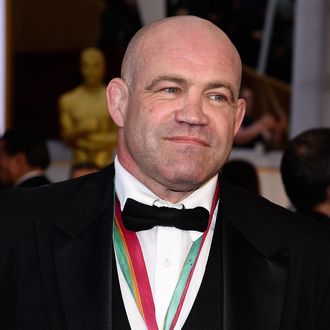 Photo: Kevork Djansezian/2015 Getty Images
In Bennett Miller's Foxcatcher, sibling wrestlers Mark and Dave Schultz were portrayed by Channing Tatum and Mark Ruffalo (who got an Oscar nomination for Best Supporting Actor), respectively. Dave was murdered by John du Pont (Steve Carell and a hawkish prosthetic nose) in 1996. Mark Schultz, who wasn't a fan of Miller's film, doesn't appear in the new documentary Team Foxcatcher, which focuses exclusively on Dave and his relationship with the mentally unhinged du Pont. His widow, Nancy, tells The Hollywood Reporter why director Jon Greenhalgh made this decision:
Mark Schultz and Dave Schultz were never at Foxcatcher at the same time. Mark Schultz was just at Foxcatcher about a year, in preparation for the '88 Olympics. He left right after the '88 Olympics. And our family didn't arrive until July of 1989. And Mark never came back to the farm. And that's the choice that our director, Jon Greenhalgh, decided to narrow the focus. It started out so broad and so much story and they just kept bringing it down, bringing it down and finally defined the time that we arrived at Foxcatcher in 1989 until shortly after Dave's murder. So the narrow timeline ended up being that space.

You said Jon didn't want to feature Mark at all because his time at Foxcatcher was before Dave arrived. Is that the only reason Mark's not in the documentary?
We talked to Mark early on. He was actually involved in Foxcatcher and couldn't work on our film at the time and by the time he was out of that and could work, we had narrowed the scope to 1989 forward. So he really wasn't there [during the time period we decided to depict in the film]. And Jon Greenhalgh was really enchanted by the racing documentary Senna. One of the things that film does is it stays in the past, the entire time in the documentary and never moves forward. Although Greenhalgh didn't exactly do that, one of the things that he wanted to do was get you on the farm and have you live with us for those years. And I think to go outside of that to Dave's earlier days or to move past that really didn't fit with what Jon was trying to do. He really wanted you to arrive on the property with us in 1989 and live on the property, on Foxcatcher, until Dave's death. So we had to leave out lots of stuff, about his childhood and what we're doing now in the wrestling community. All of that kind of got pushed to the side.
Team Foxcatcher is now streaming on Netflix.