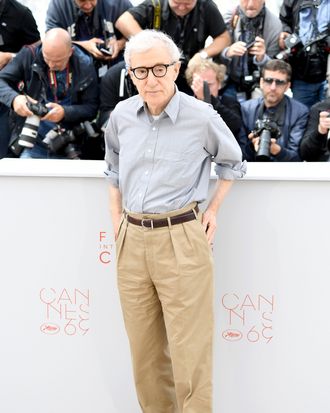 Photo: Venturelli/Getty Images
Every opening-night film at the Cannes Film Festival is ensured a gala reception, but the launch of Woody Allen's new film, Café Society, has had a rougher time of it. Shortly after the film's first press screening Wednesday, Allen's estranged son Ronan Farrow published a bombshell editorial in The Hollywood Reporter that excoriated the stars who still work with Allen in spite of the sexual-assault accusations levied against him by Allen's daughter Dylan Farrow. Farrow implicated the press for their silence, too, challenging the media to ask tougher questions of the 80-year-old director.
Today, at an intimate luncheon for Café Society, reporters did just that. I sat at a table with Variety's Ramin Setoodeh and Vanity Fair's Julie Miller, among other reporters, and when Allen came to speak with us, it wasn't long before conversation turned to the controversy. Allen told Miller that he hasn't read Ronan Farrow's article.
"I never read anything about me," he demurred. "Any of these interviews I do, anything. I said everything I had to say about that whole issue in the New York Times, I don't know if you read it, some time ago. I have moved so far past that. You know, I never think about it. I work, and that's the end of it for me. I said I was never gonna comment on it again because I could just go on endlessly."
When Setoodeh asked him if he planned to read the article, Allen continued to hold his ground. "I never read anything," he said again. "I never read what you say about me, or the reviews of my films. I made the decision 35 years ago to never read a review of my movies, never read an interview, never read anything. Because you could easily become obsessed with yourself … I've been very productive over the years by not thinking about myself, and not obsessing over myself."
"But this isn't a critic," said Setoodeh. "It's your son."

Allen shrugged. "I've said all I have to say about it."
He was somewhat more forthcoming when asked about a joke made at his — and Roman Polanski's — expense last night at the Cannes opening ceremony. "It's very nice that you've been shooting so many movies in Europe," master of ceremonies Laurent Lafitte said to Allen, "even if you are not being convicted for rape in the U.S." The joke startled the crowd, but Allen was nonplussed today when asked about it.
"I'm completely in favor of comedians making any jokes they want," said Allen. "I am a nonjudgmental, non-censorship person on jokes. I'm a comic myself, and I feel they should be free to make whatever jokes they want."
Was he offended by the joke? "I'm never offended. It would take a lot to offend me."