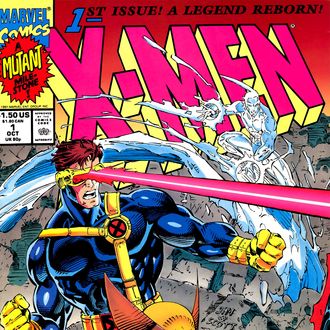 Cover of X-Men Vol. 2, No. 1, published in 1991.
Photo: Jim Lee/Marvel
One of the most delightful aspects of the X-Men film franchise is its regular use of period pieces. Fox's soft reboot of the series, 2011's X-Men: First Class, was set in 1962; much of 2014's X-Men: Days of Future Past was set in 1973; this month's X-Men: Apocalypse takes place in 1983; and, as you might expect, the next episode will shunt the merry mutants into the heady days of the 1990s. The series's producer, Simon Kinberg, confirmed the time jump to Collider.
This is an interesting development for two reasons. One is that the franchise's chronology will be getting very close to looping back in on itself: The first X-Men movie came out in 2000 and was, ostensibly, set roughly around that time. Given that the series's timeline is hopelessly confusing, especially after the time-traveling escapades of Days of Future Past, it's anyone's guess how much the film will act as an explanation of how we got to the events of that first movie or how much it will totally overwrite it.
The other reason is more of an aesthetic one. Here in the real world, the early 1990s was arguably the commercial high point of the X-Men mythos. It was a period when an X-Men issue became the best-selling comic of all time, only to have that record broken by an X-Men spinoff comic just a few months later. The team was also translated into a hit cartoon around then. In short, if you cared about superheroes in the 1990s, that period's interpretation of the franchise is one you'll vividly remember (even if you hated it). One has to imagine that the movie will draw lots of inspiration from the stories and visuals of the era, tapping into the ever-profitable cultural phenomenon of '90s nostalgia. Get ready for plenty of primary colors.