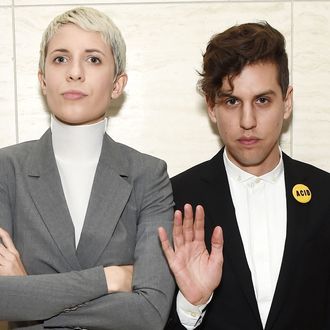 The band in question.
Photo: Amanda Edwards/Getty Images
Following a series of social media updates and one "non-apology"on Tuesday, YACHT's Jona Bechtolt and Claire Evans posted what we can only hope is a final message to their fans in light of their sex-tape hoax fiasco. Bechtolt and Evans say that claiming they were victims of a leaked sex tape in order to promote a music video was an "egregious mistake," and add that they never intended to "mock or make light of anyone who has been a victim of a privacy violation like the one we mentioned."
Bechtolt and Evans, who are romantic and creative partners, had initially claimed on Facebook Monday that a private sex tape they made had leaked online; they followed up by saying they would sell the tape on their website as a way of controlling the narrative. After some publications expressed skepticism about the existence of the tape Tuesday, the band came clean about the stunt in a since-deleted statement, which has now been replaced by the full apology posted Wednesday. Read that one in full below.