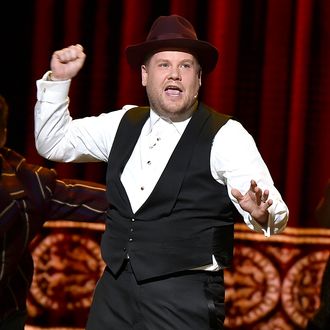 James Corden, the man of the hour.
Photo: Theo Wargo/Getty Images
The Hamilton halo lifted Sunday night's Tony Awards to its biggest TV audience in 15 years. Per preliminary Nielsen data, the 70th annual kudofest drew 8.7 million viewers from 8 to 11 p.m., a dramatic 35 percent jump over last year's tune-in of 6.5 million and the most for a Tonys since 2001's broadcast attracted 8.9 million viewers. The combination of Hamilton mania (the show was nominated for a record 16 awards, and won 11) and new host James Corden also helped lure a much younger audience to the Tonys. The event averaged a 1.6 rating among viewers under 50, the best demo number for a Tonys since 2003. These numbers are even more impressive in context: Overall TV ratings have fallen sharply over the past five years, with awards shows no longer immune to the declines. Last September's Emmys were the least-watched ever, while the most recent Oscar and Grammy telecasts also took big Nielsen hits. Bottom line: The 2016 Tonys didn't just score a big success —  it also won by Defying Gravity.