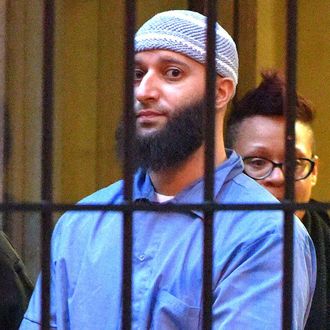 Adnan Syed at his most recent hearing.
Photo: Karl Merton Ferron/Baltimore Sun/TNS via Getty Images
Adnan Syed's long battle for a new trial has paid off: According to the Baltimore Sun, a Maryland judge has granted Syed a retrial for the murder of his ex-girlfriend Hae Min Lee, a case that was the subject of the first season of the Serial podcast. Syed was convicted of the crime in 2000 and sentenced to life in prison; Sarah Koenig's popular podcast was devoted to examining his claims of innocence in extreme detail. After years of appeals, Syed was granted a hearing for post–conviction relief in February, which centered on the question of why Syed's original attorney, Cristina Gutierrez, never called potential alibi witness Asia McClain, as well as the reliability of the prosecution's cell-phone location data.
In his opinion, retired judge Martin Welch wrote that Gutierrez's "performance fell below the standard of reasonable professional judgment when she failed to cross-examine the state's cell tower expert regarding a disclaimer obtained as part of pre-trial discovery." After the decision, Syed's attorney Justin Brown said in a press conference he was "confident" his client would eventually be a free man: "This was the biggest hurdle. It's really hard to get a new trial."