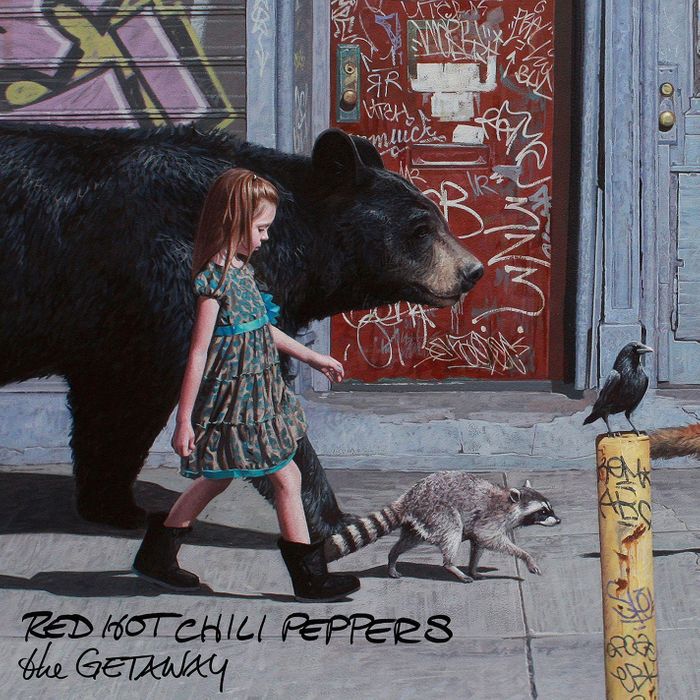 Even in youth, the Red Hot Chili Peppers sounded old beyond their years. In both its lyrics and gripping guitar performance, "Under the Bridge," the punk-funk pranksters' 1991 breakout single, pined darkly for the comfort of Los Angeles, a city that brought them success and drug-addled ruin in equal measure. This same dull ache for lost days has formed the sentimental undercurrent of many of the Chilis' finest moments on record (see: "I Could Have Lied," "Soul to Squeeze," "Knock Me Down," "This Is the Place"), and as they've inched away from the puckish P-Funk stylings of their early years toward a new classic rock, the quality of the music has hinged on how well the band could cut to the emotional quick. The band's 2011 album, I'm With You, was a miss on a few counts: The writing felt wonky even for a lyricist like Anthony Kiedis, whose best turns of phrase please the ear phonetically but not always conceptually, and the music meandered as the band adjusted to new member Josh Klinghoffer, a tour hand who graduated to full-time guitarist when the Chilis' off-and-on ax man John Frusciante left again after 2006's Stadium Arcadium. This week's comeback album, The Getaway, sees the Red Hot Chili Peppers foregrounding a grace and maturity the music's always stashed behind a veneer of irreverence and playful experimentation.
Bubbly as they can still be in their 50s, Kiedis, bassist Flea, and drummer Chad Smith are no longer the spry devils of their 120 Minutes days, a truth borne out last year in a skiing accident where Flea shattered his arm and nearly wrecked his ability to play music. The downtime ended up forcing a discussion over whether the band's creative process had outlived its usefulness. They stopped writing music by jamming until a riff stuck and took a break from longtime producer Rick Rubin, whose crisp, stark production fit their wiry funk-rock years hand in glove. Taking Rubin's place is Danger Mouse, the crack Beck, U2, and Black Keys collaborator whose knack for blurring the lines between rock and hip-hop has put him in high demand among aging rock acts anxious to loosen up and embrace the times. The knock about Mouse, though, is that his signature sound — a beat-infused guitar pop introduced to many when he affixed the Beatles' White Album to a cappellas from Jay Z's Black Album on the 2004 mixtape The Grey Album — is so specific that his collaborators' sensibilities can get lost in the bells and whistles.
The Getaway doesn't take the Chili Peppers' sound to the chop shop; they're still crafting agile guitar rock with a funk underpinning. But Danger Mouse does shake up old band habits and draw out an unfussed sweetness this band's never held across a whole album. There are pianos stacked everywhere, in the swelling intro to lead single "Dark Necessities," the dramatic coda to "The Longest Wave," and the lilting breakdown in the sprightly rocker "Feasting on the Flowers." Chad Smith's drums aren't just the band's limber legs anymore: In "We Turn Red," they boom like Led Zeppelin's John Bonham, but the funk jam "Go Robot" keeps them taut as disco-era Prince, while "Feasting on the Flowers" gives them a programmed hip-hop feel. Klinghoffer shows range, too: Check the Hendrix tribute in the quick solo that opens "The Longest Wave" or the Beatles-esque tone he takes ripping one in the back end of "Sick Love." The Chilis have covered wider stretches of musical ground than this on other albums, but The Getaway, in allowing the mood and subject matter of its songs to mold their production and instrumentation, has variety without resorting to the disorderly sprawl of Stadium and I'm With You.
All of this attention to feel is only as useful as its front man is adept at channeling it. Anthony Kiedis is poignantly self-aware here, from the warning in the lead single's chorus ("You don't know my mind / You don't know my kind / Dark necessities are part of my design") to smirking in the Elton John and Bernie Taupin collaboration "Sick Love" that "Sick love is my modern cliché." Though the lyric sheet holds its share of filler bars and kooky sex raps ("Take me to the river where we do a little storming / Hallelujah, I feel it warming"), a pure, questioning sadness colors these 13 songs that transcends any of the occasionally absurd words that populate them, a result, no doubt, of the singer's breakup with girlfriend and model Helena Vestergaard in the months leading to recording. This is a band whose finest records are essentially wistful glances back at dark times, though. The Getaway burns lifetime best friends Anthony Kiedis and Flea's individual adversities for fuel and powers the Red Hot Chili Peppers out of a late career rut with their tightest, prettiest collection of songs in more than a decade.
*This article appears in the June 27, 2016 issue of New York Magazine.