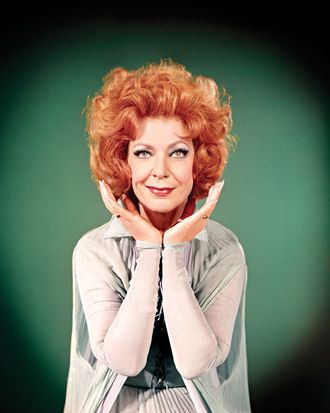 Allison Janney.
Photo: Emily Shur
The seven-time Emmy winner — she's twice won Best Supporting Actress in a Comedy for her role as Bonnie Plunkett in the CBS sitcom Mom — reveals a lifelong obsession.
"Agnes Moorehead as Endora is in the makeup of who I am as an actress. Back when I was watching Bewitched, I wasn't as fascinated with Endora as I was with Elizabeth Montgomery's Samantha. As I've gotten older, I've grown an appreciation for what Agnes did. She was a character actress; I'm usually the character part. I was a figure skater and dancer, and I'm very aware of making grand gestures — I just loved Endora's physicality. I'll steal from the best if I have to. Agnes was so over-the-top in the most fabulous way. Years of watching her have done their work on me. It's subconscious, but I'm able to take risks that are big and bold because I've seen women make choices that motivated me. I've been inspired by Agnes's attitude as Endora more than anything else, her sense of self. I still think that if I twitch the right body parts, I'm going to be able to blink and be all the way across the country."

*This article appears in the June 13, 2016 issue of New York Magazine.