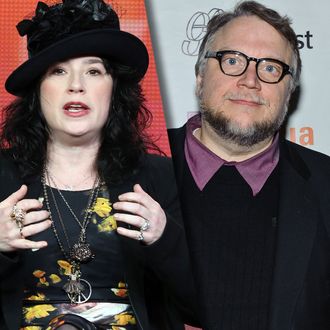 ASP and GDT.
Photo: Getty Images
A few weeks after announcing its summer slate of pilots, Amazon has started developing even more: Deadline reports that the streaming service has ordered pilots for five new series, including projects from Guillermo Del Toro and Gilmore Girls creator Amy Sherman-Palladino. Will they be good? Will they be bad? Who knows! But we can say, without a doubt, that they will definitely be pilots. Here's the rundown:
• Carnival Row, from Del Toro and his Pacific Rim writer Travis Beacham, is a dystopian sci-fi show based on a Beacham spec script that's been floating around Hollywood for over a decade. It's set in a futuristic city that somehow resembles Victorian London, presumably in the squalid conditions and vast societal inequality, but also in the fact it's being menaced by a serial killer. Will this be the first TV show to be both steampunk and cyberpunk?
• The Marvelous Mrs. Maisel is the Sherman-Palladino project, a dramedy about a 1950s housewife who's also an aspiring standup comedian. Fast-talking actresses aged 25 to 49, have your reels ready.
• The Legend of Master Legend, based on a 2008 Rolling Stone story, will tell the story of a "real life superhero" who fights crime alongside his trusty sidekick, the Ace. It will hopefully be less violent than Kick-Ass.
• Tropicana, definitely the most cable-y of all the pilots, is a period piece set at a nightclub in pre-revolutionary Cuba where "entertainers, the mob, Batista loyalists, Castro revolutionaries and the American CIA" all mingle. Remember that post-Mad Men wave of shows like Magic City and The Playboy Club? This sounds like that.
• Strange New Things, an adaptation of Michel Faber's book of almost the same name, is another sci-fi series, this time about a pastor who goes on "the journey of a lifetime into deep space that takes him light years away from his beloved wife," eventually encountering a sentient race of aliens, whom he teaches the Bible. It's The Fountain meets Cloud Atlas meets Doctor Who!