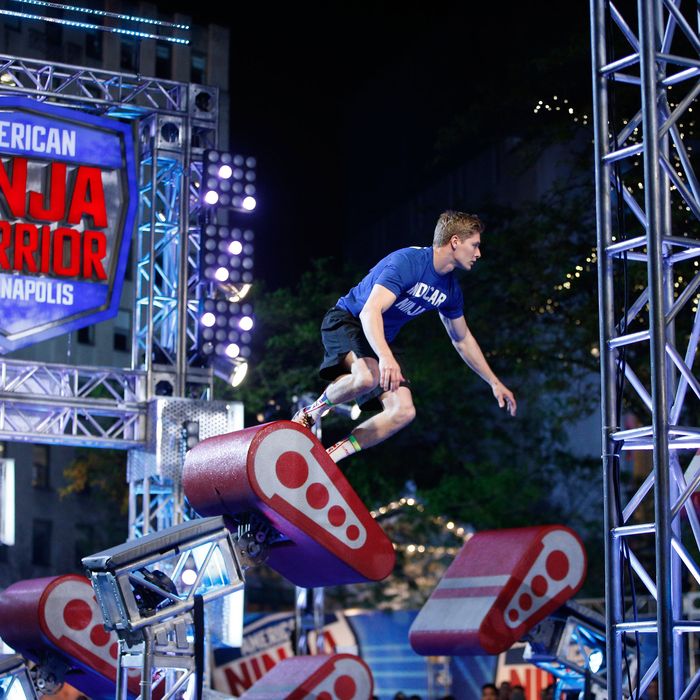 Josef Newgarden.
Photo: Joe Robbins/NBC
What a night here in Indianapolis, home of the Indy 500, Kurt Vonnegut, and a bunch of people who seem exceedingly nice. Truly, everyone who competes tonight is a just a barrel of inspiration. It is a powerful argument for the magic of athleticism, or the Midwest.
As always, Kristine Leahy gets the party started with a scenic tour of tonight's course. The ninjas will start off with their nightly run on our new old friend, the Floating Steps, followed by a classic swing on an authentic Hoosier rope. Upon landing, they'll wrap their glistening bodies around the Rolling Log, which is a horrifying tree trunk with handles that spins down a 28-foot track. On the off chance they are not immediately eviscerated, they'll get to trampoline onto the Fly Wheels, a series of three gripless pendulums that seem startlingly far apart. Then it's onto the Disc Runner, where they'll have to hurl themselves past two life-threatening rings spinning in opposite directions, like a manual Tilt-a-Whirl. The few and the proud then get to move onto the returning Swinging Spikes, a row of hanging spikes that swing. Finally, they'll be faced with the Warped Wall, which is one of the few things we can count on in this world.
The first ninja of the night is former professional football player and current high-school football coach Brandon Denson. "Come on, big fella," Akbar Gbaja-Biamila cheers, as Brandon swings wildly on the rope. But alas, the big fella is no match for the momentum of the deadly Rolling Log, and so it is the end of Brandon Denson. He is unruffled, our Brandon. Like the Terminator, he will be back.
Natalia Kley-Wisniewska is a kickboxer who, two years ago, fell on the first obstacle. Now she's back for revenge. However, she has a problem: She immediately falls again, also on the first obstacle. "I was too short, probably," she announces. What I love most about Natalia Kley-Wisniewska is that she does not blame herself.
Cheerful turkey farmer Eric Sietsema comes from a long line of cheerful turkey farmers. "This is a turkey-made body," Eric says, flexing one arm and holding a homegrown turkey in the other. But despite his "freakishly long" 82-inch wingspan — enough to make any turkey jealous — my favorite poultry professional loses his tenuous grip on the Fly Wheels and is promptly taken out to slaughter. "Sorry guys," he tells the turkeys, letting out a last mournful gobble before he goes.
Next up! IndyCar driver Josef Newgarden is one of four professional race-car drivers running the course tonight. He wants to to prove that race-car drivers are real athletes. "A lot of people don't realize we put in a lot of hours at the gym," Josef observes, correctly. In a cruel twist of fate, though, Josef Newgarden's chiseled racing arms aren't straight enough to get any real momentum on the Fly Wheels, and he experiences a high-speed collision with the water. Whatever. As Akbar enthusiastically points out, "These drivers are used to crashes!"
Michaela Kiersch is a rock-climbing powerhouse, who teaches Chicago children the art and science of scaling walls. "I like pushing myself to the physical limit," she beams, illustrating one difference between us. I prefer to push myself to the emotional limit, usually by crying. Michaela Kiersch gets off to bumpy start, but as Matt Iseman wisely reminds us, it's not whether you stumble that matters, it's whether you get up. And she does! She hangs on through the Rolling Log and sails through the Fly Wheels. Then, tragedy strikes: Her foot brushes the water on the Disc Runner. I am heartbroken. I was rooting for Michaela Kiersch, despite our fundamental incompatibilities.
Finally, some unseen mystery competitors! One of them is an Orthodox Jew! One of them is an oil-title examiner! One is Swedish! What they have in common is that none of them will be the next American Ninja Warrior.
Newspaper ad salesman and YouTube fitness sensation James Carter is the heaviest athlete in American Ninja history, but he moves with what Akbar says is the grace of "a bunny rabbit." This is the highest praise I can think of. Alas, the Rolling Log has no mercy, and James is obliterated, much like the print media that employs him. He is followed by Kirsti "the Machine" Pratt, who loves ninja training so much she salmon-laddered in a gown on her wedding day. And they say romance is dead! Kirsti is spectacularly strong, it is true, but she runs out of steam on the Swinging Spikes and cannot resist the siren call of the tranquil waters below. Kersplash.
More people! None of them make it, but one of them proposes to his girlfriend anyway. She says yes because she loves him, or because they are national television. Maybe both! Relationships are complicated.
For a change of pace, some good news! Young Drew Knapp is here because his brother nearly died of childhood leukemia, and now they are training partners. "Can't stop Knapp!" the crowd screams, as Drew bests one obstacle after another with gymnastic precision, which makes sense, because he is a competitive gymnast. That's the thing, though. You really can't stop a Knapp. He scales the Warped Wall and has so much energy left, he does a celebratory handstand just to calm himself down.
Detroiter Darron Witherspoon is a 51-year-old autoworker who's here to show that age is just a number, baby. And it is, in a way! In another way, though, it is not, and like so many before him, poor Darron is felled by the Fly Wheels. Oh well. I really think 52 will be his year. The circle of life continues with lithe Jake Murray, a free-spirited wedding photographer and "29-year-old child." Don't let his spiritual youth and aggressive whimsy fool you! Jake Murray is a seasoned ninja, with the agility of a gazelle and the look of someone who recently returned from Coachella. His disc running is effortless; he swings from the spikes with ease. And nimble Peter Pan is up the wall! Victorious, he shoots his headband at Akbar. Ah, to be 29 again!
Andrew "Roo" Yori is a lab technician at the Mayo Clinic, but his real passion is saving shelter dogs. A pit bull named Wallace was going to be euthanized, but Andrew noticed his interest in Frisbees and the two became a world-champion Frisbee dog team! Hector was used for dog fights, but now works as a certified therapy dog! Angus, who came all the way from Minnesota to cheer for Roo, is a geriatric black lab! Honestly, Angus seems kind of confused by the whole thing, but this K-9 ninja is a force, methodically destroying one obstacle after another. "That's my dog right there!" Akbar raves several times. Andrew makes it past the discs, over the spikes, and up the wall on his very first try. Even Angus seems proud, in a subtle sort of way.
Ricky Stenhouse Jr. is notable for two reasons: He is a NASCAR driver, and he is Danica Patrick's boyfriend. He is here on behalf of NASCAR drivers everywhere. Alas, his race to victory comes to a speedy end: He releases too soon on the Rolling Log and crashes into the watery depths of disappointment. There is no time to mourn his loss, however, because wholesome Nebraskan football coach Fred Thorne is up next. Did you know his wife Maggi also runs obstacle races? She does, and she just so happens to be a competitor on Spartan, the show that airs after American Ninja Warrior. Surprise! Though he has an otherwise impressive run, Fred stumbles at the Warped Wall. Things look dicey for a minute there, but his third try's the charm, and Fred Thorne emerges triumphant. Phew! Every Thorne has its rose, that's what I say!
When he was 8 years old, Zach Gowen lost his left leg to cancer, so he did the logical thing and became a professional wrestler. Zach says he knows what it means to overcome obstacles, and is that not what American Ninja Warrior is all about? Truly, he is incredible. He maneuvers through the Floating Steps. He makes it through the Rolling Log, a combination of strategy and strength. He goes down on the Fly Wheels, but we're all too impressed to care.
Last year, salesman Michael Stanger was competing for his wife, who has Ehlers-Danlos syndrome. Recently, his daughters have both been diagnosed as well, so now he's competing for all of them. "It's not easy to dream when everything looks so bad sometimes," his wife says. "Then there's a show that changes your life." Well, I'm openly weeping now. Michael battles his way through the first half of the course, no problem, but he is thrown off-balance on the Disc Runner and topples into the water. It is all very upsetting. I am very upset.
Still more people! Let us never speak of them again.
Hélio Castroneves is a champion IndyCar driver who also danced with the stars. Unfortunately, he loses his shoes on the Rolling Log, and then loses his grip on the Fly Wheels. A rough night for race-car drivers! It is almost as though competitive driving does not prepare you for climbing obstacle courses.
Remember Meagan Martin? This year, the American Ninja trailblazer was feeling nervous about the whole thing, so she invited her mom for moral support. No woman has made it through the course tonight, but that's all about to change, because Meagan Martin is in a class by herself. She used to be a pole vaulter, Matt says. Aren't they always? In almost no time at all, history is made! Meagan is the first and only woman of the night to buzz the buzzer of triumph. "Yay," she says. Frankly, I could not have said it better myself.
Closing out the night: American Ninja mainstay Lorin Ball, who will run fast or die trying. Oh! Which do you think it's going to be? Personally, I am feeling optimistic. Lorin zips through the Fly Wheels, flies over the Disc Runner, swings through the spikes, and he's up the wall in less than a two minutes, clocking in with the best time of the night. It is almost like they planned it that way.
Next week, we're off to Oklahoma City to meet the ninjas of the Great Plains. Who is your favorite warrior so far? Who is your least favorite race-car driver? Which dog is the best dog? Let's evaluate.