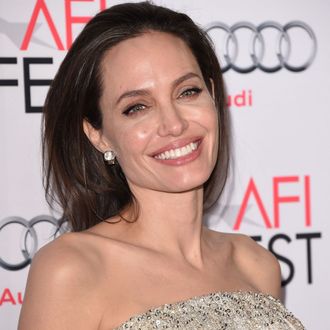 Angelina Jolie, murderer?
Photo: Jason Merritt/Getty Images
Will Angelina Jolie kill anyone in Murder on the Orient Express, or will she just metaphorically slay audiences? (Actually, if she is in the movie, she will kill someone, because — spoiler alert — this is the one where everyone did it!). Per Variety,  Jolie is in talks to join Kenneth Branagh's Murder on the Orient Express. Branagh is directing the adaptation of Agatha Chrstie's novel, and also starring as Hercule Poirot. Jolie's presumptive role hasn't been announced, but she'd make a wonderful Mary Debenham (who was played by Vanessa Redgrave in the 1974 film), or perhaps even Mrs. Hubbard or Countess Andrenyi — actually, scratch that, let's have a version of Orient Express where Angelina Jolie plays all the parts.