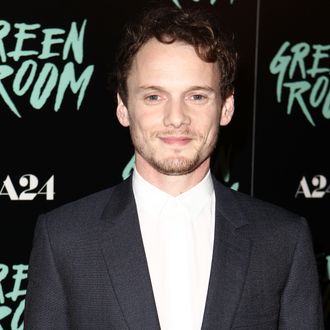 Photo: Leon Bennett/2016 Leon Bennett
Anton Yelchin, a remarkable young actor with uncanny charisma, died early Sunday morning at the age of 27. It's unclear how exactly his death occurred — Yelchin was "pinned between his car and a brick mailbox, which was attached to a security gate" outside of his home in Studio City, California, according to TMZ, who first reported the news. In an official statement, the Los Angeles Police Department said it appears he "had exited his car and was behind it when the vehicle rolled down a steep driveway, crushing him." His car was in neutral and the engine was still running when Yelchin was discovered by his friends, who became concerned when he didn't show up for a scheduled band rehearsal. His publicist, Jennifer Allen, confirmed the news, adding that his family is requesting privacy during this time.
A prolific actor who worked at a herculean pace, Yelchin appeared in over 40 movies in a 16-year career. He brought knowing apprehension to Alpha Dog (2006), in which he played a 15-year-old murder victim; his emotional, empathetic performance lead to roles in Charlie Bartlett (2007) and J.J. Abrams's Star Trek (2009), the movie that catapulted Yelchin into stardom. In 2011, Yelchin, then just 22, rode the wake of the big-budget blockbusters Star Trek and Terminator Salvation and appeared in four jarringly different movies: Like Crazy, a rom-com that debuted at Sundance; The Beaver, in which Mel Gibson talks through a hand puppet of a beaver; Fright Night, with Colin Farrell playing Yelchin's smoldering vampire neighbor; and the animated children's film The Smurfs. Speaking with Logan Hill for New York Magazine in 2011, he said:
When you meet people who are just the exterior, I think, You fucking suck. I want to terrorize you. … I fucking hate photos. It makes me so self-conscious because the whole goal is to look attractive and sell the clothing. My friends always laugh at me because I'll send them pictures from the studio and they know that I'm such a fucking ghoul.
An only child, he is survived by his parents, Irina and Viktor. An overwhelming amount of tributes are pouring in from friends, collaborators, and fans.