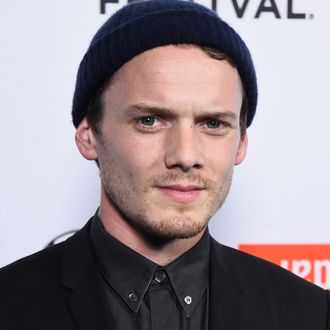 Anton Yelchin.
Photo: Frazer Harrison/Getty Images
Following the tragic death of actor Anton Yelchin last weekend at the age of 27, a class-action lawsuit has been filed on Thursday against Jeep Grand Cherokee manufacturer Fiat Chrysler Automobiles for allegedly intentionally covering up a "dangerously defective" gear shifter in the vehicle. Yelchin died in a freak accident in which he was pinned between his Jeep Grand Cherokee and a brick mailbox after the Jeep rolled down his steep driveway while he was out of the car. (Yelchin's car was in neutral and the engine was still running when he was discovered.) Now, seeking restitution, three plaintiffs have filed a class-action complaint using Yelchin's death and more than 300 other incidents as the central factor.
"One of the most basic safety features in every car is the gear shifter that causes a stationary car to remain stationary, unless and until an operator wants the car to move," states the complaint, which can be read in full here. "Though complaints and accident reports have been ongoing since at least early 2015, FCA has only recently initiated a voluntary recall of the over 811,000 Defective Shifter Vehicles in the United States; but to date it has only sent a letter to owners describing the design defect of the ZF Shifter, even though it knows exactly how to fix the problem by looking at what its competitors have done. FCA's unreasonable delay in fixing the defect and its warning letter was obviously too little, too late for Mr. Yelchin, and nearly a million Defective Shifter Vehicles remain in unsuspecting owners' driveways and garages." In early 2015, the shifter problems led to a voluntary recall of 2014 and 2015 Jeep Grand Cherokees, as well as 2012 to 2014 Dodge Chargers and Chrysler 300s.
The suit is asking FCA to replace every shifter or install an equivalent safety override system for all defective vehicles, as well as for punitive damages for fraud, compensation to owners for the loss of the vehicle's value, and a temporary replacement vehicle for the owners. They estimate the damages will be greater than $5 million.