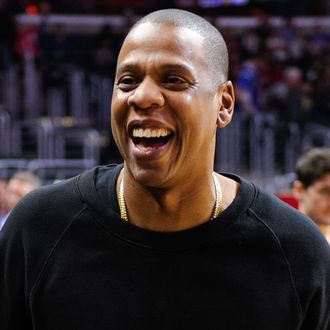 More business, more problems?
Photo: Noel Vasquez/GC Images
The battle over which music-streaming service will emerge victorious continues: Apple is reportedly in talks to buy Jay Z's Tidal, anonymous sources told The Wall Street Journal. While the terms of a deal are not known, and it's possible the talks could fizzle out, Apple is reportedly interested in the streaming service because of its ties to popular musicians (Kanye West and Beyoncé have both given a boost to the streaming service by initially releasing their albums exclusively on Tidal; a handful of stars are also co-owners). Will all the streaming services eventually merge into one giant conglomerate supported by A-list celebrities? Are Jay Z, Beyoncé, Rihanna, Madonna, Jimmy Iovine, and Trent Reznor sitting in a clubhouse somewhere determining the future of digital music over a light lunch? We'll have to wait for this wave of news to hit the shore.