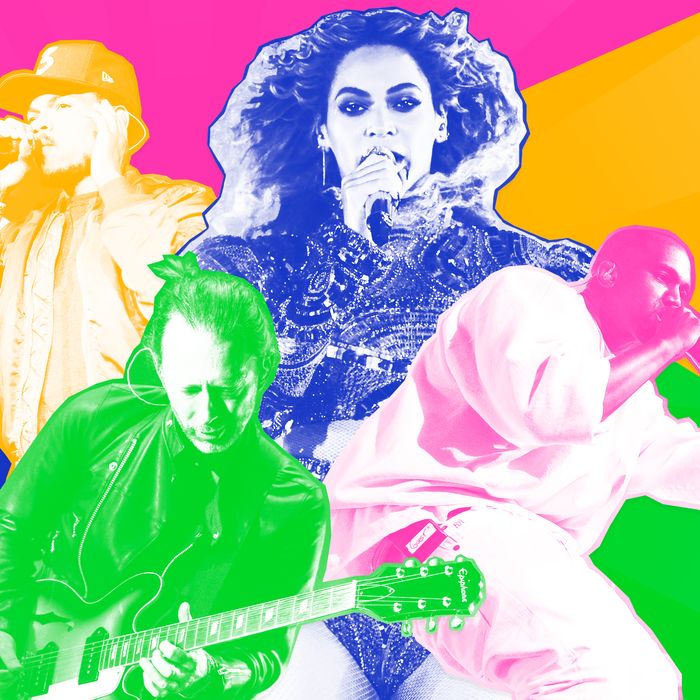 Photo-Illustration: Maya Robinson and Getty Images
This week, Vulture is looking back at the best entertainment releases so far in 2016. Today, music critic Craig Jenkins takes stock of what has been an especially strong six months for music.

Halfway in, 2016 is shaping up to be one of those years you read about in history books, where a dozen cultural subplots come screaming to conclusions so absurd it feels like a dark hand is guiding the disorder. The Sanders revolution hit a roadblock, but Trump's campaign still slithers. The British pound, and universe, is in freefall. The Cavs took out the nigh-unstoppable Golden State Warriors in the NBA Finals. Prince and David Bowie are gone.
Everything is in disarray, but music shines in strange times, and the year's harvest is already a bounty. Here are ten of the best. We could've easily listed 30.
Beyoncé, Lemonade
Beyoncé's second visual album, Lemonade, came down mid-spring, shattering the dewy-eyed marital bliss of its predecessor, 2013's Beyoncé. Where the self-titled opus explored Bey's physical and spiritual connection to the love of her life, Lemonade fixates on ways that man has since betrayed her trust. Revenge is exacted bloodily across the exhilarating trio of "Hold Up," "Don't Hurt Yourself," and "Sorry" before the singer opts to sort through the pain of betrayal and save the union across stately ballads "Sandcastles" and "All Night." She knows we'll all read this stuff as autobiography. She's just too unbothered to care.
Kanye West, The Life of Pablo
On February's The Life of Pablo, Chicago rapper/producer Kanye West turned to faith for respite from a darkness hinted at over a string of increasingly haunted solo works. Salvation's not a switch to be flipped on or off, though, and as self-professed gospel albums go, Pablo is less about the pageantry of holiness than the slow trip out of a bad headspace that faith offers. It may be messy, conflicted, and contradictory, in message as well as form, but no man's path to righteousness is a straight line.
David Bowie, Blackstar
At the time of release, the foreboding mysticism and cosmic jazz consciousness of the seven songs comprising David Bowie's 25th studio album Blackstar felt like an exhilarating new direction for a shiftless pop genius pushing 70. We'd find out days later that it was, in fact, his calculated good-bye after an uphill fight against a cancer known only to close family friends. With Blackstar, David Bowie made art out of the act of death, just as he did in every step of life. The true showman knows all the world's a stage.
Esperanza Spalding, Emily's D+Evolution
Composer, bassist, and vocalist Esperanza Spalding has always bristled at the confines of jazz, but rarely so purely as she does on her fifth studio album, Emily's D+Evolution, where she decamps from the comforts of Latin and vocal jazz for something more akin to '70s progressive rock. Together with longtime Bowie collaborator Tony Visconti, Spalding settles on a confident mix of vocal gymnastics that evoke peak Joni Mitchell and coolly complex composition whose raw ambition holds from the King Crimson–esque swagger of opener "Good Lava" to a raucous, set-closing cover of the Willy Wonka and the Chocolate Factory freakout "I Want It Now."
White Lung, Paradise
Vancouver punk-rock quartet White Lung's songs don't typically live to see the three-minute mark. Singer Mish Way and her razor-sharp band prefer to dig their feet in, excoriate, and get the hell out before the hooks find time to sour. Paradise slows things down a hair, especially on the shimmering "Below" and "Hungry," but the band's frenzied trademark stomp remains cinder-block hard, and Mish's lyrics still bleed from the impact of shattered love.
Kaytranada, 99.9%
Haitian-born, Quebec-raised producer Kaytranada treats house, hip-hop, R&B, and Caribbean music like primary colors most impactfully seen when blended together. His debut album, 99.9%, juxtaposes and fuses these styles with a scientist's curiosity, swinging from rap to jazz-funk to soulful house and back alongside a group of guests whose esteem speaks to his pedigree. Left-field R&B upstarts Syd tha Kid, River Tiber, and Anderson .Paak hold court with vets Craig David and Phonte, the jazz kids of BADBADNOTGOOD, and electronic music mavens Little Dragon, giving 99.9% the breadth of flavors of a spicy jambalaya.
Car Seat Headrest, Teens of Denial
For years, the scrappy rock and roll that singer/guitarist Will Toledo makes as Car Seat Headrest has evinced a great taste in music but struggled to step out of the shadow of the shaggy '90s lo-fi classics whose spirit it often channeled. Teens of Denial, Car Seat's second release for Matador Records after last year's Teens of Style comp, ups the production value a notch and brings in storied Washington engineer Steve Fisk (Low, Nirvana). Toledo responds with the warmest, brightest batch of songs of his career, precocious still in the winsome party cut "(Joe Gets Kicked out of School for Using) Drugs with Friends (But Says This Isn't a Problem)" and the sneaky Cars jack "Just What I Needed/Not What I Needed," but finally angling toward a renown all his own.
Chance the Rapper, Coloring Book
Ever the eager student, Chicago newcomer Chance the Rapper brought friend and mentor Kanye West's half-reneged promise to make a true mainstream gospel rap album to fruition on his third solo project, Coloring Book. Choirs and biblical allusions abound, but it is Chance's bubbly church-kid glee that pushes this thing up into the clouds. The kid can't help but brim with joy, even when he's cycling through dark days in "Summer Friends" and fretting over hometown unrest in "Angels." Chance's trust in faith and family are so pure you can't help but catch a little of the spirit through the speakers.
Sturgill Simpson, A Sailor's Guide to Earth
Country crooner Sturgill Simpson proved his mettle on 2013's workmanlike High Top Mountain and 2014's transfixing Metamodern Sounds in Country Music, but nowadays he wants us to see his range. On the surface, this year's A Sailor's Guide to Earth is a collection of hard life lessons addressed to the ex-Navy singer-songwriter's newborn son, but the album's easy shuffle through soul, blues, and rock seems to exist just to show Nashville insiders — who touted Simpson as a neo-traditionalist rejoinder to country's chart-topping pop-rap hybrids — that he could very well make whatever kind of music he pleases.
Radiohead, A Moon Shaped Pool
The five-year space between 2011's The King of Limbs and this spring's A Moon Shaped Pool was enough time for people to begin to count Radiohead out, but there's scarcely a better year for Thom Yorke's political paranoia to come crashing back than one that's seen both the rise of Donald Trump and the death of David Bowie. Yorke and company greet the times with a song cycle about loss and regret played in shockingly large part on acoustic instruments, and the shift in the attack doesn't cost the band an ounce of intensity, as skeletal ballads like "Glass Eyes" and fan favorite "True Love Waits" bear out in gutting detail.