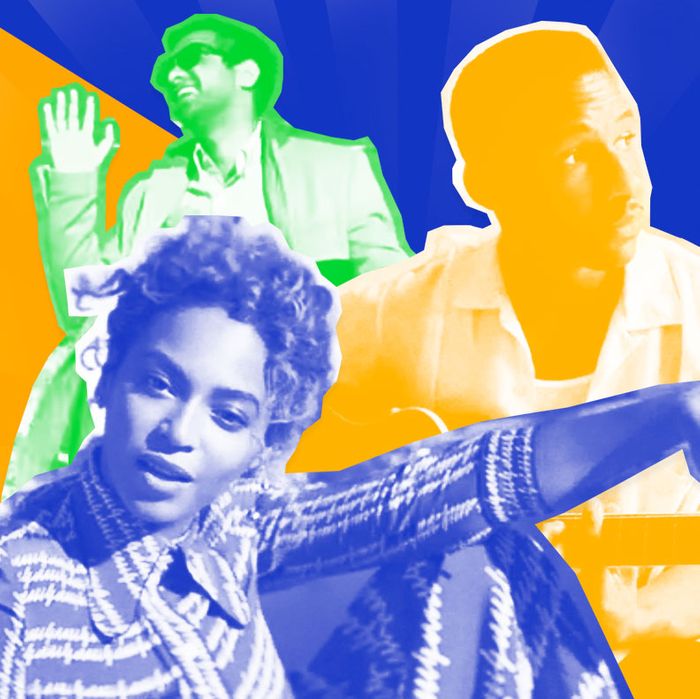 This week, Vulture is reviewing the best of entertainment so far in 2016. To date we've touched on albums, video games, comics, books, TV shows, songs, and TV networks. We wrap things up today with comedy sketches, movies, and music videos.
In 2016, music-video premieres have rivaled marquee album rollouts: Rihanna debuted her latest in IMAX theaters, Kanye sold $25 tickets to watch likenesses of naked famous people snore on a big screen at the Forum, and Beyoncé — forever upstaging her peers — debuted a whole hour's worth of music videos, in the form of a visual album, on HBO. And when done right, videos can still overshadow their corresponding song and dominate the cultural conversation. For a visual marvel like David Bowie, the music video was his parting gift. In Beyoncé's innovative hands, extended music videos have become the only way she unveils new albums. Whatever their function, music videos so far in 2016 have been provocative, amusing, and surreal — or, in Kanye's case, all of the above.

David Bowie, "Lazarus"
In hindsight, we should've known Bowie was taking his final bow. Three days before he ascended back to Mars, Bowie gave us the video for "Lazarus," a song that ominously begins, "Look up here, I'm in heaven." It's a stirring portrait of the human body under siege, confined to a hospital bed as the darkness sets in. But not just any body — the body of David Bowie, cancer-ridden and preparing to take flight. And so he levitates, escapes his body, and our Starman dances one last time. Finally, he's free.
Beyoncé, "Formation"
For half of 2016, there was no video that caused as much conversation as the surprise release of "Formation" back in February. And still no video has inspired more think pieces, roundtable discussions, guides, reviews, daily affirmations, emotional responses, and New Black Gospel; likewise, no other video has been countered with as much criticism and racist vitriol and as many accusations of theft and appropriation, threats of a boycott, and personal attacks. The Beyoncé canon runs deep; it now has its crowning glory. Prescient, pro-black, and political, "Formation" is the visual hot sauce to Lemonade.
Chance the Rapper feat. Saba, "Angels"
Too many of Chicago's heroes have fallen closer to Earth, but Chance the Rapper is still flying circles above their heads, happy to keep watch over his city if no one else will. In "Angels," a 2015 highlight, that metaphor takes literal shape. It's a bird's-eye view of Chicago, through the cartoonish virtual-reality goggles of a high-flying Chance. Eventually, he lands atop a moving train, only so he can be closer to one of his city's angels who might otherwise only see tragedy. With Chance as his guardian, he'll instead see Chance and Saba create a safe space for juking, pure imagination, and the freedom to enjoy being a kid who should never have to earn his wings.
Leon Bridges, "River"
Water has the power to heal, to cleanse, to baptize, to make anew. It can't raise the dead, but it can wash away the pain of loss. Water, or at least its symbolism, allowed Leon Bridges to find himself again after a period of depression. His video for "River" drowns itself in water of every kind, most especially from that of the heavens. It purifies the black community of Baltimore (where the video was filmed), ridding them of the bloodshed they've unjustly had to endure. And where life ends, it begins again: Just how Beyoncé's water-centric "Freedom" leads with a newborn, a baby's cries pierce through Leon's gentle hymn. It's an achingly visceral reminder that the rain, no matter how deep it may rise, eventually recedes. And when the storm breaks, you will always grow stronger from the ground it once shook.
Beyoncé, "Forward" and "Sorry"
A list of the best music videos could justifiably be one long Lemonade entry. But there are some vignettes more soul-crushing and empowering than others, with less attention paid than early standout "Formation." The song "Forward" is a mere one-minute interlude on the album, but its visual interpretation never leaves you. It's an absolutely devastating tribute to the mothers of Michael Brown, Eric Garner, and Trayvon Martin — and all who've ever loved sons and daughters taken by police brutality — and their unfathomable resilience. You'll never forget their faces, both these regal women and their royal blood.
"Sorry," too, is a tribute to a different kind of female strength: a woman past the point of no return. Her power is in the petty and those two middle fingers the mighty Serena Williams chucks up with great pleasure, her body for once celebrated for what it can do rather than vilified. As if these two videos weren't proof enough that women are queens, Beyoncé unapologetically visualizes herself as Nefertiti.
Rihanna feat. Drake, "Work"
No two pop stars work harder at baiting fan ships like Rihanna and Drake, so it's only fitting that they would put in overtime for a video dedicated to that second career. Rihanna has so thoroughly perfected the art of performative sexual chemistry, you almost believe she's aroused from hearing Drake whisper such charm as "If you had a twin I would still choose you" into her ear mid-grind. For Drake, you have to imagine it requires considerably less effort to keep up the ruse. Transparent as their attraction may be, a double serving of it — particularly one from the legendary Director X — is just as engrossing as it was the first time they play-flirted in a bodega. There's also nothing quite like Rihanna representing her Caribbean roots in a full-on bashment at a famous Toronto jerk joint, eyeing herself in the mirror while she slow whines in a Jamaican-flag-inspired mesh dress.
Desiigner, "Panda"
Where did Kanye get the sprightliness and balls to ride around New York City at 2 a.m. hanging out of the sunroof of a car? Blame Desiigner, the 19-year-old possessed by quite possibly the most energetic, spastic mannerisms of any rapper alive. Every bug-eyed tic, arm flail, and jerk of the head has its moment in the video for his Song of the Summer contender, "Panda." There are no literal pandas or broads in Atlanta to see here. But! There is Kanye steering the getaway car and a view of the world from Desiigner's warped, spinning-off-its-axis perspective. It's all so absurd you might miss the underlying indictment of police brutality on his Brooklyn streets.
Kanye West feat. Rihanna, "Famous" and Aziz Ansari & Eric Wareheim, "Famous"
Comedians interpreting Kanye West's vision has been done: Zach Galifianakis did some questionable things on a farm to "Can't Tell Me Nothing," and James Franco and Seth Rogen role-played for "Bound 3." Now we have Aziz Ansari and Eric Wareheim frolicking around Rome to "Famous" while at some point also filming Master of None. But like Franco and Rogen, there's just something so bizarrely satisfying about watching two BFFs dick around and let their inner Kanye fuck boy shine. You can almost picture Lena Waithe and Kelvin Yu directing their two idiot co-stars to hump cars and make love to every Italian dish they sampled. It's such a delight, even Kanye himself approved. 
But of course no one parodies Kanye like Mr. West himself. Just when haters thought his art couldn't get any more pretentious, he gives you disturbingly lifelike wax sculptures of a bunch of famous bitches — Taylor Swift, Rihanna, Bill Cosby, Donald Trump, Amber Rose, oy — passed out in a naked orgy. True to his art-school nerd-dom and obsession with celebrity culture, Kanye's version of "Famous" is both a re-creation of Vincent Desiderio's Sleep painting and commentary on fame whores. What exactly that comment is, the jury's still out. Whatever the metaphor, it's a hugely ambitious piece of art (imagine being the sculptor who had to work off of nothing but photos, thanks to the dodgy consent), and likely one of the few music videos from this year that we'll still be talking about when Kanye runs for president. By then, the ink on all of those inevitable lawsuits will only just be drying.