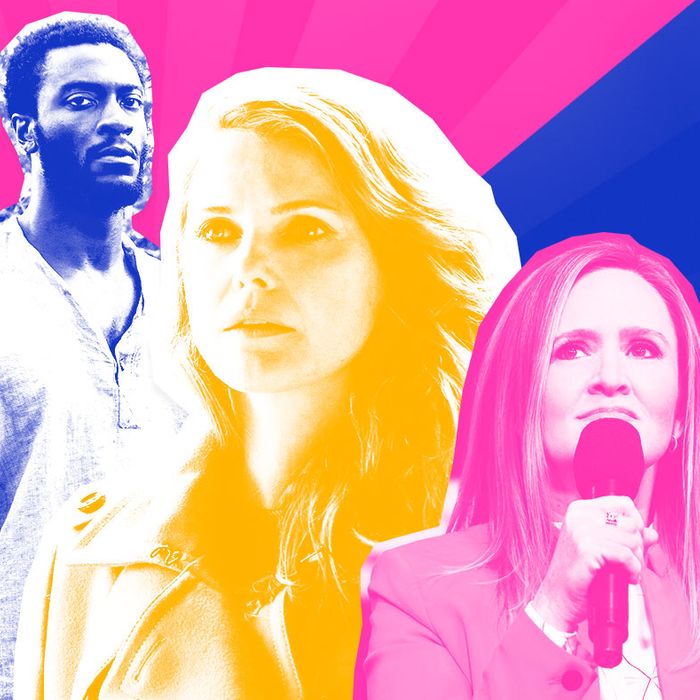 Photo-Illustration: Maya Robinson and Photos by WGN, FX and TBS
This week, Vulture is reviewing the best of entertainment so far in 2016. To date we've touched on albums, video games, comics, books and TV shows. Now TV networks get a turn.
The biggest trend in the TV industry so far in 2016 has, sadly, been the same as the one which shaped 2015: Viewership, for both broadcast and cable networks, continues to decline. This doesn't mean it's all death and despair in TV land, however. Live tune-in for TV shows is headed south, but when various on-demand platforms are included, Americans are actually consuming much more media content overall, including TV. And even as the business in general struggles to adapt to new user behaviors, individual networks are still managing to shine. In no particular order, here are five doing particularly well this year, as judged by ratings, buzz, or a combination thereof.
TBS
Five years ago this fall, reruns of CBS's super-successful sitcom The Big Bang Theory joined the TBS schedule, and immediately transformed the latter network's place in the Nielsen universe. It's not that TBBT put TBS on the map: The Turner-owned cable outlet has been a familiar brand to TV viewers for decades, mostly for providing an afterlife for an assortment of network sitcoms, from Gilligan's Island and The Brady Bunch to more recent classics like Seinfeld and Friends. But the tune-in for TBBT was so massive, and TBS's scheduling of the show so relentless, that within a few months, it had dislodged USA Network as the No. 1 cable network among audiences under 50. Execs at the time immediately realized this new surge of viewers provided a perfect opportunity to get serious about original comedy programming, leading to sitcoms such as Men at Work and Sullivan & Son. Those efforts didn't work out, and while rescuing ABC's Cougar Town from cancellation briefly helped bring some spark to TBS, it also didn't do much to help the network carve out anything close to a comedy brand. But that seems to be changing — finally — in 2016.

Spurred by the arrival of former Fox chief Kevin Reilly as the new boss at parent company Turner, TBS has stopped trying to be a cable version of a broadcast network and has instead embraced the fact that it's, you know, a cable network. Central to this effort, and most successful so far, has been the arrival of Full Frontal With Samantha Bee. The former Daily Show correspondent effortlessly stepped into a leading role, providing political junkies the fix they need in the wake of Jon Stewart and Stephen Colbert's departure from the fake news business. While its same-day audience isn't usually all that big, once reruns and DVR replays are added up, the series reaches several million viewers weekly. More important, clips from the show are regularly picked up by social media and news outlets, further building the show's brand (and, by extension, that of TBS.)  Throw in a TV Critics Association Award nomination this week, and the TBS brand has been given its biggest boost since Conan O'Brien hopped to the network in 2010.

But it's not just Bee who's helped make 2016 such a positive year for TBS. The new year has also seen a steady stream of new scripted series designed to generate buzz as much as ratings: the loopy crime-show spoof Angie Tribeca, the offbeat family comedy The Detour, and the Lost-inspired half-hour Wrecked. None of the trio has been a runaway ratings success, but they've all done respectably and, more important, gotten noticed. TBS renewed Angie for a second season even before its first one premiered, while Detour got picked up for another trip a few weeks after launching. (Wrecked has only aired four episodes so far, but early signs point to a renewal.) A couple more promising-sounding series are on deck for later this year, but after years of making meh originals, TBS has started carving out an identity for itself as something other than the place where old sitcoms never die.

MSNBC
Thanks to the never-ending drama that is the 2016 presidential campaign, all three of cable's 24-hour news networks have seen a massive surge in viewership. MSNBC is no exception, posting dramatic gains during the second quarter of the year (in part because its ratings had fallen so far in recent years). But more than ratings, MSNBC is on this list because it's managed, in many ways, to make itself the essential network for anyone interested in smart, even thoughtful, coverage of the electoral madness. Rachel Maddow and Chris Hayes, whose respective 9 and 8 p.m. broadcasts have been oases of Serious Journalism for years now, have both upped their games during this election cycle, with Maddow in particular going all-out to provide historical context for some of the race's big moments. And while Lawrence O'Donnell's 10 p.m. show is a far more traditional cable news hour (i.e., fewer deep dives into stories and more talking heads), O'Donnell's roots as a former Washington D.C. insider (and a writer for The West Wing) has allowed him to serve up sharp insights about the process of the campaign. (A nightly segment focusing on the candidates' war rooms has been particularly fun).  

Adding Brian Williams as a breaking-news anchor and election night co-host has also arguably been a net plus for MSNBC. For those of us willing to forgive and forget his sins of exaggeration, Williams does a better job juggling fast-moving stories than most of the daytime hosts he replaced. (He's certainly far less predictable, and borderline annoying, than CNN's Wolf Blitzer.) During primary season, Williams brought a sense of humor to Tuesday nights, something missing from TV since Dan Rather's forced exit from CBS. What's more, MSNBC is also home to two of the sharpest young (-ish) political reporters/analysts to emerge this campaign season: Joy Reid and Steve Kornacki. Giving Reid her own weekend show and making Kornacki a regular presence during the network's dayside lineup has maximized their benefit to the network overall.

To be sure, CNN has also stepped up its game bigly, as the presumptive Republican presidential nominee might say. Anchor Jake Tapper has consistently delivered some of the best one-on-one candidate interviews of the entire cycle, Anderson Cooper was outstanding in the wake of the Orlando massacre, and CNN often boasts some of the smartest pundits on TV on both the left (Van Jones, Sally Kohn, Paul Begala) and right (Ana Navarro, S.E. Cupp). But the network also depends far too much on people screaming over each other, treats even the most trivial events as "breaking news" and, in a move characteristic of CNN boss Jeff Zucker's prioritization of ratings over all else, recently hired former Trump campaign chief Corey Lewandowski just hours after he stepped off the Trump train.

MNSBC, of course, isn't perfect. Many liberals (rightfully) freaked out when new NBC News boss Andy Lack started declaring his intent to de-emphasize the network's progressive leanings and when a number of high-profile hosts (including many people of color) started disappearing. The thoughtless way the network treated former weekend host Melissa Harris-Perry — preempting her show for political coverage, pushing her to focus on the election horse race even though that's never been her strong suit — only added to legitimate fears MSNBC was about to morph into a CNN clone. These are all serious concerns and grievances: MSNBC still suffers from many of the same problems that plague all cable news networks. But in 2016, the network has more often than not found a way to rise above those shortcomings and make itself must-see TV for those of us obsessed with the race for the White House.  

HGTV
The decidedly unsexy home improvement network has been on fire of late, managing to deliver strong ratings growth at a time when almost all cable and broadcast networks are dealing with audience erosion. It ended 2015 with its highest ranking ever among its target audience of adults aged 25 to 54, thanks to hits such as Ellen's Design Challenge, Fixer Upper, and the Property Brothers spinoff Brother vs. Brother. So far in 2016, the upward trend has only continued. During the just-completed second quarter, HGTV's prime-time lineup was the fifth most-watched network in all of basic cable, within spitting distance of USA and TBS and ahead of heavyweights such as ESPN, Discovery, and History. The March 29 season finale of Fixer Upper drew 5.2 million viewers, more than any episode of AMC's Better Call Saul. And among one of HGTV's key demographic targets, women aged 25 to 54, the network finished the second quarter as cable's most-watched network in total day ratings (and third in prime time). As more and more networks previously known for unscripted and reality shows have started adding scripted series to their lineups — E!, Discovery, History— the Scripps Networks–owned HGTV has stayed true to its roots and is now reaping the rewards.

WGN America
It's been making noise in the scripted space since the 2014 launches of Salem and (the now-canceled) Manhattan, but this year will likely go down as the tipping point for WGN's effort to carve out an identify for itself. January's Outsiders, a sort of Appalachian Empire, was an instant success, reaching about 2.8 million viewers each week. Then came March's John Legend–produced slavery drama Underground, which did even better in the ratings (3 million weekly viewers) and also got tons of critical love and awards season hype. During March, when both shows' first seasons were overlapping, WGN often had two series among cable's weekly top 20 scripted series list — amazing for a network that, until just a few years ago, was known mostly for Cubs games and reruns. Two hits (and the continuing success of Salem) do not a powerhouse make, but they've absolutely provided WGN a solid foundation on which to build a network.

FX
The Americans served up another stellar season. Baskets, if not exactly a ratings smash, continued the tradition of comedic risk-taking exemplified by It's Always Sunny in Philadelphia, Archer, and Louie. But the case for including FX here can be summed up in five words: The People vs. O.J. Simpson. The prosecution rests.