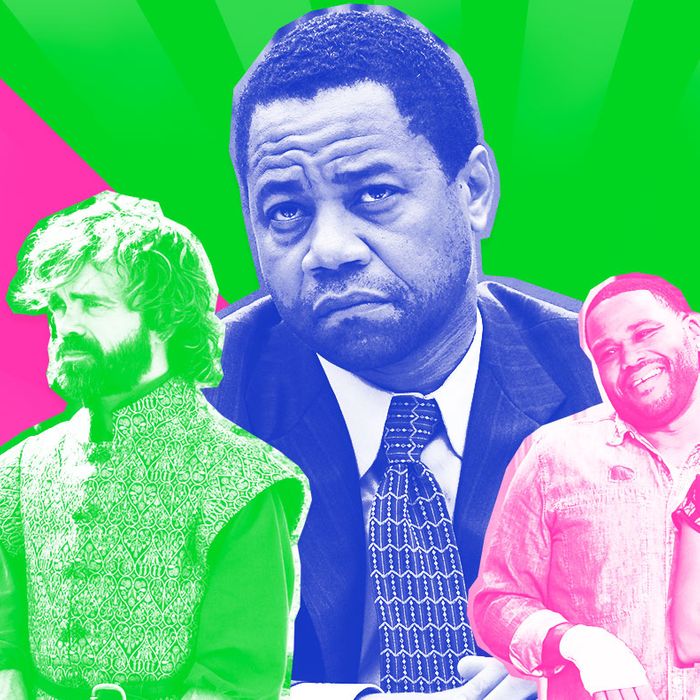 Photo-Illustration: Maya Robinson and HBO, FX and ABC
This week, Vulture is rounding up the best entertainment releases so far in 2016. To date we've touched on albums, video games, and comics. Now books and TV get a look. But first, a quick note about our TV-show selection methodology:
Nonfiction and scripted series were both eligible, whether ongoing or self-contained. Because the focus is on this calendar year, shows that debuted in 2015 and ran into this year were ruled out if more than half of the season's episodes debuted prior to January 1. This is a consensus list by both writers, whose individual lists at the end of this year may differ considerably.
The Americans (FX)
If there's a reason why some people still don't watch The Americans — and, just to repeat this for the zillionth time, there shouldn't be — it may be that some people find its overall tone a little chilly. Like Elizabeth and Philip Jennings, the FX spy story has sometimes been so efficient at what it does, especially in season one, that it didn't leave room for feelings.
That's been much less of an issue as the show has progressed, particularly in this recent fourth chapter, which repeatedly punches viewers in the gut, heart, or both thanks to the losses or near-losses of several major characters. The threat of death and the possibility that Elizabeth and Philip could be exposed have never felt more palpable, and the desire to keep the Jennings family unit intact has never been more desperate, not just for Elizabeth and Philip, but for the audience as well. The emotional wallops this season were just huge. Even so, when I think about the one thing that makes The Americans so exceptional and unmissable, I keep coming back to the words that a protective and worried Philip Jennings says to his daughter, Paige, in the final moments of this season's finale: "You have no idea." Episode to episode and moment to moment, even four seasons in, you simply have no idea where The Americans is going to go next. —JC
American Crime (ABC)
The second installment in this anthology series focuses on the aftermath of a specific crime — the rape of a high school boy — but is really about the crimes people commit against each other because society seemingly permits them without consequence. As he did during the first American Crime, creator and executive producer John Ridley tackles major issues — this time, among others, homophobia, classism, online shaming, and gun violence — and makes them resonate by etching out vivid characters whose realities are explored with no judgment. At any point while watching American Crime, one can imagine being one of these teenagers, parents, or school administrators, a testament to the drama's writing, directing, and overall execution, as well as its cast. This show is wallpapered, top to bottom, with authentic performances, including a knockout work of baby-faced confusion and vulnerability from young Connor Jessup. But the principal women — Felicity Huffman, Lili Taylor, Regina King, and Hope Davis — stand out the most, as each of them tries to do "what's best for the kids" while engaging in their own varying degrees of self-preservation. —JC
Better Call Saul (AMC)
Breaking Bad producers to AMC network executives: "We want to do a prequel to Breaking Bad, but make the main character the funny-sleazy lawyer who was rarely onscreen for more than five minutes of any given episode."
AMC: "Er, okay, if you say so."
Audience: "Hmmm. This is kind of slow and arty, and there's not as much violence and suspense as the original, and a lot of the time it's just people in rooms talking."
Same audience, at the end of season two: "I don't know which is better, Breaking Bad or this."

The heart of this atmospheric comedy-drama is the Cain-and-Abel relationship between the main character, a lawyer and con artist who was once named Jimmy McGill (Bob Odenkirk), and his older brother (Michael McKean), who keeps giving Jimmy opportunities only to micromanage, embarrass, and obstruct him. Refreshingly, the show lets both brothers be right and wrong, likable and unlikable, depending on the circumstances. Meanwhile, Saul gives us two adjacent, occasionally interwoven narratives, one dealing with Jimmy's colleague and sometime girlfriend Kim Wexler (Rhea Seehorn) struggling to succeed in a male-dominated law firm, the other following Breaking Bad fixer Mike Ehrmentraut as he sells his brutal services to the criminal underground in Albuquerque. —MZS
Black-ish (ABC)
Kenya Barris's sitcom about the Johnsons, an upper-middle-class African-American family navigating confusing cultural terrain, had a stronger sense of itself in its freshman season than some comedies attain after five years in prime time. Led by Anthony Anderson and Tracee Ellis Ross's performances as stressed-out parents Dre and Rainbow, the series deepened and grew bolder in season two. It honed its already sharp comic timing while exploring touchier subject matter, including the use of the N-word, the cultural stereotype of black folks not knowing how to swim (true in Dre's case, alas), and the question of whether families of color can subcontract child care to a nanny without feeling as if they've sold our their values. The series' high point to date was an episode that saw the Johnsons watching a police-brutality verdict, arguing about issues that have been at the forefront of public consciousness for two straight years but that haven't been touched by a network sitcom in ages. —MZS
Catastrophe (Amazon) and Togetherness (HBO)
Yes, these are two different shows that come via two different channels. But both of their second seasons deftly dealt with so many of the same themes — marital discord, child-care stress, the aftershocks of infidelity and separation — that, just like the spouses they depict, they make sense as a couple. Of the two, Catastrophe leans a little harder on humor; many TV moments have made me laugh this year, but I don't know that I've guffawed as explosively as when Sharon Horgan said to Rob Delaney in episode three, mid-argument: "Look at you. You're shouting at your family, with a massive boner." Togetherness is also funny, but has a more pronounced sentimental streak, one that simply glows in "Advanced Pretend," the season's third episode and one that I recently chose as my favorite TV episode of the year so far. What both shows have in common: no fear about shining flashlights on the darker, uglier sides of their characters and their relationships, in a way that feels brutally honest and uplifting at the same time. —JC
Crazy Ex-Girlfriend (The CW)
Vulture's pick for TV's best ongoing series, this labor of love from executive producers Rachel Bloom and Aline Brosh McKenna is part romantic comedy, part musical, part fantasy, part Brechtian meta-narrative and part psychological inquest. The main character, Bloom's Rebecca Bunch, is a Yale-educated lawyer who impulsively relocates from New York City to West Covina, California, to chase her first love, Josh Chan (Vincent Rodriguez III). That sounds like barely enough plot to fuel a B-storyline on a sitcom, yet somehow Bloom, McKenna, music producer Adam Schlesinger and their collaborators have found a season's worth of material in it. The secrets of the show's success are its prismatic storytelling, which sees different facets of delusion in every major character, and its ability to present itself as a light, frothy, kooky romp while painting an increasingly disturbing portrait of its heroine. How do you solve a problem like Rebecca? Don't even try. She's part Meg Ryan rom-com heroine, part Lucy Ricardo, part Don Draper, and part creepy stalker, but you can't hate her because Bloom is so adorably frazzled and willing to do whatever it takes to sell a song, a line, or a close-up. —MZS
Game of Thrones (HBO)
Has Game of Thrones ever been better than it was this season? That's technically a matter of opinion. But, as Matt said in this piece earlier this week, most viewers would agree that showrunners David Benioff and D.B. Weiss recalibrated their settings — dialing back on slow pacing and excessively gratuitous rape while cranking up the crowd-pleasing moments — in a way that made season six pretty damn close to perfect. Game of Thrones is the best current example of what I'll call tentpole television, not only because it's propping up HBO in a lot of ways, but because it brings to television the same complex mythology, grandness of ambition, and visual sweep that we've come to expect from Hollywood's best motion-picture franchises. It tells a story as epic as Lord of the Rings and, during season six, delivers as many standing-ovation-worthy thrills — from the resurrection of Jon Snow to the reclamation of Arya Stark's identity — as the best Star Wars movies. Given how fractured viewing habits have become, Game of Thrones feels like the one show that everyone still experiences and discusses simultaneously. When you sensed a movement in the pop-cultural force on recent Sunday nights, it was because everyone was tuned into HBO (or HBO Go) and all of their jaws were dropping at the same time. —JC
Horace and Pete (LouisCK.net) 
You could jokingly call this the best miniseries of 1974, but only if the 1970s were hospitable to self-contained, multigenerational family dramas confined mainly to a single set, blocked like a down-market version of The Iceman Cometh and shot like a Norman Lear sitcom — and they weren't, because who would have done a thing like that? Who would do a thing like that today? Only writer-director-co-star Louis C.K., who shot this awkward, impassioned, chimerical, often brilliant program on a small soundstage in New York City, financed it himself, and sold it through his website. The material was so unusual that it drew one of the best ensemble casts of the year. C.K. and Steve Buscemi play the title characters, bar owners and cousins (or so they think) who manage a pub that has been passed from generation to generation, but that was always supervised by a man named Horace or Pete. Alan Alda plays Pete's uncle, Pete the elder, a vile racist, sexist, and homophobe who, like most of the characters on this series, has a dark secret. Edie Falco is Horace's sister Sylvia, who tries to sell the bar to pay for her cancer treatment (and to put the perennially failing establishment out of its misery); the supporting cast is filled out by heavy hitters like Jessica Lange (as Horace's late father's girlfriend) and ace character actors Tom Noonan, Steven Wright, and Kurt Metzger as barflies. —MZS
The Girlfriend Experience (Starz)
What are we looking at? No, really — what are we looking at? You have to keep asking yourself throughout this miniseries even though after a certain point you know it's the wrong question. Co-written and co-directed by Amy Seimetz and Lodge Kerrigan, it's loosely based on executive producer Steven Soderbergh's very different 2009 feature film about a sex worker keeping company with (and learning from) Wall Street dirtbags. The Girlfriend Experience keeps morphing from genre to genre while its heroine, a law student turned call girl (Riley Keough), maintains something close to a poker face, letting you sense the outlines of emotions but not their biographical substance. The pilot feels like the most academically self-aware episode of The Red Shoe Diaries ever; then the show becomes a legal thriller, then something in the vein of one of those straight male sexual panic thrillers that used to star Michael Douglas; then it becomes an x-ray of a woman's psychic breakdown, a treatise on sexual and professional autonomy, and, finally, an art-house-cinema question mark. The final episode is an all-time classic. —MZS
O.J. Simpson: Made in America (ESPN) and The People v. O.J. Simpson: American Crime Story (FX)
Otherwise known as Exhibit A and B on behalf of the value of hindsight: 2016 produced ten terse, acerbically funny, heartbreaking scripted hours on the same topic, from screenwriter-producers Larry Karaszeswki and Scott Alexander, executive producer-director Ryan Murphy, and directors Anthony Hemingway and John Singleton; only a few weeks later, here came ten sprawling, thoughtful, intricately structured hours of documentary storytelling about the trial of the century, courtesy of ESPN and director Ezra Edelman. Both programs were so engrossing that you might've felt sad when they ended — no small feat considering the grisly and infuriating subject matter, and the fact that viewers of a certain age might've preferred never to see those initials again except in a grocery store.
The People v. O.J. Simpson, the first installment in the FX anthology series American Crime Story, was one of the most innovative scripted series in memory, switching from legal procedural to showbiz satire to black comedy to furtive romance, and back again. As if that weren't challenge enough, it switched points of view, too, showing the case from the P.O.V. of the defense, the prosecution, the defendant, and (in the penultimate hour) the jury. It's not easy to devise a ripped-from-history crime drama that encourages us to laugh at the pettiness and mendacity of key players without trivializing the pain of the victims and their families; somehow this miniseries walked that line from start to finish.
Where Murphy's miniseries was a mosaic of interconnected but discrete chapters, Edelman's documentary took a very wide view of the case, putting it in context of the history of U.S. race relations and the Los Angeles Police Department's record of corruption and anti-black violence. The notion of the Simpson trial's "not guilty" verdict as a controversial but entirely understandable form of political protest has never been explored so completely. Nor has it been put across as both a literary narrative and a carefully structured cinematic statement, with visual setups in early episodes that pay off at the end. Very different in approach yet nearly equal in precision, intellectual clarity, and emotional power, these two shows are built to last. —MZS
Roots (History) and Underground (WGN)
Two very different takes on the story of one of this country's original sins. Roots is a remake of the 1977 blockbuster miniseries, supervised by a team of producers that includes filmmaker Bruce Beresford and actor Levar Burton (who played this ensemble saga's first hero, displaced African Kunta Kinte, in the '70s). It boasts more lavish production values than the original, a more sophisticated filmmaking sensibility (including first-person shots and recurring musical motifs), a wider awareness of history and economics, and a point of view that's less interested in explaining slavery and its aftermath to white viewers than reclaiming dignity for shackled African-Americans and showing how the mother continent's religion and culture lived on. Incidents of defiance and rebellion are highlighted throughout; the series is far less interested in the moral struggle of whites than the 1977 version was. Misha Green and Joe Pokaski's Underground is a more crowd-pleasing examination of the same material, essentially an extended prison-break story about groups of Southern slaves trying to escape to the North via the Underground Railroad. The action-thriller-melodrama trappings take a bit of getting used to, but only because audiences are used to seeing slavery treated in a funereal or ennobling fashion, rather than as raw material for a story that uses extreme situations and metaphor-laden imagery to create a series of moral tests for the viewers as well as the characters. —MZS
Unbreakable Kimmy Schmidt (Netflix)
The second season of Kimmy Schmidt may not have given us a meme as delicious as last year's "Peeno Noir," but the laughs-per-minute ratio in this outing of the Tina Fey/Robert Carlock comedy is much higher. Our Jesse David Fox said this season operated more like 30 Rock than the first, which is true, and also explains why the LOLs keep coming fast. With the characters' idiosyncrasies now well-established, the cast and the writers clearly feel free to riff gleefully on everything that pops into their heads, from Robert Durst to Mentos commercials to the Washington, D.C., football team whose name no one wants to say out loud anymore. While simultaneously lobbing jokes at breakneck speed to a degree that demands multiple viewings, this season also admirably continues to explore the post-traumatic stress suffered by its main character, played by the winning Ellie Kemper, in ways both silly and heart-twisting. (Example: the Disney princess parody in which a cartoon Kimmy frolics through a forest while singing about covering up her "screams and cries.") The second season of this series is, to borrow a Kimmy euphemism, some seriously brilliant, hilarious sugar. —JC
Veep (HBO)
When Veep creator Armando Iannucci stepped down as showrunner last year, it seemed natural to assume that things might feel a little off, at least at first, when Curb Your Enthusiasm vet David Mandel took over the job for season five. Happily that wasn't the case; the sharpest political series on television reemerged with its edges not even remotely dulled. Mandel and co. play a magical weekly game of connect-the-Veep dots, drawing narrative lines in every episode that, by the end, come together to create a complete picture of how one royally screwed-up thing in politics leads to another. After finally being elevated to the office of president, Selina has to fight her way through ballot recounts, economic bailouts, and Chinese hacker scandals in an attempt to keep the job; her constant setbacks, both personal and professional, are comedy's gain. (Sometimes, in the case of the episode in which Selina's mother died, they were dramedy's gain.) In a moment of heightened paranoia in the episode "C***gate," Selina, played by the magnificent Julia Louis-Dreyfus, tells aide Amy Brookheimer: "Everybody's trying to get me out of here, but I won't let them." Not everybody, Madam President. We like you just fine in the White House, especially when you're doing what you do best: spewing profanities while trying to act as ill-equipped ringmaster to the jaded performers in an Oval Office circus. —JC