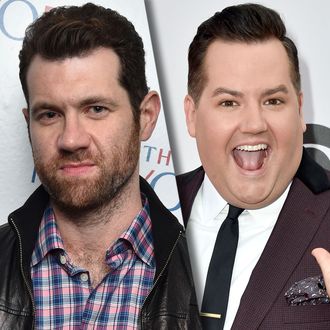 We've had a tough week, fam, but maybe a good old-fashioned Twitter fight will cheer you up. In one corner we have Billy Eichner, star of Difficult People and of course, Billy on the Street, his Funny or Die sketch turned TV show where Eichner runs around New York asking people ridiculous questions. In the other, we have Ross Mathews, former Tonight Show intern turned correspondent and RuPaul's Drag Race judge. Mathews, you see, recently starred in a Capital One commercial that uses a familiar style that Eichner thinks is plagiarism:
To which Mathews responds:
Eichner then says that he was originally offered the gig, but passed on it:
And of course, Andy Cohen gets involved:
Then Ross points out that he's been doing man-on-the-street segments for a while:
While throwing some shade:
It seems as though we've reached the end of this …
FOR NOW.
We cannot wait for the Difficult People episode of this feud.