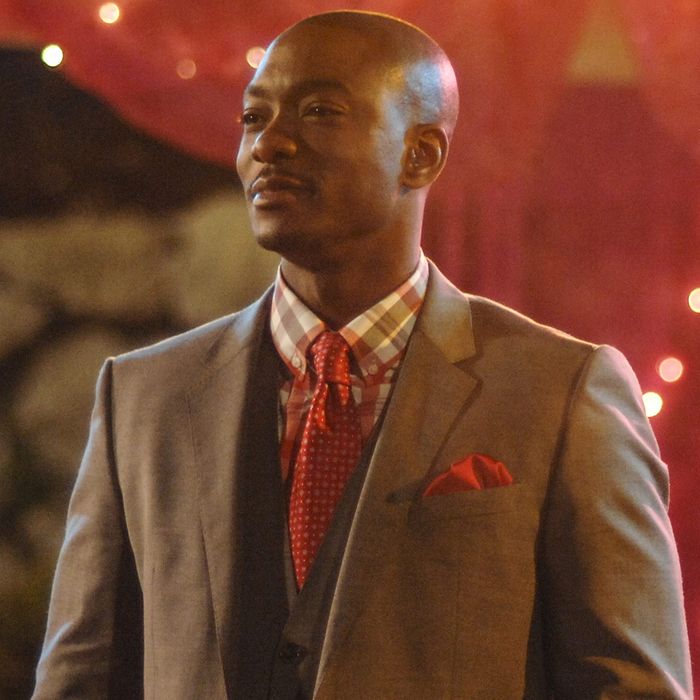 B.J. Britt (left) as Darius Beck on UnREAL.
Photo: Sergei Bachlakov/Lifetime
When UnREAL makes its second season premiere on Lifetime on June 6, it'll also introduce a highly buzzed-about new character: Darius Beck, the newest eligible bachelor on Everlasting — the drama's reality dating program — a professional quarterback who goes on the show to help rehab his image. The very suave Beck, played by the 34-year-old B.J. Britt, will also be making history as Everlasting's first black suitor, something The Bachelor franchise has yet to do after 20 seasons on prime-time television. Ahead of UnREAL's season-two premiere, we put together a primer on everything you need to know about the man behind Beck.
He's had two recurring TV roles pre-UnREAL.
Britt's previous roles have mostly been minor and television-heavy. He had brief arcs in Everybody Hates Chris, One Tree Hill, and Sons of Anarchy before landing meatier supporting roles on Marvel's Agents of S.H.I.E.L.D. and Being Mary Jane. On S.H.I.E.L.D. — where he first met his UnREAL castmate Constance Zimmer — Britt played Antoine "Trip" Triplett, a charming agent specializing in weapons and combat, before being killed off at the end of the second season. His castmembers (and Stan Lee) had a hard time letting go:
As Paul "PJ" Patterson Jr. on BET's critically acclaimed Being Mary Jane, Britt played the dependable younger brother of the titular Mary Jane (Gabrielle Union) for all three seasons. The show has been renewed for a fourth season, but his involvement has yet to be confirmed.
Being cast on UnREAL was his "Christmas present."
His auditions for the show were his last before the holiday, and they went swimmingly. "I loved the role, loved where they were taking this character, and after reading, my agent emailed me and said they loved what I'm doing," he told Entertainment Weekly. "So I was like, yay! Great Christmas present! Yay, me! I was jumping up and down. Especially as an up-and-comer, you always want to work. When you get roles like these that are meaningful, that's going to shake up hot topics … it's an honor."
The auditions, however, got a little awkward.
The producers of UnREAL made it clear there would be many shirtless scenes throughout the season. "My agent calls me, and says, 'The next time you go in, they're going to ask you to take your shirt off,'" he recalled. "Here's the thing, I work out. So I was like, no, that's fine. So I go in. I read. I take my shirt off. Next day, my agent calls me, he's like, 'B.J., yo they loved you, you got the role, but network needs you to start working out.' I was like, wait, what? I thought I was good. He's a football player. So they need him to really look like a football player, a quarterback. And so everything changed."
He's learning from his UnREAL character.
Britt said it was "an honor" to play Hill, while noting he felt a bit of pressure taking on the role. "It just shows diversity and it's great to be able to step into a role and be the first of anything, especially the first black suitor," he explained to Entertainment Tonight. "We're going to talk about racial things through pop-cultural-type kind of ways, which makes it easier to talk about [heavy subjects]." He also joked that, unlike Beck, he's not a "ladies' man," so he found it a bit daunting to adapt to the difference in personality. "I'm learning from him," he said. "I'm learning the game, so to speak. I'm learning how to juggle women."
In his personal life, all you need to know is that Britt is the owner of a cute dog …
… and has a very goofy sense of humor.