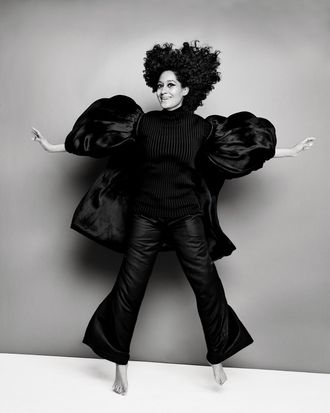 Tracee Ellis Ross, a comic actor, body-image activist, and social-media paragon of positivity.
Photo: Ruven Afanador
Tracee Ellis Ross is early, as she usually is — "Being prompt is very serious," she says — when I meet her on West 57th Street. She's wearing her favorite vintage jeans, a greenish Yohji Yamamoto duster she's had for a while, and brand-new Prada platform brogues. She's chatting animatedly on her phone with her father, Bob Ellis Silberstein, the gallant young music manager her mother, Diana Ross, married in 1971 after her epic relationship with Motown founder Berry Gordy became suffocatingly complicated. But that tumult ended long ago, and today her dad is a semi-retired 71-year-old who is, right now, telling his daughter about his morning bike ride in Central Park, followed by a walk with his dogs, Tupac and Snoop Dogg.
I don't mind waiting. Even watching the star of ABC's Black-ish talking on the phone on the sidewalk is fun: Ross is antic and expressive, unable to not perform. I keep thinking of her turn on Sesame Street when she did a bit about the letter B — introducing bear, banana, basketball, and Big Bird with Muppety, pop-eyed delight. Dad update over, we walk down the block to the Wayfarer, a bilevel restaurant that seeks to evoke a kind of vaguely Vegas Rat Pack swank. And Ross notices the picture first, at the top of the stairs: "See?" she says, when she spots her mother-as-icon among photos of JFK, the hippie crowd at Woodstock, and a Playboy Bunny. She thinks it's probably from Mahogany.
Then the waitress arrives, and Ross squeals. "Your hair looks so dang cute!"
"Thank you!" says the server, who has twisted it up in a casual, boyish blonde side-knot. Ross orders mint green tea, which comes in a mug with a walrus drawn on it, which she also finds cute, and adds self-consciously: "I actually made that sound!" (That squeal.)
Ross was born in 1972, three years before Mahogany was released, at the height of her mother's pop prowess. She grew up singing in school talent shows and trying on her mother's fabulous clothing. On her bedroom wall, she taped up clippings from fashion magazines and practiced walking while holding her butt cheeks. (The idea was that if she could walk and still have flesh in her hand, she was too fat.) But she's in many ways more like her father — the charming ham — than her rigorously elegant mother, closer in persona to Lucy Ricardo than to Mahogany's fashion-designer-on-the-make Tracy Chambers. (Although Tracee did work as a fashion editor for a while when first out of school.)
Ross is a comic actor, body-image activist, and social-media paragon of positivity. For eight years, she cultivated not-quite-mainstream fame as the neurotic but grounded lawyer Joan on Girlfriends, a sort of women-of-color version of Sex and the City that, for all its wacky geniality, managed to tartly explore things like relationships where the woman is more successful than the man and even the Iraq War. Produced, for some reason, by Kelsey Grammer, it ran on UPN and then on the CW through 2008. On Black-ish, her character, Rainbow "Bow" Johnson, is like Ross, mixed-race. Unlike Ross, she's an anesthesiologist and a mother of four, soon to be five. The show is Michelle Obama's favorite, and it's been a critical success. Ross tells me she recently bought the Prada brogues as a present to herself when the show was picked up for a third season.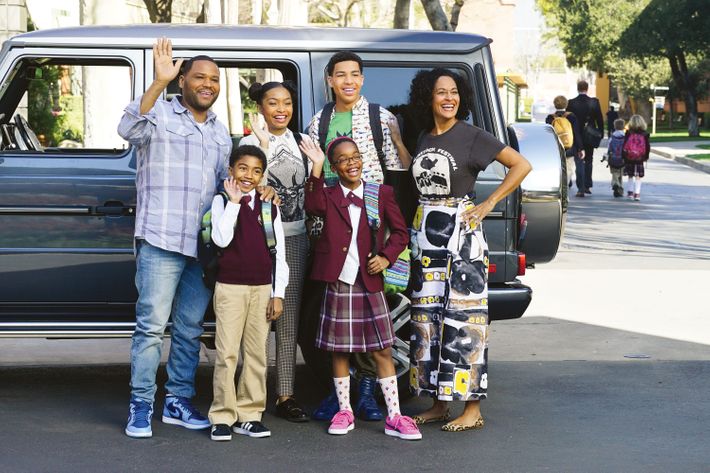 Ross describes Black-ish with a formulation often used in interviews by its creator, Kenya Barris (who also happens to be married to a real-life doctor named Rainbow), as "a show about a family which doesn't happen to be black." It's a tacit diagnosis of, for example, The Cosby Show (which was clearly an influence on him, along with All in the Family). His show is about a "black family," and Bow is not Clair Huxtable.
What that means in terms of storytelling is that it's about the neurotic, occasionally heart-rending, and often acrobatic identity politics of affluent African-Americans. As the voice-over (by Anthony Anderson, who plays Dre, Rainbow's husband — he's an ad executive in charge of reaching the "urban" demo) says in the first episode, ventriloquizing for Barris: "When brothers start getting a little money, stuff starts getting a little weird." Especially as their kids grow up surrounded by smugly comfortable white people.
Ross is impatient with what she sees as the stalled conversation about "diversity" in TV — as she recently told Slate's DoubleX podcast, "I still am confused why we have to consider things black shows or not black shows" — and Black-ish takes on that idea directly. So does Ross's life story: She was raised in Beverly Hills, Connecticut, New York, Switzerland, and Paris, was educated at Dalton and a Swiss boarding school and Brown, and topped all that off with a Wilhelmina modeling contract during high school. You can see her stomp her way through a couple of Thierry Mugler shows on YouTube; she's beautiful, but she has way too much personality for modeling. ("It didn't work for me," she once said. Photographers were always saying: "Can you stop talking and try to look sexy?") She is more like the kids who bedevil Dre: She has thought plenty about blackishness and privilege and traditions that rub up against life choices. "I grew up in such a mixed world," she says. "I was having dinner with all my girlfriends the other night, and my friend Monica was like: We're like the fucking United Colors of Benetton: Korean, Chinese and Italian, Trinidadian, Polish, Ethiopian. And that's just at one table. That's what my world looks like all the time, without effort. We can be all these things and be ourselves."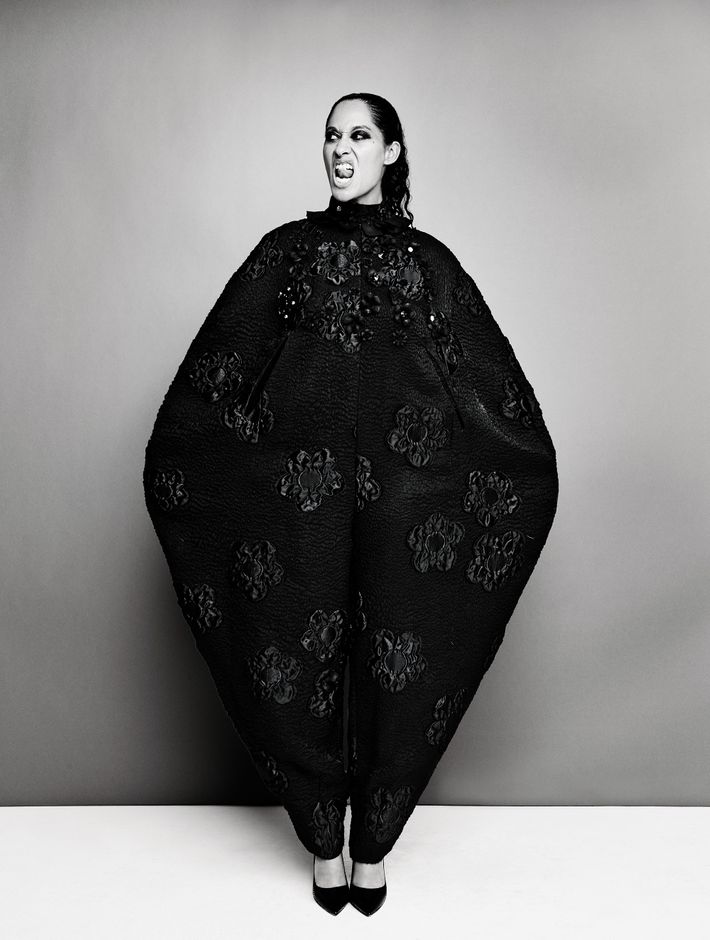 A lot of Black-ish's comic energy derives from Dre's discomfort with that kind of belief. "The show is generally told through Dre's eyes," Ross says, sipping from her walrus cup. Unlike Joan, her often unlucky-in-love character on Girlfriends, she thinks Bow "has a lot more faith. She's a lot more comfortable in her skin. She has a trust in the experience in life, there's an ability to lean back and let Dre be nuts and not have that be a comment on why she does or does not love him."
Bow does get made fun of, quite a lot, for being biracial. It can feel at times hectoring, even abrasive. And apart from a few asides (on the pilot, she says: "You think I'm not black? Why don't you tell my hair and my ass"), her character doesn't make much of it. "Yes, I'm not really sure what that's about, to be honest," she says resignedly. "Sometimes, I'm like: Wait, what?" It's hard to say whether she's talking only about her character.
I ask whether it's true that Barris wrote the Rainbow character for her. "He says he did," she deadpans. (People in Hollywood are apt to make such revisionist declarations: After all, she still had to audition.) "I believe he had me in mind. He knew that I could — we have always been in line for what he wanted for this role."
She's hardly press-shy. But she keeps her personal life private. (Her mother taught her the value of "mystery.") She isn't married and doesn't have kids, which might be why she is so delighted with her TV family. "Anthony is just a different kind of person than I am: the way he jokes with [the kids on the show]." She giggles. "Half the time, I'm looking at them behind his back and saying, Don't pay attention to him, ignore everything he's saying, it's all good."
Ask her what she watches on TV, and she reels off The Good Wife, Game of Thrones, Broad City, Veep, Mr. Robot, House of Cards. What about that other show that helped persuade network TV to diversify its casting and greenlighting, Empire? Maybe because it's beating Black-ish in the ratings, Barris dissed it in The New Yorker recently ("Just because someone is black and they do something doesn't mean it's dope"). Ross says, diplomatically, that "it's not my kind of show," but adds, "I don't not like it." She says, however, that she's looking forward to Lee Daniels's upcoming girl-group show, Star.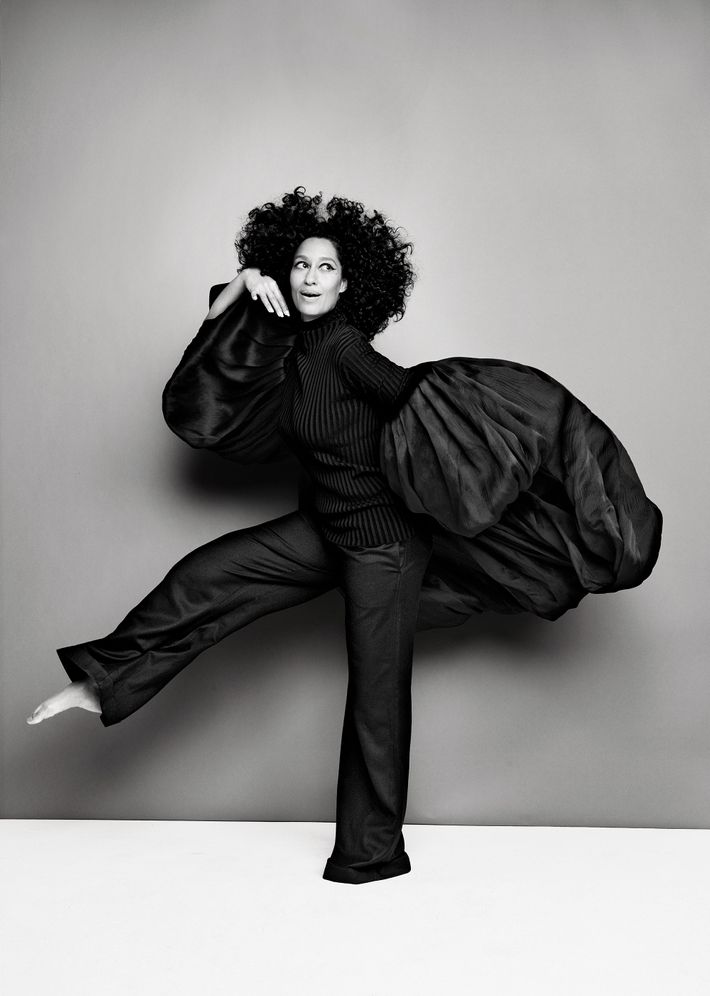 Diana Ross married Robert Ellis Silberstein in 1971. (Silberstein de-ethnicized his name to Ellis for a while, which, come to think of it, was a bit Jewish-ish of him.) She has five children, three of them from that marriage — though she waited 13 years to explain to her eldest, Rhonda, born after she married Silberstein, that she had been Berry Gordy's biological child. Rhonda is today a singer who sometimes opens for her mother. Tracee's kid sister Chudney is a TV producer. Silberstein and Ross split in 1977, with relatively little apparent rancor. He's semi-retired now and is "brilliantly funny," his daughter says. "He's very personable and charming. I get my sense of humor from my dad." Diana Ross remarried in 1985 to the Norwegian shipping magnate Arne Naess, and their two sons are Evan, a singer who is married to Ashlee Simpson, and Ross, who describes himself on Twitter as an "adrenaline junkie."
Among her siblings, she takes the lead. When Entertainment Tonight interviewed them all a few years back, she quickly and determinedly stepped up when questions turned to their mother, staying on message ("Our mom is a mom before she's anything else") as her siblings nodded along. According to J. Randy Taraborrelli's Diana Ross: A Biography, Tracee was a bit of a snitch as a child, keeping a notebook of things that went on in her mother's entourage and reporting them back. When she adopted the "Ellis Ross" construction as an adult, she jettisoned her middle name, Joy, to do it, which she says annoyed her mother at the time.
You can spend a lot of time with Ross on YouTube, where over the past few years she inexplicably but delightfully has taken to explicating rap songs with arch naïveté under one of her several guises, #TMurda. Ross loves social media and has several personas beyond her official one, which is itself thoughtfully constructed and might be best classified as "empowering." TMurda is more informal and whimsical, however, and in that role she spends a lot of time addressing rappers — say, the duo Rae Sremmurd, the auteurs of "No Flex Zone" — while a sing-along ball bounces over the borderline nonsense of the lyrics themselves, which she has retrieved from the website Genius. (She started doing this when she realized that she was singing along in her car without knowing what she was saying.) And she's that person in person, which is to say bright-eyed, rigorous, and maybe a bit befuddled — or playacting that she is — all at once.
TMurda is only one of several alter egos: Madame Hiver, whom she describes as "an extravagant, lovable, alcoholic life coach to the stars," who performed at the February 2015 Rachel Comey Fashion Week dinner, where she delivered a monologue on "the doorway to the soul" — a.k.a. the vagina, including advice on how to let yours sing. And there is also Caliope Champignon, "an opinionated French fashion blogger who claims to have 'created' Barneys New York." (Caliope has her own Instagram account.) "So it's performance art to a certain extent," she says. "These women are not necessarily based on someone I know, they're more sort of — um — manifestations of shadow qualities of myself which I have allowed to turn into full people by giving them clothing and looks and voices." Someday she's hoping to do a one-woman show, perhaps based on these or other characters. But in the meantime, there's her iPhone, always at the ready. She has a tripod for it, and a remote control.
Ross is also a consistent presence on BET. That's where she hosted the recent Black Girls Rock! special, in a zippery red bodysuit, trading wigs to do a zany tribute medley onstage that channeled Chaka Khan, Queen Latifah, Janet Jackson, Rihanna, Beyoncé, and — wearing a glittery disco tunic — her mother ("This is a first! I love you, Mom!"). Yes, she can sing, but she admits that there's a reason she's become primarily a different kind of performer instead. "Unconsciously, I went in a different direction," she says. Even as she restages her mother's video for "Work That Body" for the internet? "I mean, this whole idea of being in someone's shadow or something? I never really identified with that expression. If anything, at a very young age, I felt like I needed to really be me, in order to earn the attention which was coming my way because I was a part of someone that they loved. She's great, but I doubt I will be arriving in a helicopter at the Super Bowl anytime soon." She pauses, considering, then laughs. "I am not limiting my future," she says. "But that doesn't seem like me."
On BET, she seemed most comfortable of all, trying on personas. "Sometimes," she says, "when I'm having a bad day, one of the things I do is play dress-up." And she is not above raiding her mother's exquisite and extensive wardrobe to do that. "Yes! I have stolen … I guess you could call it 'gifted.' But it's really stolen when you shove them down your shirt to get them out of the house."
Styling by Rebecca Ramsey. Hair by Chuck Amos using Bumble and bumble at Jump. Makeup by Matin at Tracey Mattingly. Cape by Brandon Maxwell; turtleneck and pants by Valentino; jumpsuit by Fendi; shoes by Miu Miu.
*This article appears in the June 13, 2016 issue of New York Magazine.