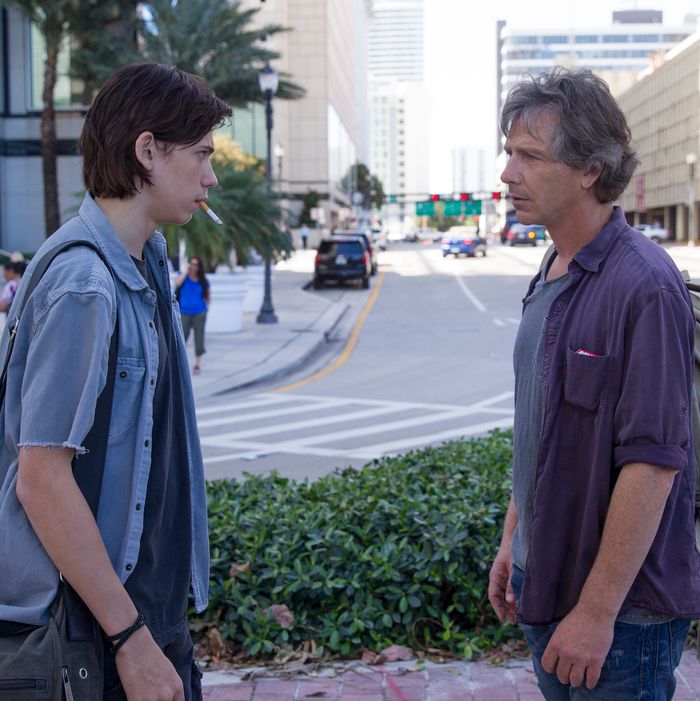 Owen Teague as Nolan, Ben Mendelsohn as Danny.
Photo: Saeed Adyani/Netflix
Well, that's that. The second season of Bloodline is officially a disappointment. Despite strong performances throughout, this year's story never felt as confident as the first — and it ended not far off from where it began. After ten-plus hours, the season ends at its starting point. The only essential change? It's juggling four cliffhangers now.
The season's action could have been distilled to an hour. Imagine, if you will, the second year of Bloodline opening with a guilty John (Kyle Chandler) leaving his family behind, a panicked Kevin (Norbert Leo Butz) attacking Marco (Enrique Murciano), and Meg (Linda Cardellini) confessing her family's sins to her mother (Sissy Spacek). A lot has happened in every episode, but it doesn't really take us anywhere. These characters and their world weren't developed enough to justify the time commitment. Perhaps the inevitable third season will correct that problem, moving the Rayburns forward instead of just watching them tread water in the Florida Keys.
As "Part 23" opens, John and his wife, Diana (Jacinda Barrett), are on the beach. Realizing that Eric O'Bannon (Jamie McShane) was there the day John killed his brother Danny (Ben Mendelsohn), John knows the proverbial waters are rising against him. He implies as much to Diana, saying in his all-too-cryptic way, "Things are not good." She tells him not to come home tonight.
After a quick trip to the beach and a conversation with Eric, Marco stops by the citrus farm with the cameras. He'll get a warrant soon. Cut to John and Meg looking at a still of Eric from those cameras. They don't know what Eric knows. Did he see the crime? The cover-up? They know that the Internal Affairs investigation will keep Marco and Aguirre (David Zayas) tied up, but for how long? Meg finds out that John leaked the news about Marco's role in the cover-up. It's a major blow, a breach of trust that will affect what happens later in the finale. Anyway, Eric isn't going away. Meg is tired of running: "All I do is fucking lie. I lie and I lie, and I'm fucking sick of it." If Eric couldn't talk, then Marco wouldn't have anything. Will this season end with another murder? It's not called Joyline, people.
Ozzy (John Leguizamo) meets Sally Rayburn for the first time. He immediately mentions Danny, setting a menacing mood despite his charming demeanor. He talks about Danny's past and his dead sister, recapping the show's themes in lines like, "We never felt sorry for ourselves the way that Danny did." The Rayburn name is a blessing and a curse. Ozzy tells Eve (Andrea Riseborough), "You and I got a lot to catch up on." Both Eve and Sally look concerned. Now that Eve and Nolan (Owen Teague) have been welcomed into the Rayburn family, will they get complimentary Rayburn Protective Services?
While Marco and Aguirre deal with Internal Affairs, Kevin faces some issues at the marina. When Little Jake stops in to say hi, Kevin rehires him with a 10 percent raise. He's told from an almost-cartoonishly menacing Luis that Mr. Gilbert (Beau Bridges) needs to sign off on all new hires. Kevin is a puppet on a string.
In one of the season's best scenes, Sam Shepard's Robert Rayburn appears in a flashback with Danny and Nolan. Nolan thanks him for sending money, but this is not a warm family dinner. Danny needs to talk to his father, so Nolan leaves the room. We'll later learn Danny asked his father for money to help with the restaurant, and Robert did something unconscionable: He forced Danny to choose money for Nolan or money for the business. Danny chose his son, starting him down a path that led to his death.
Meg realizes that John might not do what needs to be done, so she starts planting seeds in her easily manipulated brother: "If John won't do anything, what are we gonna do? You and me?" Meanwhile, John is skulking outside Eric's place when Ozzy shows up. He wants to know what Eric told the cops. He pulls a gun on him. Will Ozzy do John's dirty work? Chelsea (Chloë Sevigny) comes out with a shotgun. Eric needs to run. Now Ozzy wants him dead, too.
Marco explains his side of the domestic-violence report to IA, and John later sees Ms. Ortiz coming out after her interview is over. He learns that the investigation is finished. Ortiz recanted. Aguirre got to her. With the IA work done, Marco can get his immunity request for Eric. The time bomb for John Rayburn is ticking.
We learn that Roy Gilbert has had Danny's tape this whole time, and he listens to it while looking at a photo of Ozzy. Will he kill Ozzy to protect his investment in the Rayburns? By knowing all of the Rayburn family secrets and owning one of their properties, Gilbert controls one of the most powerful families in the Florida Keys. His arc will almost certainly define the shape of season three.
After a great scene in which Marco basically tells Meg that she missed her window to talk, we get a nice moment of closure for Nolan. He's with Diana, crying. He needs to talk to John. Danny Jr. is rattled. "It was my fault," he says, referring to how he burned down the restaurant and sent Danny back to the Keys. "He came back because of me. And he needed money because of me." It's heartbreaking because Nolan probably wouldn't make the top ten of "People Who Got Danny Killed," but he's been carrying around this grief.
As Luis takes Ozzy away at gunpoint (cliffhanger No. 1), John tells Eric that he's coming with him. The season ends with two major sequences: one with Eric and John, the other with Kevin, Meg, and Marco. In the former, Eric sits captive. He tells John he was at the Red Reef. Eric is crying. He knows what John is likely to do. He knows he was on that beach. He knows he's probably going to die tonight. And he's angry. He swears at John, refusing to tolerate his shit if these are his final moments. John pulls out a gun. "Now we get to the real point of the conversation," Eric says. John, in his typically smug way, claims to be protecting his family and losing everything in the process. Eric responds with one of the season's most truthful lines: "You're losing everything because you killed your brother, you asshole!" John holds a gun to Eric's head and cocks the trigger. In a moment of clarity, he hesitates. I thought he might actually put the gun to his own head, which would have been a major twist. Instead, he lets Eric go with an order: "You tell your fucking story."
Meanwhile, Kevin tells Meg that he's going to ask Marco for help. Marco won't listen to her, but maybe he'll listen to him. "We didn't kill anybody," he says. Meg decides to let him go, even though she knows it won't work. Marco is looking at photos when he knocks on his door. Marco has zero patience for Kevin. While he goes into full Rayburn Excuse Mode, Marco gets a call from Eric. He needs to talk — right now. Kevin knows that Marco's going to meet Eric, so he sells his brother out: "John did it." Too late. Marco knows Kevin helped him. "And the three of you are going to fucking prison," he says. Kevin grabs a ceramic dolphin and smashes it into Marco's head (cliffhanger No. 2). I knew Kevin would get someone killed this year.
While Meg tearfully tells Sally, "There's something you need to know" (cliffhanger No. 3), John is hightailing it. Sitting in the passenger seat, Ghost Danny says, "Feels good, doesn't it? Just let them take care of it." John speeds past a sign that reads, "Now Leaving the Keys" (cliffhanger No. 4). Remember how young Danny talked about leaving town in a truck? John is finally following in his brother's footsteps.
Final Notes:
The season ends with more questions that it began with. What did we actually learn? The Rayburns are desperate people, willing to break criminal and moral codes to protect themselves. We already knew that.
If the season had a theme, it was the difficulty of living a lie. That certainly applies to John and Kevin, who cracked under the weight of their guilt and anxiety.
Who was your MVP? Chandler was good, but I'm going with Leguizamo, who added a much-needed sense of danger and menace to the season. He has an incredible ability to be both likable, charming, and dangerous, often in the same line of dialogue.
What do you want to see from Bloodline next year?
Thanks for reading! See you in 2017!