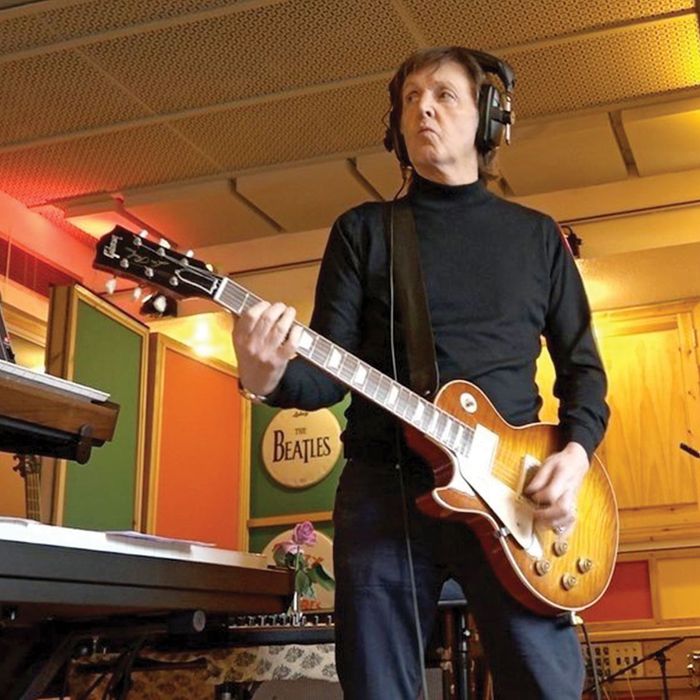 Paul McCartney recording for Skype's Love Mojis earlier this year.
The beginning of 2016 saw new albums from the biggest pop stars of the current era, including Kanye West, Rihanna, Beyoncé, and Drake. But now, apparently, it's the old folks' turn: In May and June, boomer icons Paul McCartney (73), Bob Dylan (75), Eric Clapton (71), Neil Young (70), and Paul Simon (74) are all releasing new material, demonstrating the many ways a rock legend can hold court a half-century into his tenure. What suddenly scared them out of the woodwork? Maybe it was the 50th anniversaries of some of their landmark albums (respectively: the Beatles' Revolver, Dylan's Blonde on Blonde, Cream's Fresh Cream, Buffalo Springfield's self-titled debut, and Simon and Garfunkel's Parsley, Sage, Rosemary and Thyme). There's also Desert Trip (a.k.a. Oldchella), a classic-rock music festival happening in Southern California in October, whose lineup includes Dylan, Young, and McCartney (along with the Who, the Rolling Stones, and Roger Waters, who must have missed the memo about putting out new records to sell at the merch table). Is all this new product just prudent boomer capitalism or something more?
Of these artists, Sir Paul has kept himself busiest. He dove back into pop culture recently via sessions with Kanye West and Rihanna that yielded the latter's hit "FourFiveSeconds" and the former's acclaimed singles "All Day" and "Only One." He also wrote a song for the 2014 video game Destiny, cut a deal with Skype to record the soundtracks for a set of animated emoji, and made a six-part virtual-reality documentary about himself — in other words, he seems intent on making inroads with a younger generation that considers the Beatles' music distant oldies. To that end, he's also just released Pure McCartney, a best-of compilation of his solo years, available in two- and four-disc versions, for which he handpicked the songs and sequenced them himself, in nonchronological order, sandwiching forgotten nuggets and latter-day gems between better-known classics. (See the two-disc edition's segue from "Band on the Run" into the underappreciated 1979 disco romp "Arrow Through Me," or the way both editions stick the 1997 John Lennon tribute "The Song We Were Singing" between the more popular "Silly Love Songs" and "Uncle Albert/Admiral Halsey.") Releasing a career-spanning boxed set just before a festival is a canny business move, but it's hard to fault McCartney for wanting to liberate a few great songs from the mostly inessential albums on which they first appeared.
On last year's Shadows in the Night, McCartney's fellow Desert Trip headliner Bob Dylan transformed '40s and '50s standards made famous by Frank Sinatra into heartfelt chamber music. In May, he released a follow-up collection featuring more Sinatra reworks titled Fallen Angels. The new record matches the melancholy mood of its predecessor but picks up the pace, settling for peppy torchlight jazz where Shadows hewed somewhat darker. Central to the appeal of both albums is Dylan's leathery voice: drizzled over these airy, emotive jazz romps, it hits like a sip of aged bourbon, giving old warhorses like "It Had to Be You" and "Young at Heart" a weathered beauty. Dylan has always been a keen interpreter, from his early days sponging up folk standards on the Village club circuit, so while this step toward the Great American Songbook feels like an odd turn for a gifted writer, it is in keeping with the reverence for genius pre-pop songwriting that ushered Dylan into renown in the first place. The joke is that old rockers always end up covering standards, and it's funny for a guy as puckishly unpredictable as Dylan to go the same route. But he's too sharp a student of the American song to ever make one of these albums a bore. Fallen Angels and Shadows in the Night aren't the best of the latter-day Dylan oeuvre, but they're leagues better than they'd ever seem on paper.
Last summer, Neil Young's album The Monsanto Years showed he could write a protest song as stinging as the ones he wrote during the Nixon and Bush administrations, attacking greedy corporations and GMOs with help from Promise of the Real, his new psych-rock backing band featuring Willie Nelson's sons Lukas and Micah. This month, Young and Promise of the Real will release Earth, a 100-minute live album made up of Monsanto tracks and deep cuts, overdubbed with sounds from nature: "Vampire Blues," from 1974's On the Beach, showcases a chorus of screeching rodents, and "Love and Only Love," from 1990's Ragged Glory, ends with chirping crickets and screaming livestock. The animal noises might be an obstacle for some, as will the Monsanto-heavy track list, but if you can get past them, the wry humor, caring environmentalism, and blistering guitar work make for a pretty intriguing listen.
Another guitar god back in action this year is Eric Clapton, who has reunited with Slowhand producer Glyn Johns for his new album I Still Do. Like Clapton's last solo outing, 2013's Old Sock, I Still Do offers up mostly covers, but the wanderlust that dragged Sock into ill-advised genre experiments has been reined in. What's left is the blues, and in the hands of one of rock's greatest players, this batch of Dylan, J. J. Cale, and Robert Johnson songs simmers. Clapton has always lacked a vocal presence to match his fretwork, but Johns and a band of crack session musicians keep these songs afloat. Check the rendition of "I'll Be Alright" — better known to most as "We Shall Overcome": Clapton and his guitar hang back behind a punch-drunk lineup of accordion, piano, and backup singers, giving the effect of a lazy living-room get-together, sounding joyful and spontaneous rather than fussed over in the studio. Clapton has been hinting at retirement for years now, citing minor health issues and a distaste for the rigors of touring (he won't be appearing at Desert Trip). If this ends up being his final album, it's not a bad one.
Made in the same off-the-cuff spirit as I Still Do is Paul Simon's latest, Stranger to Stranger. Simon's greatest gift has long been his ability to match a deliberate pen to music that seems freewheeling in contrast, but he lost some luster on 2006's Surprise and 2011's So Beautiful or So What. Though both proved that Simon remains a formidable songwriter, the arrangements of the blippy, Brian Eno–assisted Surprise and the syrupy Phil Ramone–abetted Beautiful occasionally grated. Stranger to Stranger has a few production quirks — including the ethereal polyrhythms from Italian dance-music producer Clap! Clap! on "The Werewolf" and "Wristband" — but there are fewer of them to distract from Simon's sharp writing and sprightly mood. Since he began his solo career in the early '70s, Simon has settled into a groove that yields roughly two albums per decade. As the only album of this batch composed of original compositions, Stranger to Stranger feels less like a businessman seizing an opportunity than a careful songwriter working at his natural pace. It's not just a good album, it's one of Simon's best.
*This article appears in the June 13, 2016 issue of New York Magazine.