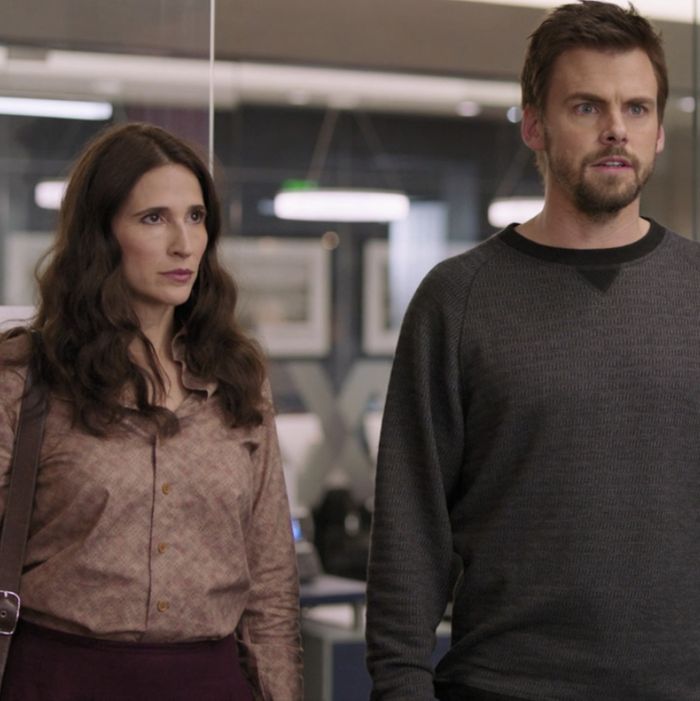 Michaela Watkins as Valerie, Tommy Dewey as Alex, Tara Lynne Barr as Laura.
Photo: Hulu
We begin with an unexpected scene: Alex gives a tour of his office to Valerie and Laura, and, for once, seems deeply satisfied. He gets along with his co-workers, Valerie and Laura are impressed with the space, and he has his own office — which Sarah happens to be using as a home base. But when Alex's tooth falls out and he's suddenly nude, we realize, thankfully, that it's all a dream.
Dreams where you lose your teeth are often associated with feelings of powerlessness, which explains Alex's manic behavior throughout the rest of the episode. Meanwhile, Valerie has a realization of her own: Alex is now her emergency contact, rather than Drew. It's a sign that she's entering a new stage in her life, but hopefully it's not just a regression.
Laura meets with Drew for breakfast, and he tells her that he plans to have a child with Mae-Yi before she begins her residency. Laura tries to appear supportive, but she's clearly hurt and doesn't hold back when noting, "Nothing says honeymoon like a helpless, screaming infant." Yeah, she won't be babysitting.
Apprehensive about returning to work, Alex greets the receptionist just as he did in his dream, but it turns out he doesn't even know her real name. He's relieved to find that Sarah is no longer in his office, but spends his time stalking her wedding-registry site, disgusted that the options include "donate livestock" or "save a child." When Jordan asks Alex to come in regularly at nine in the morning, he instantly panics and calls Valerie. She reminds him that he's not in a hostile work environment, it's just an actual place of work.
Valerie hangs up for her gynecologist appointment, and her doctor suggests sterilization because "there aren't that many options" at her age. Just as Valerie is rethinking her life choices, her doctor bursts out laughing when she remembers watching Minions the night before — the ultimate blow. Valerie goes to work, and asks Leia if she's ever thought about freezing her eggs, but Leia already has. (It was a graduation present.) This dilemma forces Valerie to contemplate whether dying alone is the ultimate indignity, or if it's worse to spend your life with someone you don't love. Leia doesn't have an answer, but she knows that if you have a cat, it'll eat your face when you die. Glad we can always look to Leia for comforting advice.
At school, Laura makes plans with Aubrey in the hopes of being as self-destructive as possible. She later searches through Alex's medicine cabinet and gets caught, but he's too distracted by his own problems to care. Instead, he takes advice from Laura and decides to speak to Sarah himself. When Alex finally arrives to see her, he's overly aggressive and paranoid, while she remains calm and assures him that Jordan only knows minimal details about their relationship. When Alex is at work, he confronts Jordan about Sarah, and discovers she wasn't locked up in an institution — she left because of his family.
Laura finally finds what she's looking for, and picks up from a kid at school, even though she feels pointedly aware of the cliché that he's the "only black kid in group with the drugs." Still, this doesn't bother her enough to do anything about it. Aubrey goes over to Laura's house and they watch a movie together, when Laura suddenly realizes she's crying. Being high doesn't distract from the fact that her father is moving on with his new life, so she decides to take action.
When Valerie looks into freezing her eggs, she's told that fertilized embryos would be a better option, and she feels penalized for being single. Later, she checks out baby photos with Leia, who finds the process to be eerily similar to Tinder. For Valerie, finding a suitable donor is just as hard as online dating, and she insists she "wouldn't go home with any of these babies." When Jennifer arrives to go for drinks, Valerie quickly abandons the Tinder-baby search and sends Leia home.
Meanwhile, Alex finds himself in Burbank at his father's door. When he asks about Sarah, his father reminds him that he was unfaithful, and confesses that he was the one who finally told Sarah, forcing her to leave.
Laura and Aubrey arrive at Drew's, but, when no one is home, they steal his bikes instead. They eventually make a sacrifice to Cupid and throw the bikes down the side of a mountain. She believes this will work because Cupid loves heartache and agony: "If those things didn't exist, relationships would be easy, and he'd be out of a job." Even the god of relationships needs to make a living, I guess. But regaining control through disorder is Laura's way of coping with her parents' failed relationship. She grabs Aubrey's hand, and inevitably, Aubrey kisses her.
At the bar, Jennifer is shocked that Valerie is considering IVF. Jennifer tries to convince Valerie that it's time to take care of herself. Will she finally listen? If she does, she'll be able to move on from her divorce in a healthier way. But when Valerie goes back home and sees Laura, she realizes how grateful she is to have her, even if it means missing out on certain experiences. This moment is cut short when they notice Alex sitting alone in the kitchen, staring into space.
"I loved her," he says, mostly to himself. "I loved her and dad drove her away." Maybe Alex really did love Sarah, or maybe he's delusional and looking for his next distraction. Either way, Alex has that determined look in his eyes again. We know this can't end well.