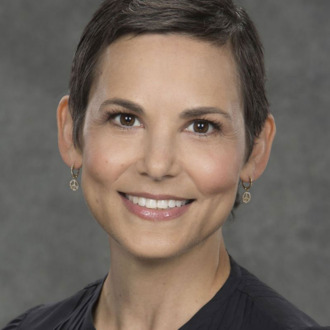 CBS is sending yet another signal it's all in on All Access, the company's bid to compete with Hulu, Netflix, and other subscription video services. Julie McNamara — a veteran TV development executive who's had a hand in commercials and critical successes such as The Good Wife, Jane the Virgin, Elementary, and Desperate Housewives — has been named executive vice president of original content for CBS All Access, putting her in charge of all first-run programming for the service. CBS Corporation chairman Leslie Moonves has made no secret of his plans to produce original shows for All Access; an already announced reboot of Star Trek and a spin-off of The Good Wife are in the works, and he's previously said the streaming network will run three or four exclusive series in 2017. But moving McNamara from her previous position as head of drama for CBS's in-house studio suggests the start of an even bigger push to turn the streaming service into a serious SVOD (subscription video on demand) player.
One reason McNamara's appointment is something of a big deal is that, until now, the only projects set up at All Access have been ones based on existing CBS properties (albeit, at least in the case of Trek, a really big property.) But carving out an executive VP-level programming position at All Access, and tapping someone as respected as McNamara to fill it, indicates Moonves may be looking to scale up original offerings on the service well beyond the handful planned for next year. If All Access were going to limit itself to three or four shows, there would be no need to put McNamara in her new gig and replace her as head of drama at CBS Studios: CBS and Showtime execs could have simply diverted any series deemed inappropriate for their respective linear networks to All Access. Instead, McNamara will be charged with hearing pitches and developing ideas specifically for the digital service.
To be sure, today's news doesn't necessarily put CBS's SVOD effort on an immediate path toward becoming anywhere near as big a player as Netflix, or even Amazon and Hulu. For one thing, McNamara will continue to work under the CBS Studios umbrella. This likely means Moonves's business model for All Access right now only includes projects owned by the company, rather than ideas from outside studios such as Disney or 20th Century Fox. Keeping things in-house has financial advantages, but it also means All Access will be operating in a smaller universe than rivals open to ideas from anywhere. Still, if next year's limited roster manages to dramatically boost the number of All Access subscribers, Moonves may eventually modify his plans and opt to move even more aggressively into the SVOD space. If so, McNamara's hiring will go down as a major milestone. Now if only CBS could figure out a better name than All Access.