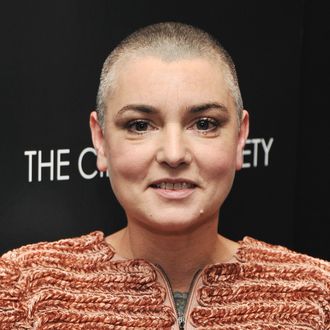 Photo: Stephen Lovekin/Getty Images
Sinéad O'Connor is the subject of concern to the Chicago Police Department after the singer allegedly threatened suicide, TMZ reports. According to TMZ, which purports to have scanner audio from the Chicago police, O'Connor's family contacted Dublin authorities on Thursday, claiming that O'Connor had threatened to kill herself by jumping off a Chicago bridge. The Irish police thus relayed the information to the Chicago PD, who are not actively searching for O'Connor but are on a lookout. The incident comes as the latest in a series of mental-health struggles for the singer, who briefly went missing just last month and has been candid about her depression and additional health difficulties in the past.
Update: Sinéad O'Connor is alive and well, according to her Facebook. After reportedly going missing, the singer posted: "It's bullshit I jumped off a bridge, some stupid bitch up at Swords Garda station decided she'd like to throw a bit of false and malicious gossip about is all). AM FAR TOO FUCKING HAPPY FOR THAT!!" She's also doubly happy about Brexit, declaring her native Ireland free from British ownership.