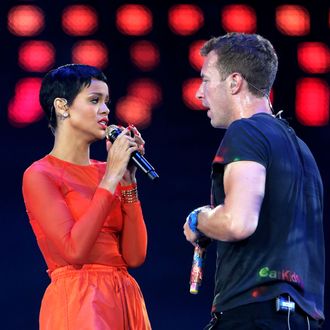 Photo: Peter Macdiarmid/Getty Images
Meet Chris Martin, the low-key master of compliments. In a recent interview with the Guardian, Martin turned the spotlight on his "Princess of China" collaborator Rihanna, heaping some highly original praise upon the songstress.
"Rihanna has this thick tone, so it's very hard to annoy anybody. It's like a beautifully squeezed tube of toothpaste," he said. "When you think of Rihanna's voice, you think of this whole, rich thing, solid like a tree trunk."
So when someone says your voice sounds like a tube of toothpaste and a tree trunk in the same sentence you're supposed to say … thank you … right?
Martin also had some slightly more conventional, though no less heartfelt, praise for his collaborator.
"She is the Frank Sinatra of our generation. She can turn anything into gold with that voice," he said. "Rihanna's voice is just delicious for your ear. Sinatra had the same thing; anything he sang sounded pleasing to most people."

Ball's in your court, RiRi. You need to come up with a solidly offbeat compliment for Martin. Game on, lady.