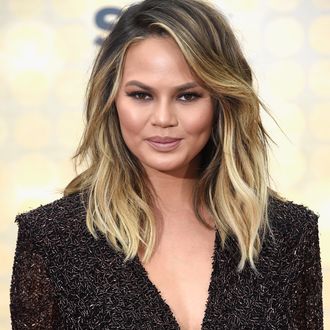 May the best brand win.
Photo: Frazer Harrison/Getty Images
If you ever worried that the blenders of the world would rise up against us all, you have Chrissy Teigen to thank for making them turn on each other, instead. In a moment of whimsy that might strike anyone with 1.9 million Twitter followers, Teigen decided to send a blender to a Twitter user. As in any great conflict (see: World War I), the dominoes fell quickly: Vitamix tried to get in on the action by following Teigen, Teigen called them out, then NutriBullet threw in some mild snark. Hey, if brands are going to try to act like people, we can at least make them dance for sport.
Then, a reversal of fortune: An upstart tried to get in on the action and pulled ahead quickly.
One last hurdle:
Conventional wisdom might put Blendtec in the lead, with NutriBullet a close second, and Vitamix far behind. But Twitter is not a battlefield that brands can win. It is pure chaos: A ladder, as Littlefinger would have it, and Chrissy Teigen is on top. Brands like Zoya Nail Polish, meanwhile, are just trying to reach for the bottom rung.
Teigen herself has not yet acknowledged a winner in the blender wars as she has other obligations.
Update: Chrissy Teigen has declared a winner in the Blender Wars, and that winner is … [pauses for dramatic effect, mimics the sound of a whirring blender until nearly passing out] Vitamix! Sorry, Blendtec, you did your best, but Twitter just isn't real life.
Now where can we get some of that Chrissy Teigen wrapping paper?