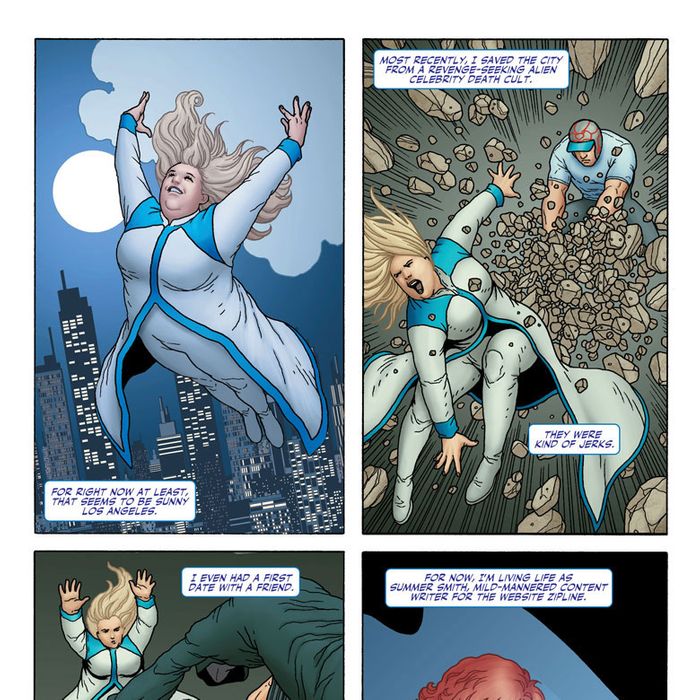 Excerpt from Faith No. 1.
Photo: Colleen Doran and Andrew Dalhouse/Valiant Entertainment
One of the comics industry's most buzzed-about characters is about to get an assist from one of its most beloved artists. The character is Faith Herbert, who popped up in the pages of Valiant Entertainment's series Harbinger back in 1992, and again in the 2012 reboot, before stepping into the spotlight with an acclaimed solo miniseries earlier this year. A sprightly Über-geek, she fights evildoers under the code name Zephyr when she's not moonlighting as a blogger at a BuzzFeed pastiche.
The most revolutionary aspect of the character, however, is her look: She's a plus-sized woman. Although her body type doesn't come up much in her stories, it's still remarkable in a genre filled with ridiculously proportioned ladies. She's about to get her own ongoing series, Faith, written by Jody Houser with art from Pere Perez, Marguerite Sauvage, and Andrew Dalhouse, and industry-watchers have taken notice.
If that wasn't noteworthy enough, we've learned that the series's debut issue will have a guest spot from one of the most admired minds in comics: Colleen Doran. She's been in the business for more than two decades and is perhaps best known for her massive sci-fi/fantasy epic, A Distant Soil, which she began when she was just 12 years old. Doran has garnered a long list of accolades and, most recently, she drew the legendary Stan Lee's comics-format memoir Amazing Fantastic Incredible. In Faith's first issue, which hits stands July 20, readers will see an opening portion drawn by Doran and colored by Jordie Bellaire, in which Faith's origin gets recounted — and we have the whole thing below.
Although Doran finds the character appealing mostly because "she's just a nice, kind person, someone you would like to know," the artist is very aware of Faith's visual significance. "It's not news that almost all of the women in comics are uniform in personal appearance, almost all of them gorgeous, in porn-magazine physical condition," she says. "Faith is, of course, a large woman, and getting to draw a character who has a curvy body as a healthy, beautiful person is quite a nice thing to do. I've been in comics for many years, and I don't think I've ever drawn a large woman as the superhero as well as the romantic lead."
Here's her full intro sequence: