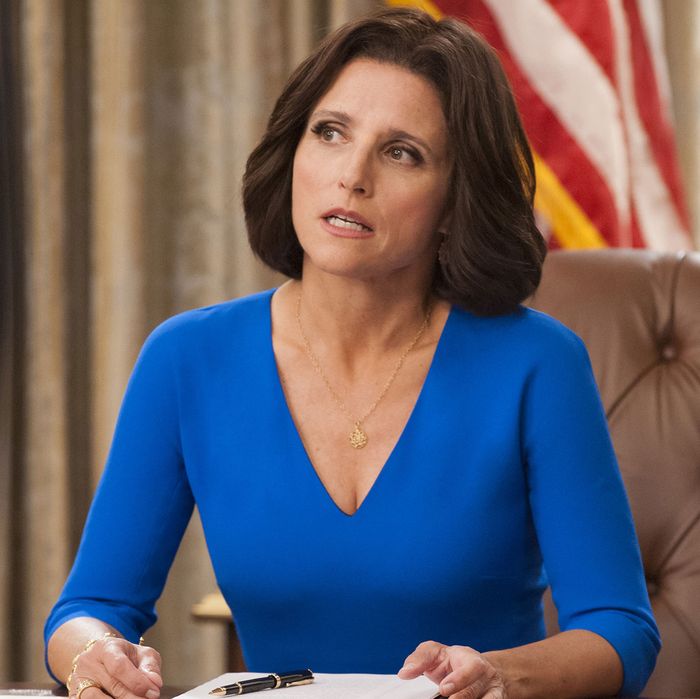 Can she be beat?
Photo: HBO
The 2016 Emmy race has begun, and Vulture will take a close look at the contenders until voting closes on June 27.
In this crazy, unpredictable world, there are some consistencies on which we can rely. The sun will rise and set each day. Internet comments about the new Ghostbusters movie will continue to be unnecessarily heated and polarizing. And Julia Louis-Dreyfus will be nominated for an Emmy for Outstanding Lead Actress in a Comedy.
The star of Veep, who has captured the trophy in this category for the past four years, is the lockingest lock in the history of things that can only be opened with a set of keys. She's going to be one of the six nominees, and when that happens, she will tie Mary Tyler Moore for the most nominations in the Lead Actress in a Comedy category. (They will both have ten to their credit.)
The bigger question is which five women will ultimately be included alongside Louis-Dreyfus. Let's break down the category and consider a few — though certainly not all — of the possibilities.
Most Likely to Be Nominated (and Win):
Julia Louis-Dreyfus, Veep
Did I mention she's a lock? Did I also mention that if she wins, it will be her sixth time at the podium (she also won once for The New Adventures of Old Christine), which will break the record for most Emmy victories in this category? Here's the thing: You can't even get annoyed by the same 'ol, same 'ol-ness of it all because Louis-Dreyfus is really and truly that good, teasing out the vulnerabilities hidden beneath Selina Meyer's campaign-ready smile and heavily salted tongue in ways both hilarious and poignant. Meyer may not be the most skilled politician, but Louis-Dreyfus is really tough to beat.
Other Potential Familiar Contenders:
Lena Dunham, Girls
Amy Schumer, Inside Amy Schumer
Lily Tomlin, Grace and Frankie
Three of last year's nominees — Edie Falco, Lisa Kudrow, and Amy Poehler — are out of contention this year because their shows are no longer airing. That means the other two holdovers from 2015, Schumer and Tomlin, could make their way into the category again, although between the two, I think Tomlin is more likely to stage a repeat performance. As has been noted by Vox and others, this season of Inside Amy Schumer is less consistent and buzzy than the last, and there are some other performances that could edge out Schumer's because of that.
One that immediately comes to mind is Lena Dunham on season five of Girls, whose work was some of the most emotionally affecting she's done in the entire series. Just thinking about the look on her face the first time she sees Jessa with Adam in episode four is enough to make me start to sympathy-cry. Dunham has been nominated three times prior but was passed over last year. I wouldn't be surprised to see Hannah Horvath back in the game again.
The Possible New Additions:
Rachel Bloom, Crazy Ex-Girlfriend
Sharon Horgan, Catastrophe
Earlier this year, Rachel Bloom won the Golden Globe in this category for Crazy Ex-Girlfriend. While the Hollywood Foreign Press Association has a track record of championing newcomers and Emmy outliers with its TV honors — Louis-Dreyfus hasn't won a single Globe for Veep — Bloom still seems to have a strong shot at capturing the attention of Emmy voters this year. (Name someone else who sang and danced so persuasively while squeezing herself into a pair of Spanx.) Horgan may have a tougher time breaking through, even though she conveys the desperation and loneliness of early motherhood in ways that never ring anything other than true.
Previously Overlooked:
Aya Cash, You're the Worst
Abbi Jacobson and Ilana Glazer, Broad City
Ellie Kemper, Unbreakable Kimmy Schmidt
Gina Rodriguez, Jane the Virgin
Tracee Ellis Ross, Black-ish
Constance Wu, Fresh Off the Boat 
Jacobson and Glazer seem like the least likely to receive first-time nominations, in part because they come across as a package deal: You can't nominate one without the other, and that may keep both of them off the list. Also, it's unclear how many Emmy voters actually watch Broad City; it's never received a nomination of any kind. Neither has You're the Worst, although Cash's bluntly honest portrayal of depression last season elevates her chances. One could say the same for Kemper, who delves more deeply into the psychological ramifications of her kidnapping in this second season of Kimmy Schmidt, without losing that unceasingly sunny disposition.
Still, out of these previously overlooked performers, Rodriguez (who, weirdly, has never received an Emmy nomination before), Ross (who raged against the School Mom Mafia in a widely praised second season of Black-ish), and Constance Wu, the take-no-prisoners mom and breakout performer on Fresh Off the Boat, strike me as having the strongest shot at a nod.
At least one actress from one of the traditional broadcast networks is usually recognized in this category. That may further boost the odds for Ross and Wu, who are both flying the flag for ABC.