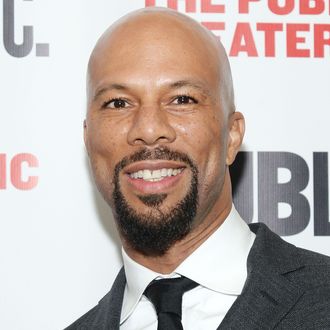 Common.
Photo: Ben Gabbe/Getty Images
Common is set to play the lead in an upcoming TV adaptation of Black Samurai, and honestly, if you told us that Common already owned a katana and knew karate we would not be surprised. The series, based on the 1974 book series and 1977 film, follows Defense Reserve Agency Guardian of Nations (D.R.A.G.O.N.) agent Robert Sand, who is rescued by a samurai master and trained in martial arts. Per Variety, the producers — and, for whatever reason, RZA is among them — are shopping the project to various networks; once that happens, the search for a writer and director will begin. Who needs either of those things? The pitch is "make the Oscar winner (for original song, but whatever) who was the Bouncer in The Wiz Live! play a samurai" and it has basically already won Common an Emmy.
Update, August 22: Common's Black Samurai series has officially landed at Starz, in development with Jerry Bruckheimer and RZA. And thanks to that RZA connection, the show is also set to feature music from both Common and Wu-Tang Clan, continuing the rap collective's obsession with martial arts in every possible medium.