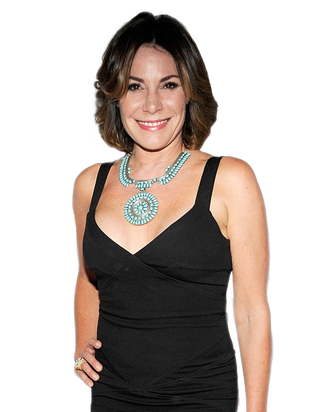 Countess Luann de Lesseps has been a fixture of the Real Housewives of New York City since its inception in 2008, but tonight fans are going to learn all about the fabulous life she led before joining the reality-television hall of fame. Bravo is premiering Before They Were Housewives: Luann on Wednesday, which takes a look at how a nurse from Connecticut became a model in New York and Milan, the host of an Italian talk show about soccer, and eventually married Alex de Lesseps, a French count whom she divorced in 2009 after one season of the show.
Luann, who is engaged to be married to businessman Thomas D'Agostino, took some time to talk about her past, how she owes everything to disgraced Italian prime minister and media mogul Silvio Berlusconi, and why Bethenny Frankel is so mad at her on this season of Real Housewives.
This is the first time that Bravo has done one of these Before They Were Housewives shows. Why do you think you were chosen out of all the Housewives to be on the special?
I lived many lives before the Housewives, and I have quite a storied past, and I think that was their interest. You know, the nurse and the model and the countess and all the various parts of my life beforehand that people don't know about. They thought Bravo fans would be very interested.
Were the other women jealous that you were filming this special?
Well, I don't think they knew. I don't think Bravo went out and said, "We're going to do a whole biography of Luann's life and not you." Andy is not crazy.
What was the best part of going through all the old footage and photos from your past lives?
Oh, all the great memories and fabulous places I lived. I had video footage of when I was first married in 1993. It was my son who found the tape, and it was a VHS that Bravo translated. I was so moved to just remember how in love we were, especially because we're divorced now and we were so happy back then.
Were there any bad parts of remembering all of these things?
My house burning down when I was a kid wasn't the best time of my life. Falling down a mountain with the kids in the car was not good.
Was it hard to relive that car accident you had in the Alps?
Talking about it is one thing, but seeing the pictures was hard. I had the accident and then post-traumatic stress from that, and it took me awhile to recover. Your life really flashes before your eyes when you're rolling down a mountain in your car with your children in the back.
Were there any past haircuts that you especially regret seeing again?
What about that dress [I wore to compete for] Miss Connecticut. Bright red. And the hair!
You looked more like Teresa Giudice than the Countess.
That was the '80s, honey, everyone had big hair.
But thank God for that red dress, it got you to where you are today.
It's amazing the journey I've been on and how far I've come. When I met my husband in Switzerland he asked where I had been all his life and I said, "Getting ready for you." It's true. I lived in New York, so that made me more sophisticated and then I moved to Milan, which made me more sophisticated. All of these years were getting me primed for my French aristocrat. I don't think he would have looked twice at me if I wasn't groomed. I was grooming myself all of those years to get ready for him.
You have to tell me everything about Ann Cutbill Lenane, who is in the special and is a New York institution from her real-estate ads at the movie theater.
Get this. I was working as a nurse in Connecticut. I'm taking Metro North to come to New York to model, and I would take days off, because I got modeling gigs from my comp card, which is a card the agencies give out. I realized I was making more in one day than a whole week being a nurse. I decided to move to New York. So I go to my modeling agency and tell them I need roommates because I can't afford to live on my own. Cutbill is my roommate. I've known her since 1987. That's almost 30 years ago. That is a scary thing to say.
Have you ever tried to get her on the Housewives?
No, no. She wouldn't do it. She is way too busy and way too shy, but she was amazing on the show. I would look at her and she would say to me, "There are thousands of models in New York, what makes you think you're going to get the job?" I would say, "Look, I'm just as good as any of those other girls. If you don't think you're great, no one else will."
I think the most shocking thing about the special for me was to learn that you hosted an Italian show about soccer.
I know, no one knows that about me.
How was it speaking Italian on this show?
I went to Milan in 1990 and I got this job in 1993, so it took me two solid years to really learn the language. But I was doing commercials for them as well. I was selling products on the air. I was talking about how nice the body scrub was for your skin and stuff like that. It was really difficult. What they loved about me was that my Italian wasn't perfect, so they thought it was cute. I got away with a lot.
I would talk about "Oh, you got married again. Or I saw you out at this restaurant." I would talk to the soccer players about more social things and the other host, Reymondo, would talk to them about the technical aspects of soccer. I was like his sidekick. We were the Regis and Kelly of soccer.
Do you care about soccer at all?
I never really understood a lot about it. I was just having a good time being around all of those soccer players! [Laughs.] I got invited to all of their parties and all these things. It was such an incredible time in my life.
I love that your gig hinged on meeting Silvio Berlusconi.
When he saw me do this thing onstage [at the Italian version of the Emmys impersonating] Sharon Stone he came to me and said, "Who are you?" And I said, "Luann from Berlin, Connecticut." And he said, "Why aren't you working for me?" I said I am, but I'm always behind the scenes, because I did a lot of variety shows before my hosting gig. I told him I was working for him, but I was always behind the star and he gave me my co-hosting gig talking about soccer. Timing is everything. Putting yourself in the right place is what it is all about.
Did he invite you to a bunga bunga party?
No, I did not go to a bunga bunga party. At the time I was going with an Italian man, Roberto, who you see in the show, an important Italian man from the Asti Spumante family. We would hang out with the Pellegrinos and all of these fabulous people. But, no, we didn't hang out with Berlusconi, unfortunately. I would have liked to have seen one bunga bunga party. That would have been hysterical.
What I love about this special and this past season of Real Housewives of New York is how frank you are about the number of lovers you've had in the past and how sex positive you are about your relationships. Why do you think you get flak from the women about that?
I'll give you one guess.
Why don't you tell me?
You have to be really comfortable in your own skin to be comfortable around people who are comfortable in their own skin. I'm comfortable with who I am, and I don't care what women say because I have always had that problem with women. I know who my true friends are, and I have a lot of them. They're happy for me and they have my back. The show speaks a lot for itself, and it's almost impossible for them to be happy for me. Why should they be unhappy for me? I don't ask them who they date and who they sleep with. I don't judge, so why should they judge me?
I'm a very good girlfriend. I don't steal men. I don't date married men.
You are getting married, which means you'll have to give up the title of Countess. How do you feel about that?
You know what they say, once a countess always a countess. [Laughs.] No, I'll be very happy to be Mrs. D'Agostino, but most people are like, "We want to call you the Countess." And I say go ahead, it's part of who I am and will always be part of who I am.
This season has been totally crazy. What have you been thinking when watching the episodes?
I have been thinking that my real friends are happy for me. I've been single. I've been married for 16 years, and then I was divorced in 2009, then I dated Jacques for four years, who I adore. He's still my friend. My ex-husband is still my friend. I've been single for a while now and I finally met someone who I want to spend the rest of my life with. Why can't they be happy for me? That is the point I want to make. We finally found each other as soulmates and people who aren't happy for us, I think there's something wrong with that.
It has been weird this season where you and Sonja are on the outs from the rest of the group. Why do you think that happened?
Some of the girls teamed up and some of the other girls are afraid of them, so they move into the clique and that is their prerogative, but you'll see there are changes to that. There are always changes, honey. It's someone else's turn to get their head ripped off. Bethenny seems to have an issue with everyone. She started with Dorinda and John. Then it was Jules. Then it was Sonja. Then it was me. Somebody is really angry and unhappy.
Why do you think she's angry and unhappy?
I think she's trying to get divorced and it's driving her bananas.
Well, if I was getting her divorce, I would be bananas, too.
Rewind on that whole episode [in the Berkshires] where she is saying all of these things that aren't true. I don't try to defend myself. I say to her, "Really, where did you get that information?" I kind of played with her like a small dog who is biting at my heels.