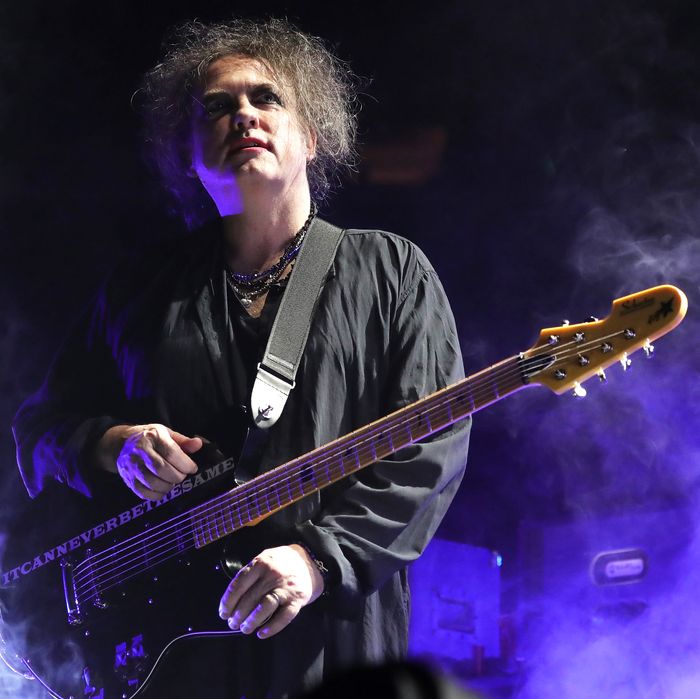 NEW YORK, NY - JUNE 18: Robert Smith of The Cure performs on stage at Madison Square Garden on June 18, 2016, in New York City.
Photo: Neilson Barnard/Getty Images
The Cure are a dozen things to a dozen radically different fan bases, if the audience that came to Madison Square Garden last night for the band's third (of three) career-spanning sold-out show was any indication. The array of goths, rockers, punks, metalheads, mystics, and '80s pop nostalgists united in breathless admiration of the night's main act spoke to the wide-ranging versatility and lasting gravitas amassed since the unit's humble '70s beginnings. Over three hours, the Cure charted a voyage through the vast waters of a nearly 40-year recording career, maneuvering through hits, deep cuts, and new material with masterful poise.
After an elegant, pace-setting performance from openers the Twilight Sad, the night officially commenced with a trio of cuts from the Cure's morose 1989 classic Disintegration and its sister album, 2000's Bloodflowers. "Pictures of You" was a fine display of the band's monastic patience, bubbling in a lengthy intro to a yearning, eerie lyric about delusion in the face of loss. Robert Smith's voice remained shockingly pristine throughout the night, and bassist Simon Gallup stalked the stage for hours with a wiry animus that belied his age.
The album that got the most attention was 1985's The Head on the Door, whose upbeat "Kyoto Song," "Push," "In Between Days," and "A Night Like This" gave gentle pushback to the dirgelike crawl of the Disintegration and Bloodflowers tunes. In a quick word to the crowd mid-show, Smith described the night's energy as "Sisyphean," a sage assessment of a set list that pulled the audience through a sea of eddying tone poems to get to beloved singles "In Between Days," "Lovesong," and "Just Like Heaven." The approach rewarded until a battery of encores lost some of the crowd with a new song, the darkly menacing "It Can Never Be the Same," and two from 1984's ill-remembered The Top.
A third encore changed course, reaching into the jerky post-punk of 1980's Seventeen Seconds for a shot of energy midway through the show's third hour as tired fans began filing out of the Garden. For the fourth and final encore, though, Smith put down his guitar and kicked up a dance party, breezing between the broiling funk of "Why Can't I Be You?" and "Hot Hot Hot" and the lovelorn synth-pop of "Close to Me" and "Let's Go to Bed," before closing out on "Boys Don't Cry." Fortune favors the bold; anyone who didn't tap out from drinks or dehydration as midnight approached was rewarded with a life-affirming finish.